Leila Ali Elmi's childhood was an exercise in the future awaiting her in politics.
At age two, she arrived in Sweden along with her family after fleeing the civil war in her homeland Somalia. For the next 29 years, she lived and worked in the Angered suburb in Gothenburg, Sweden's second-biggest city. The neighborhood was designed in the 1960s as part of a decade-long initiative to build a million affordable homes—yet faced increasing isolation as more immigrant communities moved in, before evolving into a notorious, crime-ridden enclave with low educational access and high unemployment levels.
In a nation viewed as a paragon of fairness globally, Leila observed glaring disparities between other neighborhoods and where she called home. And so as a young teen, she got involved with her community, volunteered with civil society organizations, and eventually joined the Green Party as a city councilor in 2014. During her tenure, she took on issues including abolishing school segregation, creating a more inclusive city and ensuring equal opportunities for all.
But when her party, which campaigns on a broad platform involving climate change, nurturing healthy societies, and supporting humane refugee policies, put her name forward for the Riksdag, or the Swedish parliament, Leila didn't think she would win. After parties submit a list of candidates, voters in the Scandinavian nation may choose to vote for a party list as it is presented or cast a preferential vote for an individual candidate.
But as the results started trickling following the Sept. 9 polls, voters gave the 31-year-old a chance to change things from within—making her the first Somali Swedish woman in a hijab elected to parliament.
"It's been exciting. It's been very overwhelming because this is not a regular job. It is very big. It is a lot of responsibility," Leila said during a recent call from Gothenburg. For years, she said, people in the suburbs felt removed from the decisions made at the legislative level, "and we cannot find equality in a system if the system is fabricated by one group and it doesn't really reach out to the majority or doesn't reach everybody."
Rising political class
Leila's election comes as Somalis—and many other African-origin candidates—make inroads into political spaces in the West. The progress also came as the share of Somali migrants abroad grows, increasing from about 850,000 in 1990 to 2 million in 2015, according to the United Nations.
In early January, Ilhan Omar became the first person to wear hijab in the US Congress. In the UK, 28-year-old Magid Magid last year became the youngest mayor ever elected in Sheffield city. In Sweden itself, Abdirizak Waberi preceded Leila in parliament, serving between 2010 and 2014.
Leila's victory also dovetailed with an election when issues of immigration, welfare, and integration remained central in the campaign trail. A surge in gang violence and coordinated arson attacks stirred anti-immigration sentiment ahead of the vote, leading the Sweden Democrats, a far-right party with neo-Nazi roots, to make gains in the polls. Conservative pundits also accused Leila of appealing to (in Swedish) "ethnic" or "clan" voting, pointing to her decision to translate campaign content into Somali as a shift towards localized identity politics.
The outcome of the election meant there was no clear winner in the 349-member parliament, leading to a four-month deadlock that only saw a government formed last week. A coalition of center-left parties eventually made a deal with prime minister Stefan Lofven's Social Democratic Party instead of working with the right-wing party.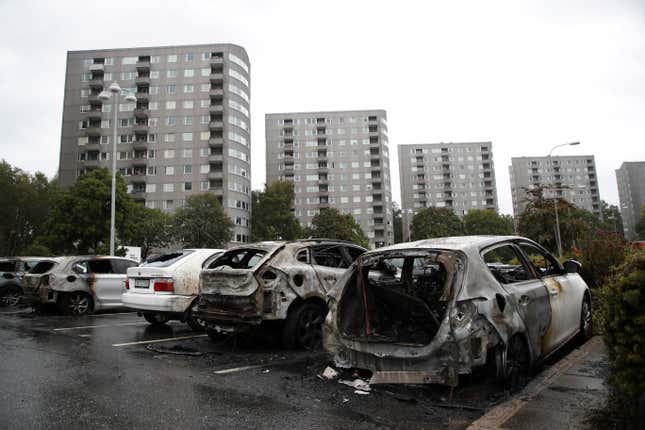 Leila says that decision, along with her election as a black woman donning a scarf, shows that Swedes want an open society where democracy and human rights are upheld. "Sweden said no to racism."
The lawmaker has already tabled two motions in parliament involving job creation for the youth and racial discrimination. These are the issues, she says, that aren't politically expedient and now that she has a seat at the table, wants to change. "I think its positive," she adds. "I feel positive."
Sign up to the Quartz Africa Weekly Brief here for news and analysis on African business, tech and innovation in your inbox