History was on Ilhan Omar's mind as she arrived in Washington DC this week. The 36-year-old Democrat from Minnesota's 5th Congressional district became the first Somali-American, one of two Muslim women, among the unprecedented number of women lawmakers, and part of the largest congressional black caucus elected to the US House of Representatives.
But during the swearing-in on Thursday (Jan. 3), one more notable feature distinguished her from other members on the floor of the House: the hijab. Accompanied by her father, husband, and three children, Ilhan came to the chamber wearing a red and orange-dyed traditional Somali turban and was later sworn in donning a black one. Putting on the religious covering required the removal of a 181-year-old rule, which banned any type of headwear on the floor.
The decision to change the rules on headwear had angered some conservatives, even as Ilhan pushed for its removal ahead of her oath. "No one puts a scarf on my head but me," she tweeted back in November. "It's my choice—one protected by the first amendment."
Ilhan was sworn on a copy of her late grandfather's Quran, whom she said, first sparked her interest in US politics when she acted as his translator during Democrat caucuses. Ilhan grew up in the Utanga refugee camp outside Mombasa, Kenya after fleeing war in Somalia but moved with her family to the US in 1995, aged 12. Her historic election comes as Somalis make important political strides by securing key electoral seats in the US, and especially in the state of Minnesota.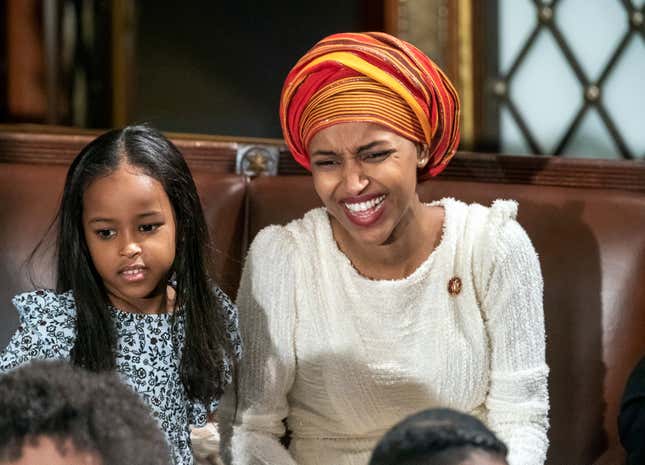 Yet Ilhan's rising profile has meant she's had to fend off trolls and misinformation both in the US and abroad, including reportedly those coming from Muslim countries like Saudi Arabia and the United Arab Emirates.
On Thursday, the congresswoman said she was ready to get to work, casting her ballot for Nancy Pelosi in her first vote and helping pass two bills to reopen the government currently in shutdown.
"From a refugee camp in Kenya to the Capitol, this story has come full circle," Ilhan said. "This is the America I believe in, and the one I will never stop fighting for."
Read next: Trump's existential threat has fueled the rise of Minnesota's Somali political class
Sign up to the Quartz Africa Weekly Brief here for news and analysis on African business, tech and innovation in your inbox