In the end, the explosive devices proved to be dummies.
But for hours on Friday night and Saturday morning (Feb. 2), the central Kenyan town of Nanyuki remained on alert after police were informed of 152 bombs held at a hardware shop. The town, located 130 miles north of the capital Nairobi, is host to large farms, ranches, game parks, and wildlife conservancies.
Immediately afterward, residents were evacuated and bomb squads deployed to the building. Following investigations, it turned out they were dummy bombs used by British soldiers for training and disposed of as scrap metal. The British army operates a training unit of up to 400 staff and military personnel in the town, who are preparing to deploy to tough operations. Globally, dummy bombs are used to test the vigilance of airport security.
Then on Monday (Feb. 4), barely 48 hours later, the US embassy in Nairobi issued a security alert cautioning its citizens to exercise caution across Kenya. The embassy said it had "credible information" that Westerners in towns including Nanyuki itself alongside the capital and the coastal areas faced the risk of being targeted by extremists. The message also noted that "shopping malls, hotels, and places of worship" were of particular concern, and urged those going there to be aware of their surroundings and report suspicious activities.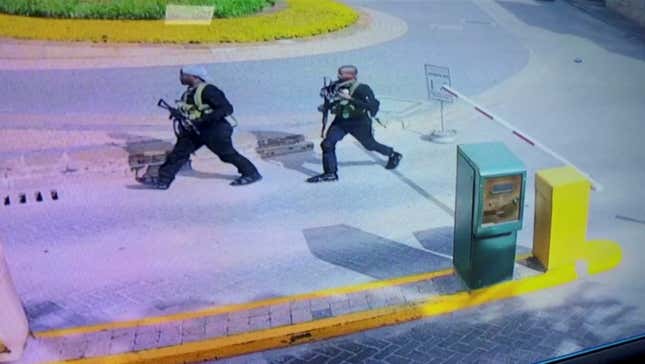 The security message comes weeks after the terrorist group al-Shabaab killed 21 people at the luxury hotel and office complex in Nairobi. The al-Qaeda-linked terrorist group said it carried the attack in retaliation for Trump's decision to declare Jerusalem as the capital of Israel. Since then, Kenyan security officials have intensified their fight against terrorism, arresting suspects including 17 youngsters later released who were found staying in a two-bedroom house in Kwale county along the Kenyan coast. Hotel managers, public bus operators, and managers of shopping centers were also ordered to step up security in their establishments.
The Kenyan government will be working hard to avoid East Africa's largest economy getting labeled as a major terrorist risk by Western governments and media as it looks to attract more international investment and tourists.
Following the Jan. 15 attacks, Western embassies didn't issue travel advisories as with past attacks, mostly sending out alerts to their citizens and Kenyan public through social media. On Jan. 24, the US embassy published one such warning calling for continued vigilance in crowded spaces. Barely 24 hours later, an explosion rocked Nairobi's central business district injuring two people.
Meanwhile al-Shabaab has continued its reign of terror in neighboring Somalia. The Somali terror group claimed responsibility for a pair of attacks on Monday (Feb. 4) in Somalia killing 11 people in a Mogadishu market and a Maltese manager of the Bosaso port in Somalia's semi-autonomous Puntland state.
Sign up to the Quartz Africa Weekly Brief here for news and analysis on African business, tech and innovation in your inbox