It was a tactless case of translation that caught the attention of China-Africa observers worldwide.
At the 2019 China-Africa Friendly Night, a large screen displayed four buzzwords that intimated the relationship between the two sides. Along the words "Innovation," "Efficiency," and "Transcendence" appeared another bizarre one: "Exploitation."
The event, which was held in Beijing, was attended by top African business and diplomatic officials along with representatives from nations involved in China's ambitious Belt and Road initiative.
The Chinese character in translation on screen was 开拓 which can be translated as "openness," "exploration," or even "pioneering." But while linguists and analysts agree this was a case of lost in translation—and less a Freudian slip, as some have posed—they say it raises questions regarding the translation process and who approved the final messaging.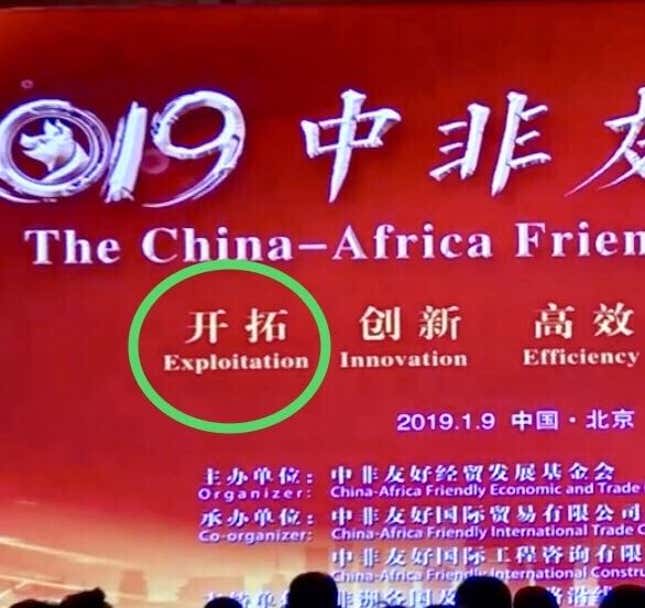 It also likely signifies, some say, the scant or lack of African involvement in the event's organization which would have ensured that such a gaffe wasn't printed. A similar event had indeed taken place in 2017, which used the words "consensus, integration, innovation, and development."
"In history, many political problems have been caused by translation problems," says John Wang, assistant professor at the school of translation studies in Jinan University. While the lack of attention to translation leads to such mistakes, "Belittling the results of translation is likely to have a greater negative impact." Indeed, the photo has been shared widely on WeChat in China-Africa groups and beyond.
Languages mistakes do happen all the time, but for China, it comes at a time when its growing presence in Africa is facing criticism both at home and abroad. Over the last two decades, as Beijing's diplomatic, trade, military, and economic investments have grown, critics have claimed it's entrapping African nations in debt and that its interest in the continent was based purely on "chopsticks mercantilism."
Socially and culturally, this faux pas is being revealed at a time when a growing number of African students are studying in China, when Mandarin is becoming a regular subject in schools from Uganda and Kenya to South Africa, and as Beijing promotes its culture abroad even as Africans are compared to animals in China.
"The reason this particular example has been shared so much is because it touches on a nerve: a concern of exploitation of African countries by China," says Hannah Ryder, who heads the Beijing-based international consultancy Development Reimagined. The crucial thing to do here, she adds, is to deal with the structural challenges involved in arranging such complex and cross-cultural events, and ensuring that African stakeholders are involved in the organization and not just the participation.
"Diverse teams are able to spot these kinds of mistakes and address sensitive issues that might not be obvious to everyone," Ryder noted.
Wang said that Chinese departments responsible for these events must attach great importance to who they hire to do interpretations and how they do it. "If no one attempts to face and raise the problem of mistranslation, then how can China improve its progress on cross-cultural and cross-national issues?"
Sign up to the Quartz Africa Weekly Brief here for news and analysis on African business, tech and innovation in your inbox