When Gladys Megai first heard the second half of Nigeria's elections had been rescheduled to hold on her wedding day (Mar. 9), she thought it was fake news.
Like millions of Nigerians, she was asleep when INEC, Nigeria's electoral commission, confirmed that presidential and state elections (originally slated for Feb. 16 and Mar. 2) had been rescheduled for Feb. 23 and Mar. 9. Unlike many other countries, elections in Nigeria come with major restrictions on movement. For the now postponed Feb. 16 polls, the police announced a 12-hour ban on vehicular movement. As such, a wedding on an election day is a non-starter.
For its part, INEC has blamed the rescheduling on difficulties distributing voting materials across the country. But the postponement has been met with frustration and anger by Nigerians, many of whom have had to travel to vote (Nigerians can only vote in polling units where they were initially registered) and will be forced to incur extra expenses. The delay has also translated into a loss of earnings for businesses and the economy: SBM Intel, a Lagos-based intelligence firm, estimates the economic cost of the postponement at $2.2 billion.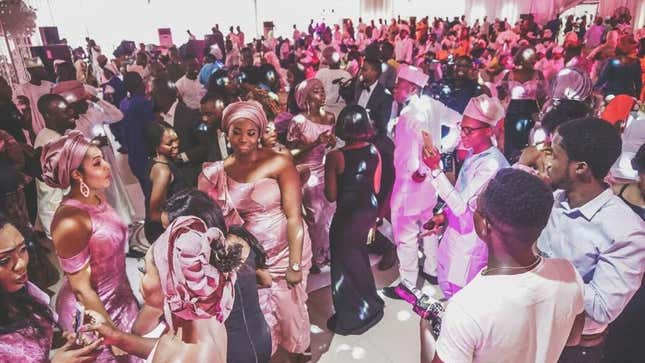 For disappointed couples like Megai and her fiance who'd been planning her wedding since last year, the cost of the postponement goes beyond money. "I called my fiance and we could not believe it," says the 24-year old social media associate. "I can't explain the feeling but there was panic." The next step was getting into damage control mode and rescheduling the wedding. But so far it's not been a straightforward process.
Tobi Adamson, founder of Oak-sage events, a Lagos based wedding planning company, says the "main issue" when rescheduling a wedding will likely be getting the booked venue to agree to new dates. "Most halls are already booked till December so you might not get a space," she says. In some cases, the difficulties around rescheduling and confirming the availability of wedding vendors is akin to "cancelling a wedding and planning a new one," says Mercy Akamo, head of content and innovation at BellaNaija Weddings, a popular online platform that curates wedding experiences.
Those difficulties are a consequence of Nigeria's culture of high-profile and extravagant weddings which are painstakingly planned several months ahead of time. They're also expensive: big, lavish weddings can draw up to 1,500 guests and cost up to 100 million naira ($277,000), Funke Bucknor, arguably Nigeria's leading wedding planner, has said.
Indeed, the idea of a big wedding has become an aspirational part of Nigerian culture so much so that the highest grossing Nigerian movie ever is based on a lavish wedding. BellaNaija Weddings, a spinoff from fashion and lifestyle website BellaNaija, has proved popular enough to become a standalone platform with a following of 4.5 million followers across its social media platforms. Akamo says the 12-year old platform serves as "a huge inspiration board for people who are about to get married and for wedding vendors."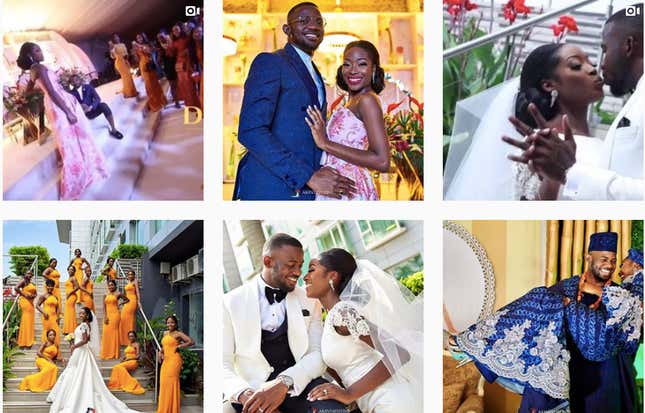 With venues likely proving inflexible, couples looking to reschedule will be forced to work with the venue's available dates. The alternative, Adamson says, is forfeiting up to 30% of the booking fee and starting the tedious process of finding and booking another venue. In Gladys' case,  the venue says she will have to share the space with a funeral ceremony set to hold on her preferred date. "We had no choice, we just had to make do with what we have," she says.
But despite the chaos, Gladys considers the postponement a blessing in disguise for one reason: her bridesmaids' tailors, who—typically of Nigerian tailors—seemed set to disappoint, will now have more time to deliver.
Shindara, a make-up artist also previously set to wed on Mar. 9, says she's been luckier with rescheduling for a week later with the venue and wedding vendors proving "understanding" of her plight. But she's also a facing time constraint as her fiance is due to travel out of the country for work within days of the wedding. "We hope they won't do the same thing [postpone], it's really going to hit me hard," she tells Quartz.
It's very likely there are several more disappointed couples, Adamson says, as February, given the extra appeal of Valentine's Day, is a popular month for weddings. "It's also one of the cheapest months for weddings because it is right after the festive December and January period," she explains. But given the uncertainty that comes with Nigerian elections (the last three presidential elections have now been postponed), Adamson says she'll be advising clients to be wary of planning weddings during election season. "It's Nigeria, we really can't predict this country," she says.
Sign up to the Quartz Africa Weekly Brief here for news and analysis on African business, tech and innovation in your inbox