In Addis Ababa's affluent Bole neighbourhood, the traditional smell of roasting coffee beans wafts through a thoroughly modern coffee shop. Garden of Coffee is agnostically decorated with large comfy couches and floor-to-ceiling windows that look out onto the street, giving it the atmosphere of a coffee shop that could be anywhere in the world. Making it distinctively local is the woman spreading beans over an open roaster, in the slow circular movements of Ethiopia's jebena buna coffee ceremony.
She sits behind a counter, not far from fresh pastries on display and a contemporary commercial espresso machine, dressed in a branded T-shirt rather than traditional dress that accompanies the formal ritual. It is this meeting of the modern and traditional that Garden of Coffee founder Bethlehem Tilahun Alemu wants to export to the world by opening Garden of Coffee outlets everywhere she can.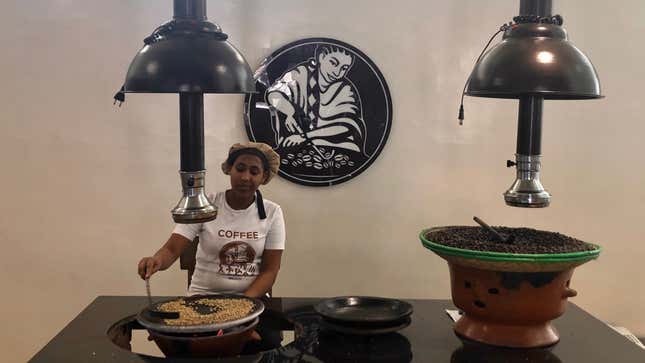 "Ethiopia coffee is big, but as an Ethiopian I saw lot of green coffee beans sold to international brands," said Alemu, the founder of the internationally successful, locally made, Sole Rebels shoe brand. Garden of Coffee also sells its own brand of single-source coffee, produced in a small roastery with beans grown by a cooperatives of female farmers. Quick to understand the global consumer's search for authenticity, Alemu's Garden of Coffee also offers teff wraps, made from the grain that could be the world's next big superfood. It's exactly the story that would appeal to international customers willing to pay for ethically sourced brands.
Ethiopians often claim bragging rights for introducing the world to coffee. Local legend has it a goatherd named Kaldi first discovered the perking effect of the red bean in the ninth century in Ethiopia's southwestern Kaffa region.
In the 2018/2019 financial year, Ethiopia produced about 426,000 metric tons, exporting nearly 4 million bags, yet Africa's largest coffee producer has few locally produced brands. Now, with a large diaspora that has introduced Ethiopian dining to the world, and domestic growth that has reintroduced the country to the global economy, Ethiopian coffee has the opportunity to take advantage of global consumer trends. Exporting a culture may require some watering-down though.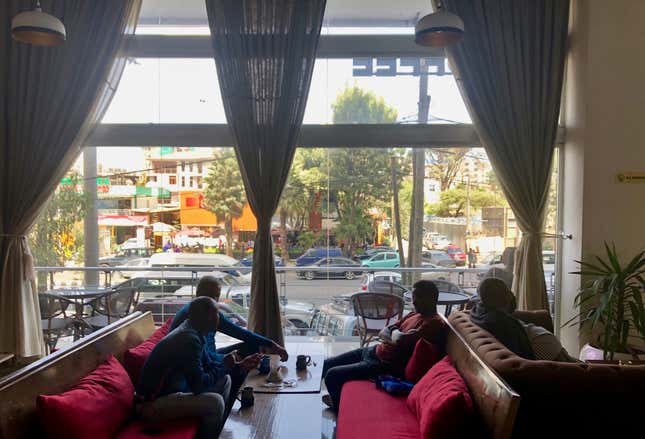 "It's a way of life," she says of coffee in Ethiopia. Alemu believes commercialization of this culture would not diminish it, instead it would give Ethiopians a greater stake in a global industry they already contribute to. 
Tomoca is perhaps Addis Ababa's first experiment in commercializing this coffee culture. Zewdu Meshesha bought the roastery from an Italian family in 1953, and maintained the acronym that gave the café its name Torrefazione Moderna Café. It was the first time coffee was roasted outside of the domestic setting, and to convince customers to stop by, the Meshesha family had to give away coffee, explains Kiroubel Seyoum, the group's chief production officer.  
With urbanization, people now living in apartments had less time to roast and brew their own beans and Tomoca capitalized on this cultural shift. Tomoca's flagship store is located in Addis Ababa's historic Piassa neighborhood, a district that first showed signs of internationalization with Greek, Armenian, and, of course, Italian architectural touches. The original café feels mid-century European, and the beverage menu still uses Italian names. The coffee itself a departure from the oily dark roast brewed in Ethiopian homes, to a medium roast "Familia" brand that also highlights the flavor of the bean.
Today, Tomoca has six outlets around the city, with the design of each store reflective of the changing city, like the office bar or the gallery space. Tomoca has not tried to emulate the historic ritual, but rather chooses to present a distinctive flavor to the world, served in a globally recognizable style. Locals still prefer the dark roast, but have adjusted to machine-brewed medium. The slightly more acidic light roasts are not popular among Ethiopians, says Seyoum. 
"We don't like our coffee light," says Seyoum. "We eat spicy food so we like it strong."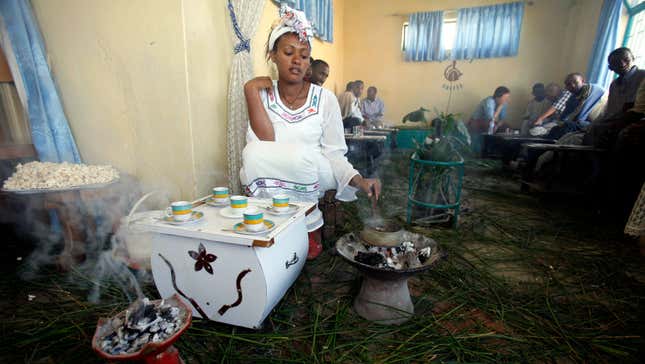 The two brands are distinctive for exporting their take on Ethiopian coffee to the world, with Tomoca opening three outlets in Japan and Garden of Coffee's plan to open 100 outlets in China by 2022. Garden of Coffee is looking to Canada next, while Tomoca is eyeing Sweden and other parts of Europe where customers already buy bags of their roasted coffee, says Seyoum. They may also consider expanding to the US too, to take advantage of the connection to a large diaspora community.
Like much of Ethiopia's economic growth, exporting its coffee culture offers a boon for those already connected to industry, but threatens to leave behind those who built the culture. Coffee culture is still very much part of the fabric of Addis Ababa, with far more humble cafes all around.
Women set up makeshift coffee stalls outside restaurants and other small businesses, roasting small batches of beans on the spot. What used to be an easy way for women to access the informal economy could be under threat as commercialization of the sector requires more formal trade. It doesn't help that coffee growers, fed up with the falling prices of coffee beans and changing climate, have begun growing khat instead, making it more difficult to access beans.
Ethiopian coffee outlets in Japan, China and elsewhere seem a world away, but they have the potential to influence the local industry by shifting focus and changing the domestic consumer culture. The prospect of capitalizing on its historic ritual could be a boon for the Ethiopian economy, as long as it doesn't dilute the domestic culture.
Sign up to the Quartz Africa Weekly Brief here for news and analysis on African business, tech and innovation in your inbox