After weeks of mass protests against his controversial bid for a fifth term in office, Algerian president Abdelaziz Bouteflika has pulled out of the running.
Bouteflika, 82, was set to contest in presidential elections next month as he looked to extend a 20-year tenure in office. But his bid was met with stiff resistance as mass protests broke out across Algeria. The bid was also rejected by over 1,000 judges across the country.
The protests, believed to be the biggest in the country in nearly three decades, have marked a major shift in Algeria. Algerians largely abstained from the Arab Spring protests in 2011 that resulted in regime change in Egypt and Tunisia.
Citizens have cited Bouteflika's tight control on state resources through his family, growing unemployment and a continued clampdown on dissent and opposition figures as reasons for protests. While Bouteflika is often credited with ending Algeria's brutal civil war and overseeing an economic boom thanks to oil revenues, like most African strongmen rulers, he also appears to have overstayed his welcome.
The president's ailing health has also become central to public discourse as he has been confined to a wheelchair since suffering a stroke in 2013. Bouteflika's rare public appearances and addresses have also left questions over health largely unanswered. Indeed, his decision not to run comes a day after he returned from Switzerland on a medical trip.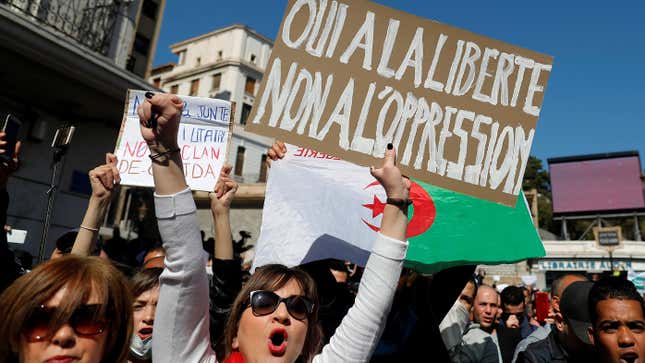 It's unclear if Bouteflika's concession will spell an end for the National Liberation Front, Algeria's ruling party since independence from France in 1962. But it signals the regime's change of tack after the government initially responded to the protests by arresting journalists and prosecuting tens of people for "disturbing public order." And in a move increasingly typical of oppressive African regimes, the government shut down internet services across much of the country, ostensibly in a bid to limit how protesters communicate and mobilize.
Sign up to the Quartz Africa Weekly Brief here for news and analysis on African business, tech and innovation in your inbox