When the Ethiopian Airlines flight ET 302 Boeing 737 Max jet plunged into a field outside Addis Ababa on March 10, killing all 157 passengers and crew, it brought into focus the carrier's decades-long relationship with plane manufacturer Boeing.
The state airline was established after an Ethiopian delegation visiting New York in 1945 requested American officials help launch a commercial airline for domestic air service. With the initial assistance of the now-folded US-based Trans World Airlines and later Boeing's technological support, Ethiopian Airlines (ET) has over the decades transformed into Africa's largest and most successful airline.
The relationship with the US aircraft supplier, which began in 1960, was especially instrumental in helping it build one of the youngest major fleets in the world—currently less than five years of age.
In 1962, just when many African states were gaining independence, Ethiopian became the first African airline to order and fly the Boeing 720B. Boeing was also crucial in facilitating Ethiopian's expansion strategy, whether in the short- to medium-range routes or non-stop long-distance flights to Europe (1963), China (1973), and the United States (1984). In 1977, the state carrier acquired a Boeing 720B simulator, making it autonomous from foreign airlines when it came to pilot training, and kick-starting the journey to establish a leading aviation academy.
The relationship between the two companies grew so strong that even when the socialist Derg regime that ruled between 1974 and 1989 ordered Ethiopian to only buy Russian aircraft, management warned of collective resignation—pushing the government to overturn its decision.
As Ethiopia opened up economically on the turn of the new century, the connection between the two grew with the delivery of new-age, long-range aircraft. In 2005, Ethiopian became Africa's launch carrier for the Boeing 787 Dreamliner, and between 2009 and 2014 ordered or received dozens of planes including the now-fallen 737 Max 8 jetliner. As of February 2019, its largest fleet on order was with Boeing.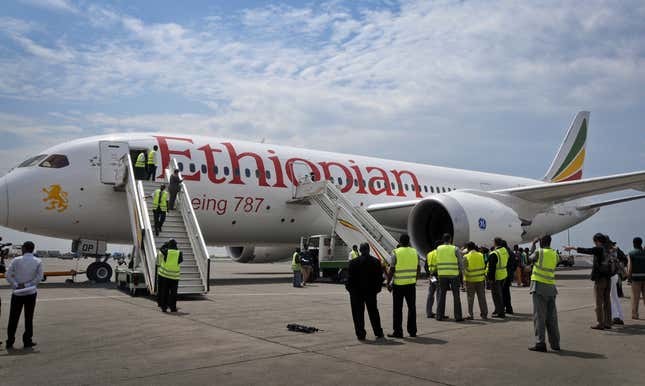 In 2014, Ethiopian ordered 20 737 Max 8 aircrafts worth over $2.1 billion, making it the largest single Boeing order by number of airplanes from an African carrier. Yet the fact that the best-selling plane model has now been involved in two high-profile and fatal crashes—the last one being the October Lion Air crash in Indonesia—likely puts pressure on the enduring relationship between the two partners.
Ethiopian also has Airbus jets in its operating fleet, including 10 A350-900 models, and has placed orders for 14 A350-900 models as of February 2019. But it's unlikely Ethiopian could easily make a strategic decision to switch from Boeing as its main supplier as the ambitious airline expands rapidly across Africa and globally.
"Boeing doesn't want to lose a single customer, especially a long-standing customer like Ethiopian Airlines," says aviation industry analyst Henry Harteveldt. The risks for Boeing, he added, would become substantial if it doesn't quickly identify and address the causes of why these accidents have happened.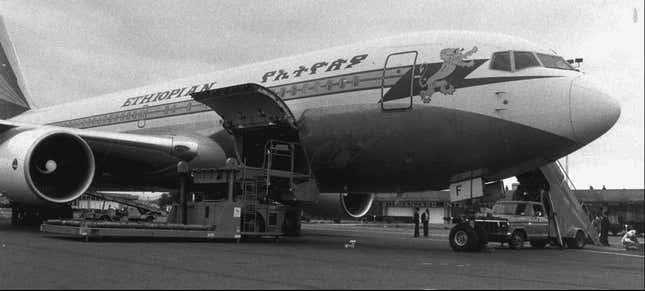 As investigations of what transpired get underway, officials in Addis Ababa have said there were "clear similarities" between the two accidents. The US Federal Aviation Administration also noted that "refined" satellite data and physical evidence from the site of the Ethiopian crash pointed to resemblances between the two tragedies.
"The last thing Boeing needs is for the airlines to start questioning Boeing's ability to build airplanes," Harteveldt said.
Getting to the bottom of things will be crucial given that Ethiopian plans to work with Boeing, among others, to boost its aviation capabilities and build a new aerospace manufacturing hub.
"Boeing will react quickly" because of the well-established link with Ethiopian and "because of the gravity of these two crashes put together," says Aubrey Hruby, an investment advisor and a senior fellow in the Atlantic Council's Africa Center.
Sign up to the Quartz Africa Weekly Brief here for news and analysis on African business, tech and innovation in your inbox