Sudan experienced a complete power outage on Sunday (Apr. 7), just hours after a social media block took effect across the country. Officials at the ministry of electricity and water didn't give an explanation for the blackout, but the incidents conflated with escalating sit-in protests against president Omar al-Bashir's three-decade rule.
Since December, demonstrators have called on 75-year-old Bashir to step down so as to remedy the dire economic and political situation in the northeastern African state. Yet Bashir has refused to resign, declaring a yearlong state of emergency and dissolving both central and state government officials in February.
To pressure him, protestors camped outside his residence this weekend—which includes the compound that houses the offices of the defense and intelligence services—and urged the military to intervene and rally on their side. Security officials have blocked several roads leading to the complex and used tear gas to break up the demonstrators. The latest marches mark the 34th anniversary of the coup that overthrew the regime of former president Jaafar Nimeiri.
As the protests intensified in recent days, digital activists say telecom operators blocked social media outlets too, further limiting the flow of information and media coverage. The internet monitoring organization NetBlocks said operators including Sudatel and Kanartel cut-off access to platforms including Twitter, Facebook, WhatsApp, and for the first time, instant messaging app Telegram.
The shutdown is the second the country has experienced since the protests began: the government also blocked social media networks for 68 days beginning Dec. 21 and ending Feb. 26. The move is also part of a widening trend across Africa, with longtime rulers mostly blocking the internet and social networking tools during elections or tense periods.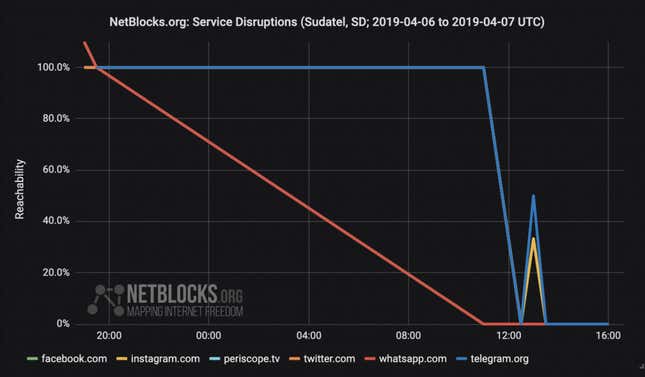 NetBlocks said the power disruption also disrupted 45% of Sudan's telecom infrastructure, deepening the already-instituted social media restriction. The digital advocacy agency also noted the filtering of social media platforms by internet providers was "not technically related to the subsequent power outage, but is rather consistent with techniques used to censor online content in Sudan during previous incidents."
Protestors in Sudan are being emboldened by those in Algeria who have pushed ailing president Abdelaziz Bouteflika to resign after 20 years in office. Bouteflika, who has been confined to a wheelchair since suffering a stroke in 2013 and has not addressed the nation publicly for years, wanted to run for a fifth term.
Following Sunday's electricity and social media shutdown, prominent Algerian writer Ahlam Mosteghanemi tweeted her and her nation's support [in Arabic] for Sudanese protestors.
"Let the electricity be cut off in Sudan," she wrote. "What we carry in our hearts of flame of love for you is enough to illuminate a continent."
Sign up to the Quartz Africa Weekly Brief here for news and analysis on African business, tech and innovation in your inbox