The daughter of the president of the Republic of Congo reportedly used stolen government funds to buy a $7 million condo in the Trump International Hotel & Tower in New York, raising new questions about the Trump Organization's ties to international money laundering.
In the summer of 2014, Claudia Sassou-Nguesso, daughter of president Denis Sassou-Nguesso and a member of Congo's parliament, purchased apartment 32G in the Trump building at the intersection of Columbus Circle and Central Park South, according to the anti-corruption NGO Global Witness.
Congo is the fourth-largest oil producer in sub-Saharan Africa. The Sassou-Nguesso family has controlled the government there for nearly 40 years, while repressing political opposition and amassing properties overseas.
Global Witness reports the money was funneled through Cyprus, the British Virgin Islands, and Delaware shortly after large amounts of public funds were withdrawn from the Congolese treasury. Trump International Realty, owned by the Trump Organization, brokered the sale, according to documents reviewed by Global Witness, which said at least five "Trump-owned or Trump-led companies were involved in the sale of unit 32G." Global Witness investigator Peter Jones tells Quartz the organization discovered a shell company fronted by Portuguese businessman Jose Veiga that was set up just before he made the buy for Sassou-Nguesso, in cash.
Veiga said in 2017 that the Trump International apartment is owned by a company in which he is a shareholder, was financed entirely by him, and "has nothing to do with third parties, namely the family of the President of Congo." However, Global Witness has reviewed a letter Veiga wrote to the Trump International board that reads: "This letter is sent to you on behalf of my good friend, Lauren Anne Marie Ikia Lemboumba, who have [sic] applied to purchase an apartment in Trump International Hotel & Tower Condominium." Lauren Anne Marie Ikia Lemboumba is the 17-year-old daughter of Claudia Sassou-Nguesso, according to Global Witness.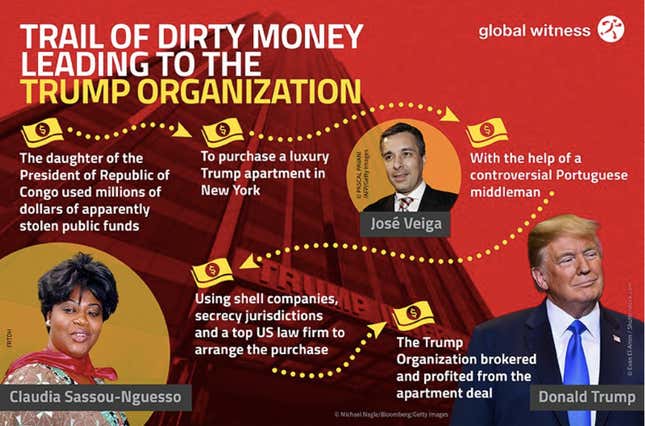 The Trump International purchase took place two years before Donald Trump was elected. Owners of apartments in the building pay thousands each year in maintenance fees to the Trump Organization, the company now run by the president's sons Donald Jr. and Eric. Global Witness says the Trump Organization should "clarify the source of the payments for condominium maintenance of apartment 32G since May 2015 as well as Donald Trump's role in these companies."
Global Witness requested comment from the Trump Organization but did not receive a response within the time period provided. After its report was released, a Trump Organization spokesperson told the New York Times that apartment 32G had been purchased from a third party unrelated to the Trump Organization and that any building fees paid by the owner go toward maintenance and "are not fees paid to Trump for profit."
Prices at Trump International average about $3,000 per sq ft. The two-bedroom, two-and-a-half bathroom condominium measures 1,800 square feet, which means Sassou-Nguesso paid a little over $4,000 a sq ft. It is located just off Central Park South, the priciest location in all of Manhattan, with a median price per square foot of $2,521 in 2016, according to data from StreetEasy.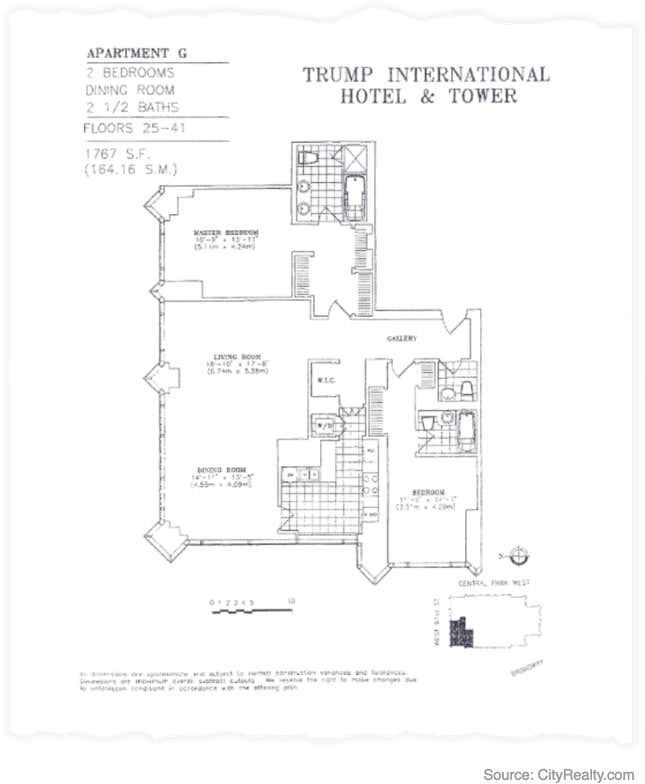 Seeking transparency in the US
The US real-estate market is a magnet for wealthy foreigners who want to move dubiously acquired income out of their home countries. Jones says the deal "has all the hallmarks of money laundering." Global Witness emphasized that the Trump Organization does not appear to have broken any laws.

The Trump International deal fits a pattern of lax US oversight, the NGO says. "Since 2001, American real-estate agents have been required to establish money laundering checks, but the Treasury Department has failed to enforce this," the Global Witness report says. "This should change, and Treasury should immediately require companies to disclose their ultimate owners when purchasing US real estate."
French prosecutors have been looking into other deals made by the Sassou-Nguesso family. They have so far found $67.6 million in luxury purchases using allegedly pilfered public funds, including more than $1 million spent on designer clothing. In 2017, Claudia Sassou-Nguesso's sister, Julienne Sassou-Nguesso, and her husband Guy Johnson, were accused by French authorities of laundering stolen public funds via the purchase of a $3.4- million mansion in Paris.