Among African governments and the hospitality sector, there's a growing call to regulate the world's biggest accommodation-sharing site: Airbnb.
South Africa's hotel federation last week said the platform was taking business away from registered hotels and eating into their profits. The 70-year-old industry body described Airbnb as a "massive problem," and said existing laws failed to keep up with a fast-changing sector. It also asked the government to create a level playing field.
The move follows calls to regulate and tax the short-term rental service in countries including Kenya, Tanzania, and Namibia. Kenya's tourism sector, for instance, said this year it was working with Airbnb to facilitate registration of all properties on the platform and start remitting taxes by July.
In Tanzania, homeowners were ordered to register their facilities last September or face arrest. The same happened in Namibia in 2017, where regulators ordered accommodation establishments with two or more bedrooms to register with the tourism board.
The restrictions from African governments reflects Airbnb's rapid growth in Africa and the increased appetite from both local and international travelers to use the platform—especially in off-beat destinations that might not have established hotel outlets. The calls to administer these unregistered platforms also mirrors governments' efforts to retain the larger share of tourism revenues, which form critical parts of gross budgets.
The pushback from the hospitality sector also comes as hotels chains expand across the continent, looking to both bridge the scarcity of top-notch quality hotels and tap into the growing number of tourists and business travelers. Airbnb itself recently bought into the hotel sector by acquiring booking application HotelTonight, a crucial move as it gears for an initial public offering.
The demands to rein in Airbnb is also symptomatic of the challenges facing global companies like Uber and Netflix in Africa, whose disruptive services have been accused of flouting local regulations, short-changing customers, and avoiding taxes. For instance, Africa's dominant television service MultiChoice blames multinational streaming services for a loss of 100,000 subscribers, arguing also that Netflix and Amazon were able to rake in higher profits on lower subscription fees because they were not subject to local rules and taxation plans.
Yet African governments aren't the only ones setting rules and cracking down on Airbnb. In the US, the platform has been battling in court cities including New York, New Jersey, Miami, and San Francisco over calls to give up the complete list of its hosts' details, register the rental properties with authorities, and pay surcharge fees.
Last year, Spain restricted the number of dwellings that can be legally rented on the platform, and from January 2019, Airbnb started reporting information of home hosts to the Spanish tax agency. Ireland, Germany, France, and India have also taken similar moves in the past, asking the firm to share data on rentals to track down tax evaders. The home-sharing site says it's improving its relationship with governments and says it's remitted more than $1 billion in taxes to local coffers.
South African challenge
The opposition in South Africa is especially worrying for Airbnb given how much success the company has had in the country. Five years of Airbnb listings brought $247 million to South Africa, with Cape Town as the most popular with over 17,000 listings. The accommodation association in the southeastern city of Port Elizabeth also complained of Airbnb's growing influence, saying the platform made 6 million rands (nearly $430,000) in the city, a 65% increase from December 2017.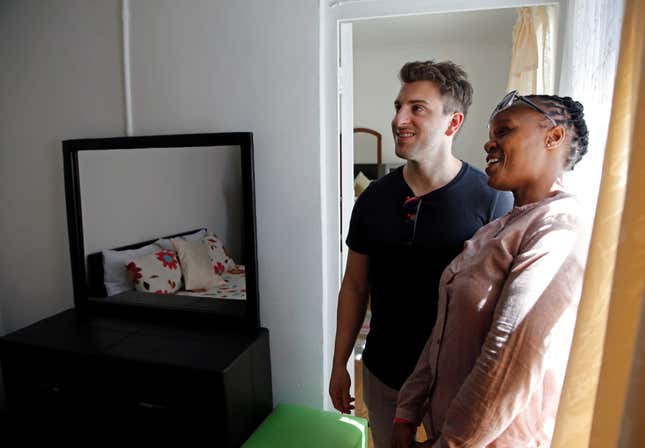 Taking note of some of these complaints, South Africa this month amended its Tourism Bill to include "short-term rentals"—meaning once the bill becomes law, Airbnb listings will follow the same regulations as the rest of the hospitality industry, including being subject to the tourism board's official grading system.
On hotels and traditional bed-and-breakfast establishments, the grading system is seen as stars on the front of the building. However, it's unclear whether once law, the new regulations would require private homes turned into Airbnb's to carry the same signage.
For now, Airbnb seems to be heeding the flurry of opposition messages it's receiving in Africa.
In a recent interview with The Africa Report magazine, the regional director for the Middle East and Africa Hadi Moussa said they wanted to complement hotel services and were thinking of ways of helping countries collect taxes. "We have not started doing this in Africa, but we are currently in discussion with Morocco to push this forward."
Sign up to the Quartz Africa Weekly Brief here for news and analysis on African business, tech and innovation in your inbox