On Ivanka Trump's first official visit to Africa, there have been no colonial-era helmets or Trump-style gaffes—just business.
The daughter and adviser of president Trump has spent the past three days visiting Ethiopia and Côte d'Ivoire as she promotes the Women's Global Development and Prosperity program, an initiative to support women across developing countries. The fund's big-picture goal is to empower 50 million women across developing countries over the next six years and is in line with Ivanka Trump's self-branding as a women's empowerment advocate as she continues to build an international and diplomatic profile.
In comparison, Melania Trump's trip last October, which left many confused as to the purpose and intended audience of her trip, was marked by her colonial-style fashion choices.
For her part, Ivanka Trump has avoided controversial fashion picks and has spent much of her time in high-powered meetings. While in Ethiopia, where she met the country's first female president Sahle-Work Zewde, Trump announced the launch of 2X Africa, a $350 million initiative to support investment in women in Africa  in partnership with the Overseas Private Investment Corporation (OPIC), the U.S. Government's development finance institution. The initiative has been launched, Ivanka Trump says, "to directly invest capital into supporting women-owned, women-led, and women-supporting projects in Sub-Saharan Africa."
Reinforcing the business theme of her visit, Trump also met with private sector businesswomen who form part of Ethiopia's $860 million coffee industry.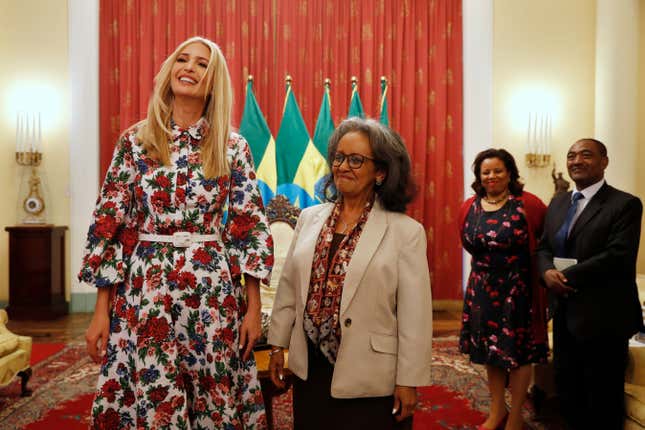 In Côte d'Ivoire, Ivanka Trump met with vice president Daniel Kablan Duncan and other government officials at the Presidential Palace where she discussed removing legal and cultural barriers to women's economic empowerment in the West African country. And for its part, the Ivorian government talked up its commitment to improving on women empowerment indicators, including girls' education.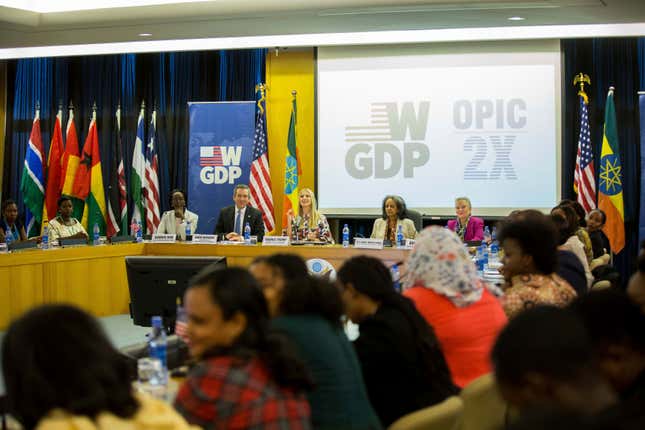 Just like first lady Melania's, Ivanka Trump's genial demeanor and rhetoric has seemed at odds with president Trump's Africa-related actions since becoming president. His now infamous comment about "shithole countries" aside, the United States' Africa policy has appeared in a state of flux under the Trump administration—a reality that could have been predicted given the administration's skepticism even before the president was sworn in.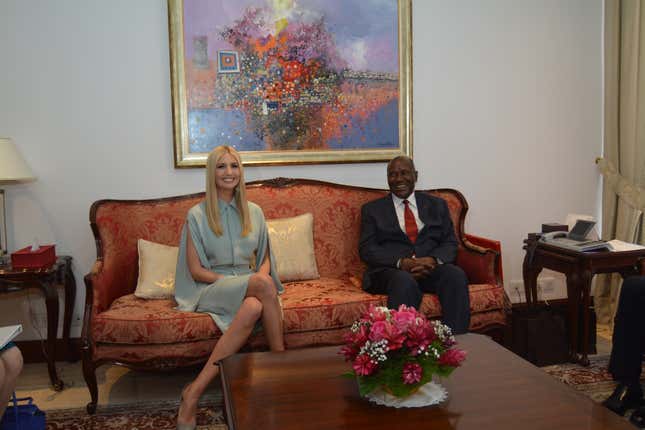 African countries have also been hit hard by Trump's tough stance on immigration with the latest measure reportedly being possible visa bans for countries whose nationals overstay their short-term visas. While that measure is being debated however,  Sierra Leone, Guinea, Eritrea and most recently Ghana have already been issued visa restrictions for failing to or delaying accepting their nationals ordered removed from the United States.
Trump's "trade wars," mainly dominated by high-profile tussles with powerhouses like China, has also claimed an African casualty: as a response to Rwanda's raised tariffs on second-hand clothes imported from the US, the Trump administration suspended Rwanda's privilege to export duty-free clothing to the United States last July.
Sign up to the Quartz Africa Weekly Brief here for news and analysis on African business, tech and innovation in your inbox