It's been an remarkable couple of weeks for Jumia, the largest e-commerce operator in Africa, as it made tech history by listing on the New York Stock Exchange. The company's initial public offering has been lauded as game-changing in African tech circles especially given previous concerns about a lack of exits for investors in tech startups as well significant operational challenges in e-commerce across the continent.
Quartz Africa spoke to Sacha Poignonnec, co-founder and chief executive of Jumia, to discuss the company's operations across African markets, the possible impact of its landmark initial public offering and the sustained debate over the company's identity.
How do you respond to the increasing furor around Jumia's roots and identity as an African company?
For us, it's always been that we have put so much passion into Jumia to make it work and Jumia is serving African consumers—that's all Jumia is doing. The only reason for Jumia to exist is to bring some value to the African consumers. At the end of the day, it's really very simple.
Now, to make this happen and push this ambitious idea of e-commerce in Africa, Jumia has tapped into multiple streams of resources inside and also outside Africa. It's just something, I would say, is a bit pragmatic.
When we started the business, we were a group of founders and there were a lot of people working for Jumia and the last thing we were wondering was "where are you from?" and "what's the color of your skin?" It was just about being a bunch of entrepreneurs believing we can make this work. Our goal and dream is to bring the e-commerce business to the African consumer and African seller and that's what we do. This is our exclusive focus.
The 5,000 people who work for Jumia in Africa kind of wonder sometimes why this question is being asked. Okay, the incorporation is in an European country but it's something which makes sense. And I speak to a lot of entrepreneurs and it's also something that they actually understand. That's how we see it.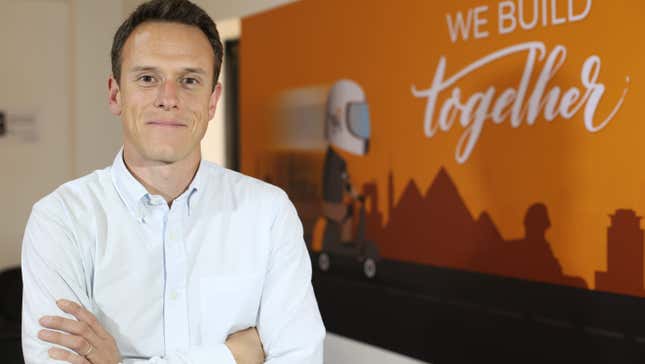 Are you trying to make the case incorporating outside Africa was a practical decision? 
Completely. Again, the mission of Jumia is to win the love of the consumers and sellers and that's all that we're doing. But sometimes you need to leverage what's outside Africa to make it happen. It's pretty usual.
Is there a risk Jumia's early success is simply because of the novelty of  being Africa-focused e-commerce company listing on a global exchange?
For this, we have to let a little more time pass. What's special with the capital market is you don't really know who's buying or selling so we're going to have to see how this develops overtime and then we'll be able to draw some conclusions.
Maybe it's what you're mentioning but only the future will have to tell. The only thing we can conclude now is that during the first couple of days, there were more people buying than selling!
What should Jumia's legacy be for the local ecosystems?
We always knew that when you start a business, you start with founders who have a huge entrepreneurial spirit.  Inevitably, as you grow the company, a lot of people join not really because they intend to build the company but also because they want to learn. It's completely normal. If you launch a business, you're going to hire people who are very entrepreneurial and will at some point launch their own business. They consider Jumia as a school of entrepreneurship, e-commerce and online business and that's great.
We had plenty of alumni also join the different events of Jumia [during the IPO]. Tunde Kehinde (co-founder of Jumia Nigeria, now co-founder of Lidya) was with us in New York last week when we did the IPO. We always knew of the type of impact we could have and we are very happy to see alumni launching their own business.
What do you anticipate the impact of the IPO will be for the African ecosystem beyond Jumia?
I think we have to be very humble and realistic. It [the IPO] is not going to change anything overnight—it's going to be a process.
When you think about technology and startups, you need great entrepreneurs and great backers and I want to be believe that some entrepreneurs are leveraging the example of companies like Jumia, Andela and even MPesa. And then for backers, we hope they're thinking 'you know what, maybe I'm going to back the entrepreneurs here [in Africa]s because I can see that a good entrepreneur with good backers can produce a good company'."
So I think we need to realistic that, overnight, the IPO is not going to transform anything and it's rather one of many examples [of what's possible] but I believe the impact is going to more entrepreneurs and more backers and that's very positive.
It's a long journey that the Jumia team has embarked on and it takes time to show, prove and deliver and the fact that Jumia is public makes it more visible and people are going to see the results, they're going to see the growth, the path to profitability, the problems—if there are problems, and that will reflect on impact but it's going to take time.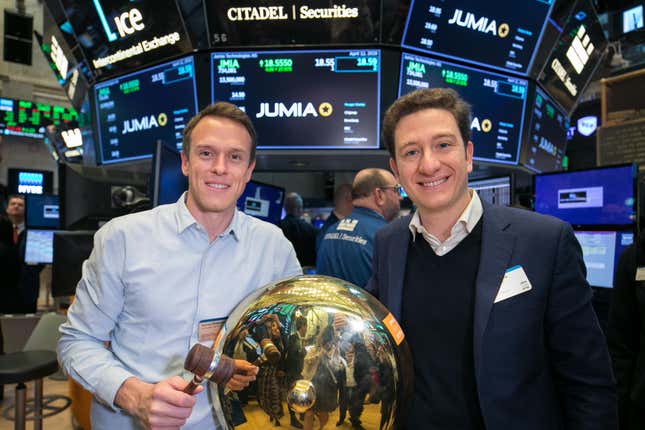 How has Jumia's incorporation of other business verticals like travel bookings into the platform fared so far? 
We always focus on what the consumers want and what's relevant to them. And what they want is to find relevant good and services to use and buy which are helpful for them. Some people like to travel or like to order food online while some don't care about that. At the end of the day, we see our mission as bringing to the consumers ways to save time and save money.
Buying products is something we do everyday but we don't travel all the time or order food all the time so, the reflection of our business to more of the marketplace is logical. But Jumia has found out that consumers love those services and so, for us, it's a great way to provide them with services which are helpful to them.
Now with Jumia Pay, they can also access other services like airtime recharge and paying bills. More and more, we are also making Jumia Pay more open so that customers can book things like bus or movie tickets. Ultimately, we want to offer anything which is helpful and let the consumers decide.
Are there plans to open the Jumia Pay solution beyond the company anytime soon?
For now, we are focused on providing this for the Jumia ecosystem but this is something we're contemplating.
Jumia has racked up losses of nearly a billion dollars between 2012 to 2018 and last year it was still cash flow negative, for how much longer can the business keep on losing money? 
It's a question that we were asked [during investor roadshow] and now that we are public, we are limited to some extent in terms of what we can tell. If you look at the prospectus, you see that we are growing users and gross merchandise volume fast and we are doing this while we are improving our cost efficiency.
It goes without saying that the strategy is to continue to grow and provide more business to the sellers so we are able to generate more revenues and keep our cost as stable as possible. It's an equation, and if you look at the prospectus you can see that the costs are growing much less faster historically. We are continuously working on driving both the adoption and the user base but also the path to profitability.
The logistics and delivery problem is a big challenge with e-commerce in Africa. How are you going to overcome this if you're to achieve profitability?
We have done a good job with our logistics partners to combine their local knowledge and strong expertise with data and technology. What we're really focused on now is driving customer adoption in the most effective way.
If you look at the prospectus, when you ask consumers if they like Jumia, we have a very excellent level of service. Then when you look at the numbers, in our market there are roughly 400 million internet users and last year we had four million active Jumia customers, so for us that's where the focus is. If you apply those numbers to Nigeria, which is somewhere around 28% of the business, you can see how many more Nigerians and consumers in general are yet to discover the benefits of e-commerce.
When you look at the reasons and barriers to the usage of e-commerce, you are dealing with barriers which are about the knowledge of how to use it, quality of product and being able to check if the products are genuine. It's not about infrastructure, internet access or logistics, it's more about getting the habit.
This interview has been edited for length and clarity.
Sign up to the Quartz Africa Weekly Brief here for news and analysis on African business, tech and innovation in your inbox
Want a better understanding of the 2019 IPO landscape? Sign up for a free trial of Quartz membership and check out our premium field guide to the tech IPO boom.