After a billion-dollar landmark initial public offering (IPO) on the New York Stock Exchange, what comes next? For Jumia, the largest e-commerce operator in Africa, it'll be even more work.
With e-commerce in Africa continuing to prove difficult—as the scale of Jumia's losses and the fortunes of other companies show—the company will double down on deepening its hold on the market and perfecting operational processes.
Since launching its services in 2012, Jumia racked up losses of almost $1 billion and was cashflow negative to the tune of $159.2 million, for the 12 months to Dec 31, 2018. Looking through the S1 filing which lays out its prospects for investors as best as it tries, Jumia still comes across as a business with major fundamental operational challenges. That's because Jumia is not just building a business but is also pretty much building an industry sector, especially as it tries to do so at scale across 14 very different African markets.
The immediate focus, Jumia executives say, is driving increased adoption of its marketplace platform to grow its four million active users.
"What we're really focused on is driving customer adoption in the most effective way," says Sacha Poignonnec, co-CEO of Jumia. "When you look at the reason and barriers to the usage of e-commerce, you're dealing with barriers which are about knowledge of how to use it, the quality of the product or being able to check if the products are genuine," he tells Quartz Africa.
The enduring skepticism, which Poignonnec alludes to, "tells you there's still a lot of engagement and education that needs to happen," says Juliet Anammah, CEO of Jumia Nigeria, the company's largest market. Anammah says Jumia will look beyond solely relying on traditional marketing methods of heavy spending on billboards and media spots to effectively drive adoption. The company is also signing up social media influencers and affiliates as well as building "Jumia Force," a 40,000-strong network of commissioned agents across the continent who work on winning over new users and earn commissions based on customer conversions.
Low trust
But while pursuing adoption, Jumia will likely face lingering concerns given that it operates in low-trust markets with buying habits and social behavior that impede e-commerce.
For instance, Tunde Salami, a government worker in Ibadan, in southwest Nigeria, says he hardly shops online even though it's easier to do so due to "the fear of not getting what I ordered." That fear, he admits, is not based on personal experience but on reviews on social media. Meanwhile, Dele Ishola, a Lagos-based filmmaker who frequently shops online only does so on Amazon rather than Jumia citing price differences and product quality.
The trust issues aren't limited to prospective users however.  Bilikiss Amusa, a Lagos-based teacher who shops monthly on Jumia, cites the lack of the "pay on delivery" option on some items as a reason for not shopping more. It's proof that the cash-on-delivery model, originally adopted as a workaround for early-day online payment problems, has become an essential feature of the online shopping experience in African markets with customers accustomed to verifying product quality before paying rather than trusting the process for returns and refunds.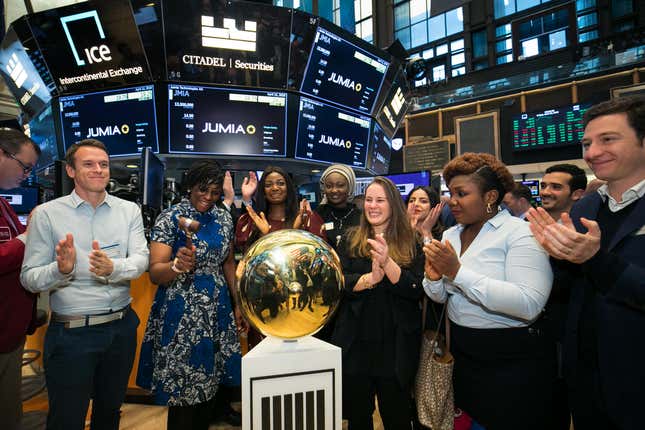 Regardless, Anammah says Jumia is not in a hurry drop the option despite high-profile fraud and security challenges, including the murder of a Jumia delivery agent in 2017. "As long as there are customers who are not yet comfortable with paying online, we will still offer cash on delivery. It's a marketing tool," she tells Quartz Africa. The long-term bet though is customers will eventually take up online payments and there's proof of a growing shift: Jumia Pay, the company's in-house solution, accounted for 54% of transactions on the platform in the second half of 2018, Anammah says.
To deal with its ongoing quality assurance issues and improve trust, Anammah says Jumia is "learning from other platforms and adapting even better for Africa." The company's punitive measures for sellers who deliver low quality or wrong items through its marketplace currently include fines and delisting. It also keeps a ratings score card determined by buyers' ratings while an algorithm ensures the best rated sellers appear more frequently on its marketplace.
Based on logistics
As Jumia found out in its early days, the logistics of prompt delivery in cities with limited addressing systems is tricky. But after years of investing in technology and manpower, Anammah says the delivery problem has "been cracked from a process and system perspective." While it operates a marketplace with external sellers, Jumia takes responsibility for all deliveries in partnership with third-party couriers and agents.
"The process and systems to do it [deliveries] in an efficient manner, in a way that e-commerce demands is where we invested in," Anammah says. That process includes continued training for delivery partners, developing technology to track routes, items delivered and delivery payments and using data to determine best routes to improve efficiency.
Some of the effort has paid off as Amusa cites quicker deliveries in Lagos as the biggest improvement noted with Jumia over the past year.
But, in fragmented markets and amid the company's growth, late and missed deliveries are unlikely to be entirely eliminated. That reality likely compounds existing trust issues given the company's already low margin for error. And it's a problem that Jumia could continue to contend with as it expands beyond primaries markets like Lagos: indeed half of the deliveries fulfilled in Nigeria last year were made to secondary cities and rural areas, Anammah says.
As the novelty of the IPO wears off, Jumia will now face even more scrutiny as a publicly listed company as it looks to turn around its long history of losses. "Now we're really at a phase where we have to concentrate on operations and doing what we know," Anammah tells Quartz Africa. "It [the IPO] is only a beginning."
Sign up to the Quartz Africa Weekly Brief here for news and analysis on African business, tech and innovation in your inbox
Want a better understanding of the 2019 IPO landscape? Sign up for a free trial of Quartz membership and check out our premium field guide to the tech IPO boom.