Last month the World Health Organization's Global Surveillance and Monitoring System for Substandard and Falsified Medical Products issued an alert over the circulation of confirmed fake meningitis vaccines in Niger.
WHO called for increased vigilance at all levels of the supply chain—particularly in West Africa after it was discovered the meningitis vaccine's batch number and expiry date did not correspond to genuine manufacturing records.
Also last month, WHO warned of the circulation in Cameroon of fake hypertension drugs that had been found to contain glibenclamide instead of hydrochlorothiazide, with adverse effects reported for patients who took them. Genuine hydrochlorothiazide is used as an antihypertensive and diuretic medicine, whereas glibenclamide is an antidiabetic medicine. This alert came at a time the Cameroon Customs had just seized thousands of drugs of questionable quality.
Both the Cameroon and Niger cases were the latest in a string of incidents of counterfeit medicines circulating in African countries where an unfortunate confluence of struggling economies, weak regulation and a preponderance of poorly-educated consumers makes some of these countries extremely vulnerable to unscrupulous middle men  looking to make a quick buck without regard for human life. In recent years it has been become easier for fake drugs to be smuggled in from India and China because many legitimate drugs come from these same country sources.
African countries are also vulnerable because the legitimate pharmaceutical market on the continent is growing rapidly in line with population expansion, creating both challenges and opportunities. Consulting firm McKinsey predicts the value of Africa's pharmaceutical industry will double or triple to between $40 billion and $65 billion by 2020. This makes the sector attractive to pharmaceutical industry players but also some bad actors.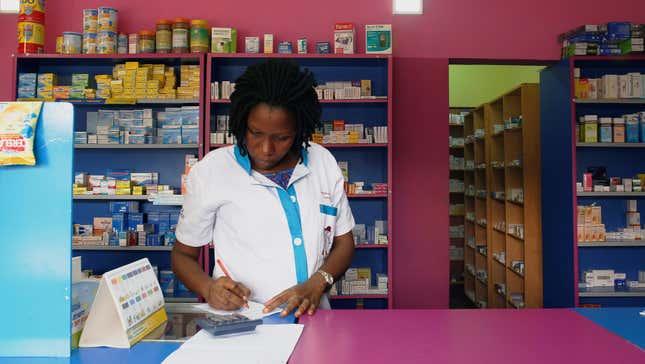 The scope and scale of substandard and counterfeit medical products, especially in sub-Saharan Africa, is huge, and its impact wide-ranging, say experts.
A WHO report shows Africa alone accounts for 42% of globally detected cases of substandard and fake medical products. The UN Office on Drugs and Crime suggests the penetration of counterfeit pharmaceuticals is much higher in the developing world, reaching 30%, as opposed to less than 1% in the developed world. It is widely accepted that perpetrators of the phenomenon see Africa as a soft target because the continent has weak technical capacity and tools when compared with the West.
Recent research estimates that one in 10 medical products circulating in low- and middle-income countries is either substandard or fake. This causes 64,000 to 158,000 malaria-related deaths every year in sub-Saharan Africa, according to research by the London School of Hygiene and Tropical Medicine. An additional 72,000 to 169,000 children die each year from pneumonia due to fake or substandard antibiotics, a University of Edinburgh report estimated.
The proliferation of substandard and fake drugs in Africa is complex, making its understanding difficult. But initiatives to roll back the scourge whose impact remain extremely damaging are coming to the fore. In 2018, Tanzania was commended for reaching an important milestone, being the first confirmed country in Africa to achieve a well-functioning, regulatory system for medical products.
Finding a way
Analytical devices to detect false drugs are very expensive for widespread use in many African countries, costing between $45,000 and $67,000, and are mostly imported. The hurdle is further complicated by an absence of systemized collection of data on counterfeit and substandard medicines on the continent. Faced with this, African innovators are building home-grown solutions to tackle the problem.
Franck Verzefé, a Cameroonian pharmacist, developed True-Spec, a portable device that uses artificial intelligence called RAI (Real Active Ingredient) to enable hospitals, pharmacies, pharmaceutical laboratories and quality control centers verify if certain drugs are genuine.
"This process takes less than 20 seconds and can be conducted anytime and anywhere," says Verzefé. "This solution allows the user to save money, as well as build a database to help estimate the true impact of substandard or fake medical products and to collect, structure and systematically analyse accurate, reliable and quality data for Africa." His innovation features amongst the Top 30 on the 2019 WHO Innovation Challenge which rewards health-oriented innovations to meet Africa's unmet health needs.
In Ghana, social entrepreneur Bright Simons founded mPedigree; an innovation which uses simple text message code to help customers verify the authenticity of medicines. The innovation has its codes on millions of drugs in Ghana, Nigeria, Kenya and India, with feasibility and pilot projects in other African countries.
Last August, a team of five teenage Nigerian girls won a Silicon Valley prize for an app called FD Detector (Fake Drug Detector), which tackles the problem of counterfeit pharmaceutical products in Nigeria.  Nigeria's regulator, National Agency for Food and Drug Administration and Control (NAFDAC), has struggled for years to close in on a rampant fake drug market. Though the exact number of counterfeit drugs is contested, many malaria deaths in Nigeria are have been linked to the use fake medicines.
Foreign support
Foreign action is also leveraging local efforts in the fight against fake drugs. The European Union is backing an African project—Enhancing Africa's ability to Counter Transnational Crime (ENACT) – to tackle fake drugs on the continent. The project will amongst other things see into it that African countries have strong and good legislations vis-à-vis pharmaceutical products, as well as examine the symbiotic relationship between corruption and health.
Also, US multinational tech company IBM is working on a permissioned blockchain network to tackle fake medicine in Africa. The expected blockchain-based solution is designed to help track and contain the circulation of substandard and counterfeit drugs along the legal supply chain.
In Kenya, the Pharmacy and Poisons Board is also set to roll out a short message code by June this year which will enable users to identify the quality of all locally manufactured and imported drugs.
While innovators and regulators keep creating technology and new systems to curb counterfeit medicine in Africa, out of necessity and opportunity, the problem keeps proving to be stubbornly resilient. Constrained access to affordable, safe and quality medical products, lack of good governance and weak technical capacity and tools the biggest obstacles to overcome.
Sign up to the Quartz Africa Weekly Brief here for news and analysis on African business, tech and innovation in your inbox