Benin's legislative elections today will have no one contesting from the opposition parties. Another thing that voters won't have access to: the internet.
Research from the digital monitoring organization NetBlocks shows the country's leading internet provider Spacetel has been shut down. The move comes hours after applications including WhatsApp, Facebook, Twitter, Telegram, and Instagram were blocked approximately midnight on Sunday (Apr. 28). Virtual private networks including Tunnelbear, Hola, and PureVPN, usually used to circumvent online censorship, were also inaccessible in the country.
The West African nation now joins the list of African states, including Sudan, DR Congo, and Egypt who have limited online access ahead of key elections, political referenda, or anti-government protests this year. Activists say the cut-offs usually have significant economic, political, and social costs, particularly given how popular messaging apps like WhatsApp are crucial for voters, journalists, and election observers.
"While the global debate on the role of social media continues, withdrawing these services suddenly on the day of elections is bound to significantly impair the democratic process," says NetBlocks director Alp Toker.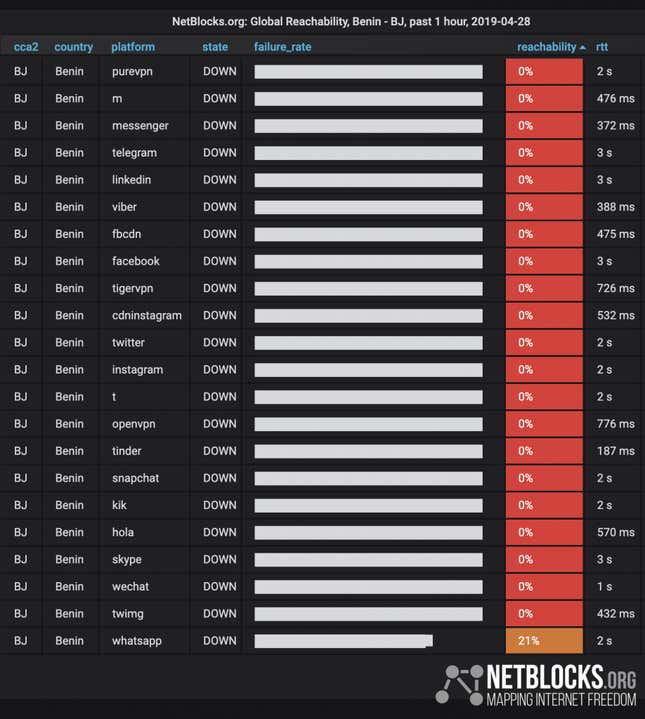 The shutdown in Benin comes as voters line up to select 83 members of parliament from two parties both allied to president Patrice Talon. The polls are also taking place amid what Amnesty International called an "alarming level" of a crackdown against journalists and political activists. The government banned protests in the lead up to polls, with security officers firing tear gas to disperse demonstrators including against former presidents Nicephore Soglo and Boni Yayi this month.
This is not the first time Benin has tried to clamp down on internet use. Last year, officials passed a decree taxing citizens for using social platforms. Following both a local and global decry, with citizens and advocates using the hashtag #Taxepamesmo ("Don't tax my megabytes"), the government reversed its decision and canceled the levy.
Sign up to the Quartz Africa Weekly Brief here for news and analysis on African business, tech and innovation in your inbox