Malawi has joined the list of African states that have experienced disrupted internet during crucial election periods.
As results from Tuesday's (May 21) general election trickled in, numerous internet providers in the southeastern African state experienced service interruptions that lasted for up to six hours. The suspension came after a tight election in which president Peter Mutharika is seeking a second term in office. Mutharika, whose administration has been fraught with corruption, is being challenged by his own vice president Saulos Chilima and Lazarus Chakwera, a former preacher who is leading the opposition.
Data from digital advocacy group NetBlocks shows the outage began at 6:30pm local time yesterday, half an hour after counting began around the country and results were being sent to the electoral commission. Fixed network carrier Malawi Telecommunications Limited and fiber-optic network operator SimbaNET were among those affected.

NetBlocks also told Quartz the internet interruption affected Skyband, a fiber network deployed by the Malawi Electoral Commission as a backup if the country's main fiber links failed—as they did. That disruption lasted for 30 minutes until 5:00am today, says NetBlocks director Alp Toker, adding that they communicated with election observers about the shutdown. The Malawi Electoral Commission hasn't commented on whether the vote count has been affected. Official results are due May 29.
Local media reports also noted television and radio communications networks were down in parts of the country.
Advocacy groups suspect the suspension is government-linked, in line with a trend around the continent to regulate what people say and do online—and when that fails, to deliberately disrupt or shut down whole networks. This is especially true of authoritarian states, who block the internet much more than partial or full on democracies.
"Disruptions affecting two ordinarily reliable telecommunications networks in Malawi have already been documented since polls closed yesterday," says Toker. "Authorities should ensure that critical systems are safeguarded and that the public remains informed throughout the process of vote counting and collation."
Quartz reached out to Malawi's communications regulator for more information on the causes of the outage, but has yet to receive a response.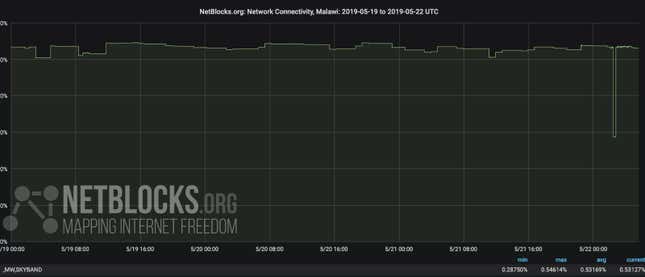 In the run-up to the election, observers were worried the Electronic Transactions and Cybersecurity Act passed in 2016, which penalizes "offensive communication" and places restraints on encryption, could be used to muzzle dissent online.
Despite the high internet costs and low internet and mobile penetration in the country, fake news spread on social media outlets in the weeks leading up to the tightly-contested elections, prompting a warning from the telecom regulator. Even though digital advocates were worried about internet shutdowns around the just-concluded vote, officials are assuring the public that networks will "continue to be available to all users."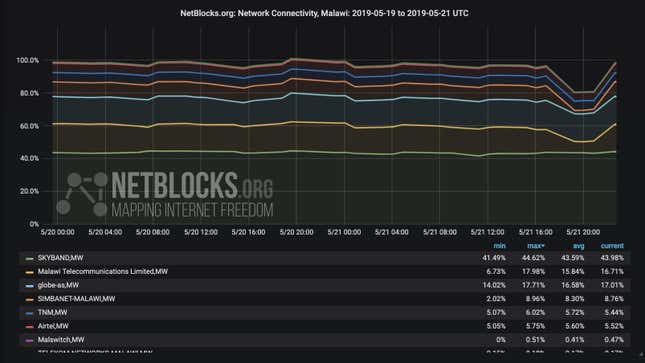 Malawi joins nations including Benin, DR Congo, and Egypt who have seen internet disruptions before, during, and after elections or constitutional referendums this year. Social media access has also been limited in countries including Sudan, Algeria, and Chad. In upcoming exams next week, Somalia said it will shut down social media platforms to limit cheating—a move watchdog groups have dubbed "unjustified" and "ridiculous."
Sign up to the Quartz Africa Weekly Brief here for news and analysis on African business, tech and innovation in your inbox