The growth of Chinese investment in Africa over the past two decades has been unprecedented and unparalleled. Despite what one might believe, China is not the leading foreign investor in Africa, nor is it the biggest donor. Both honors still belong to the US. What makes China's presence different from that of the rest of the world, is that it's physical, and thus, visible.
China has become the builder of a modern Africa, with its state banks providing loans and its state-owned companies constructing roads, bridges, railways, dams, airports, industrial parks and ports all over the continent. In 2018, China was the single largest financier of African infrastructure, funding one in five projects and constructing one in three.
For those in Africa, it's hard not to notice a new bridge being built in the neighborhood, or a new airport terminal under construction. These giant structures sprawling from city centers to rural areas are visible—even from space.
Airports: opening up to the world
Air travel in Africa is costly and inconvenient. African governments want to change that, with the help from China.
Chinese firms have financed and built new airports or airport terminals in Ethiopia, Mali, Mauritius, Mozambique, Nigeria, the Republic of Congo, Togo, Tanzania, Sierra Leone, among others in recent years.
Maputo International airport, Mozambique: China funded and built a new international terminal and expanded the old terminal from 2007 to 2012, increasing the capacity from 60,000 to 900,000 passengers a year.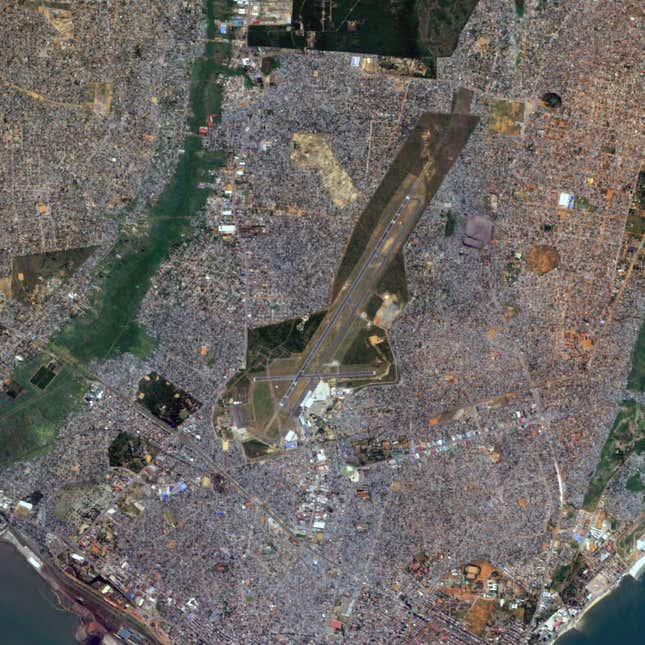 Abeid Amani Karume International Airport, Tanzania: China funded and built the second terminal from 2011 to 2018, expanding its passenger capacity by five folds.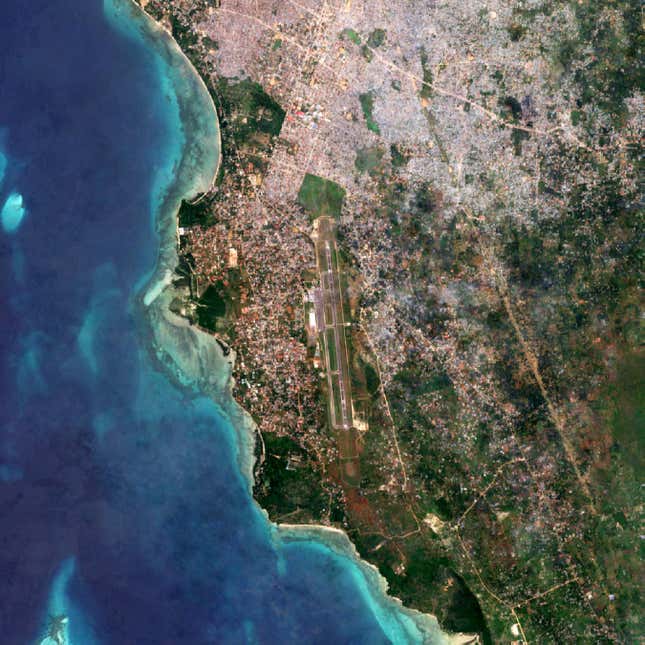 Juba International Airport, South Sudan: China financed $150 million to expand the airport in 2013 amid corruptions and conflicts of the country. The expansion included an extended runway, duty-free shops and more parking space, with the aim of making Juba "a real modern international airport."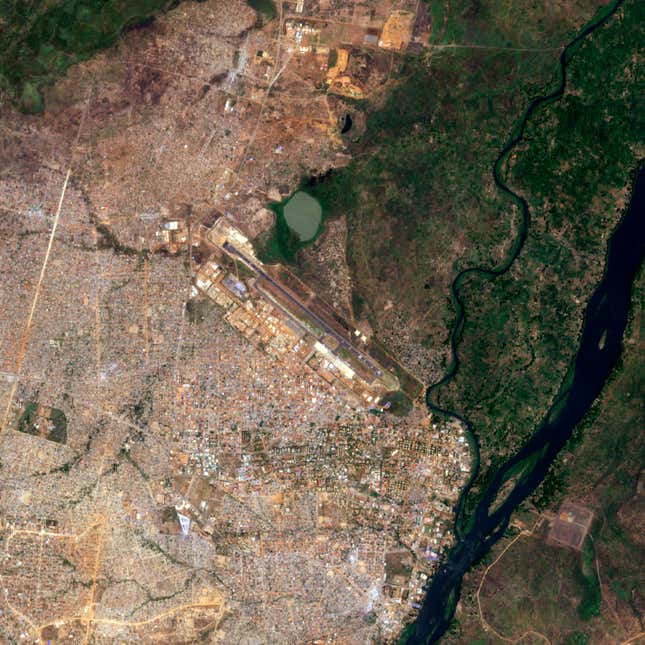 Oyo Ollombo Airport, Republic of Congo: China has funded almost all major infrastructure projects in Congo built between 2003-2013, according to a World Bank report (pdf). Airports are no exception. China pulled in $53 million between 2007 and 2018 to build new terminals, towers and power control centers at the Ollombo Airport.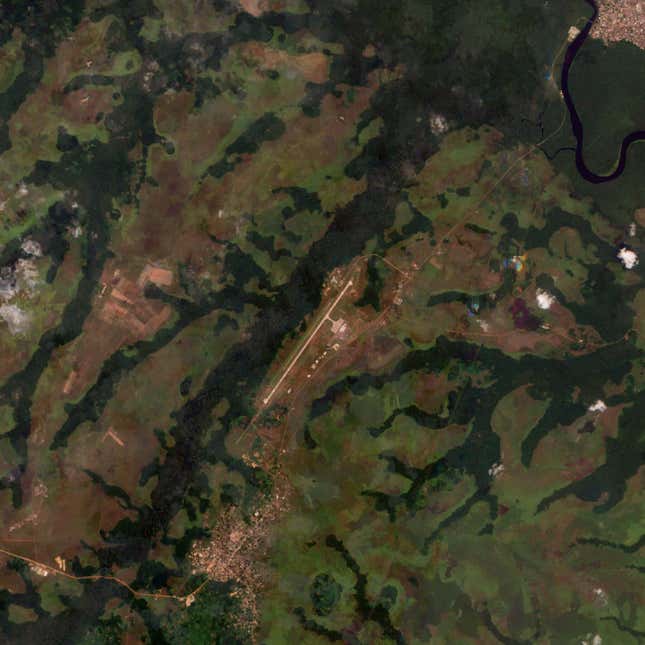 Sir Seewoosagur Ramgoolam International Airport, Port Louis, Mauritius: A new terminal opened up in 2013, doubling the airport capacity. It was the largest infrastructure ever built in Mauritius by then. China State Construction Engineering Corporation built it.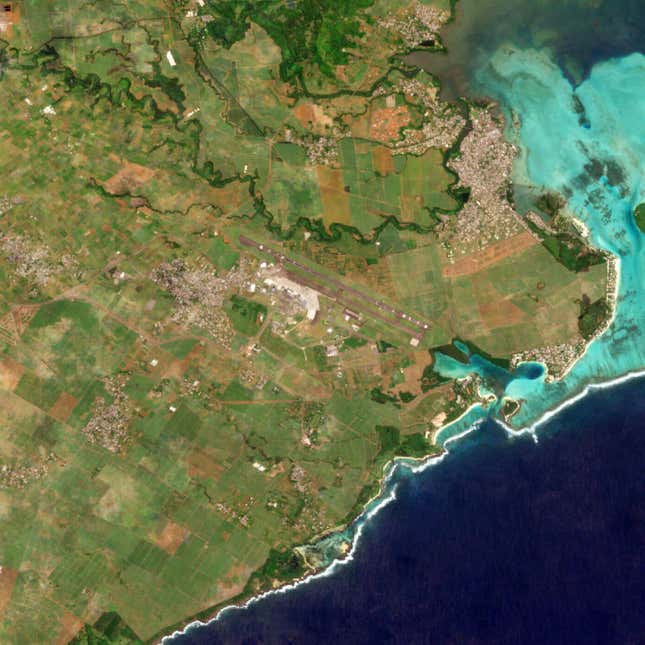 Bole International Airport, Addis Ababa, Ethiopia: A new terminal tripling the size of the airport went in operation at the beginning of 2019. China financed $363 million and built it.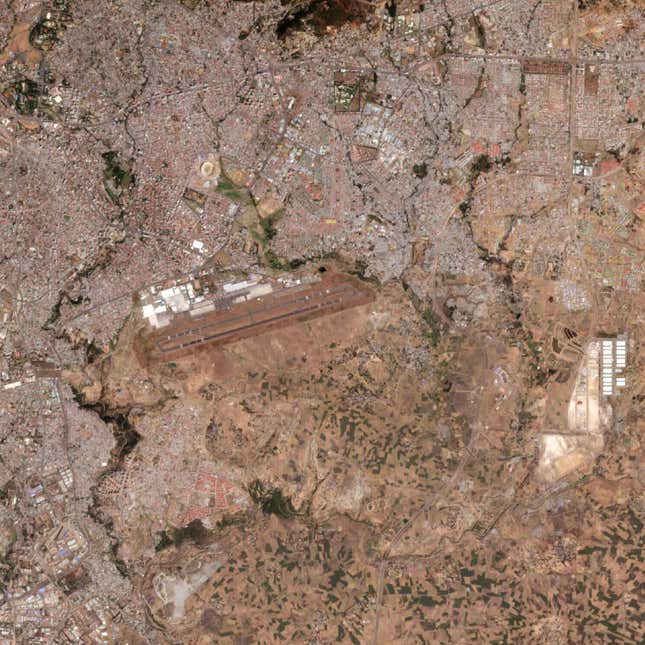 Industrial parks: building manufacturing capacity at scale
Some believed as the manufacturing sector peaked in Asian countries with rising wages, it would shift to Africa in the next decade. Developing and funding industrial parks in Africa is a task the Chinese government and Chinese businessmen took on eyeing a growing export market and good return on investment.
Hawassa Industrial Park in Awasa, Ethiopia: One of the world's largest, the $250-million park opened in 2016 after a nine-month construction by Chinese companies. China's ambassador to Ethiopia La Yifan saw the park as a way to bring down manufacturing cost for exported goods. "We need to see complete products leaving the continent instead of raw materials; this park is meant to address that," said Yifan the day after the park's inauguration.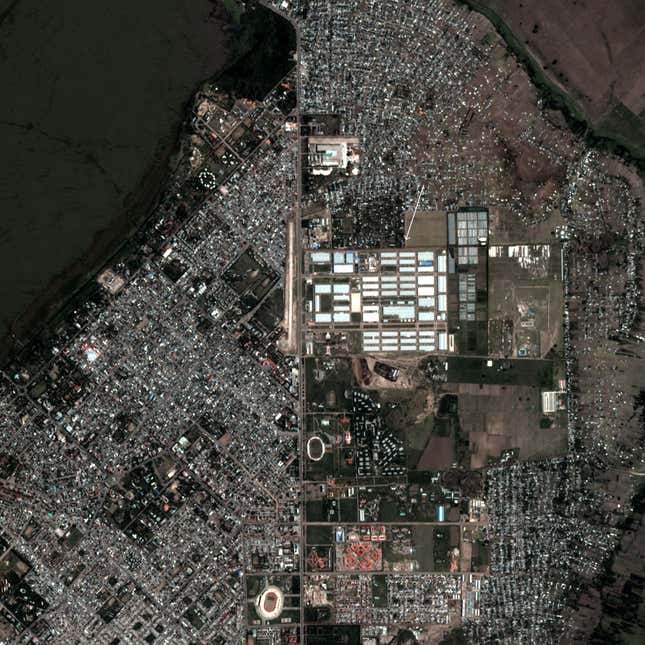 Hawassa Industrial Park under construction from late-2015 to mid-2016:
Kilinton Industrial Park in Addis Ababa, Ethiopia: A new industrial park financed by the World Bank and built by Chinese construction giant, Tiesiju Civil Engineering Group Co went operational in June 2018. The park is built specifically to attract global pharmaceutical companies to Ethiopia, with a capacity of hosting over 1,000 companies.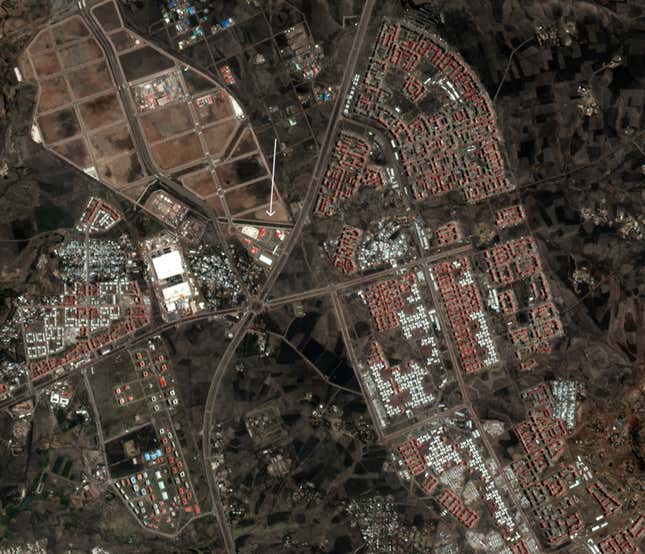 Kilinto Industrial Park emerged from grassland from 2016 to 2018:
Stadiums: political gifting at work
Today, there are few countries in Africa that don't have a stadium built by China with money from the Chinese government either as gifts or concessional loans. The Chinese government has used this modest but influential structure to build relationships with various nations in Africa, a four-decade-long strategy sometimes called "stadium diplomacy."
Amaan Stadium in Zanzibar, Tanzania: China's first stadium project in Africa in 1970. It was renovated and reopened with Chinese assistance in 2010, with a capacity of hosting 10,000.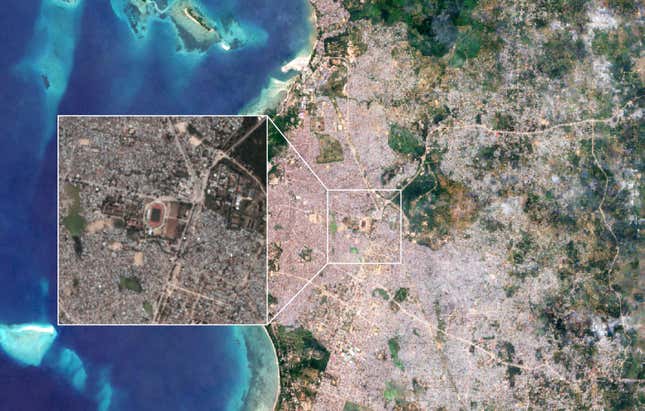 Barthélemy Boganda Stadium in Bangui, Central African Republic: A football (soccer) stadium with a capacity of 20,000, constructed by a Chinese company from 2003 to 2006.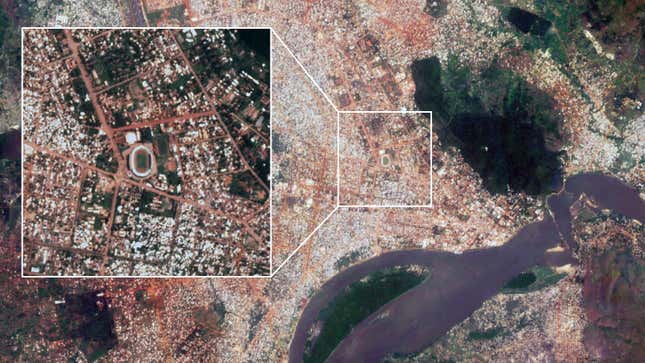 Bingu National Stadium in Lilongwe, Malawi: Capable of hosting 41,000, the stadium named after the president Bingu wa Mutharik is mainly used for soccer games. China loaned $70 million in 2013 to be paid over 20 years.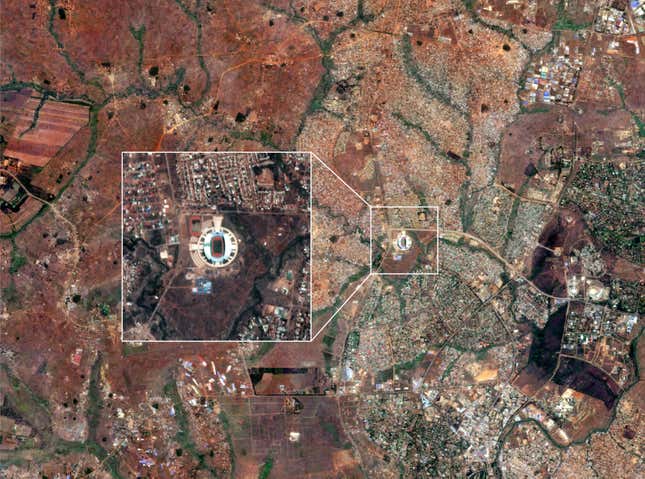 Estádio do Zimpeto, Maputo, Mozambique: The stadium sits on the outskirts of Maputo, not far from the Chinese-built international airport. Built with funds from the Chinese government, the soccer stadium opened in 2011 with a capacity of 42,000.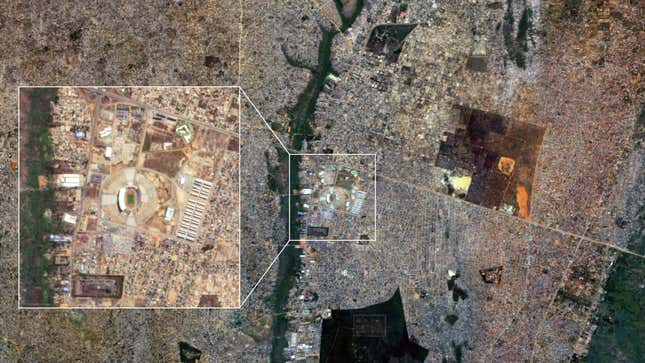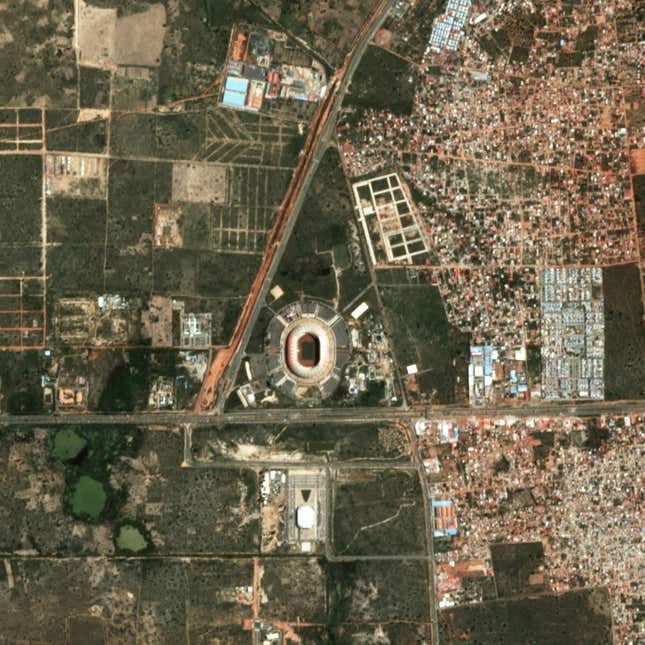 The Estádio 11 de Novembro in Luanda, Angola is among the four venues China constructed ahead of the 2010 Africa Cup of Nations (AFCON) soccer competition for a total of over $500 million.
Stade d'Angondjé, Gabon: The stadium was built for the 2012 AFCON with finance from both the Chinese and the Gabonese government. It opened in 2011 with a capacity of 40,000.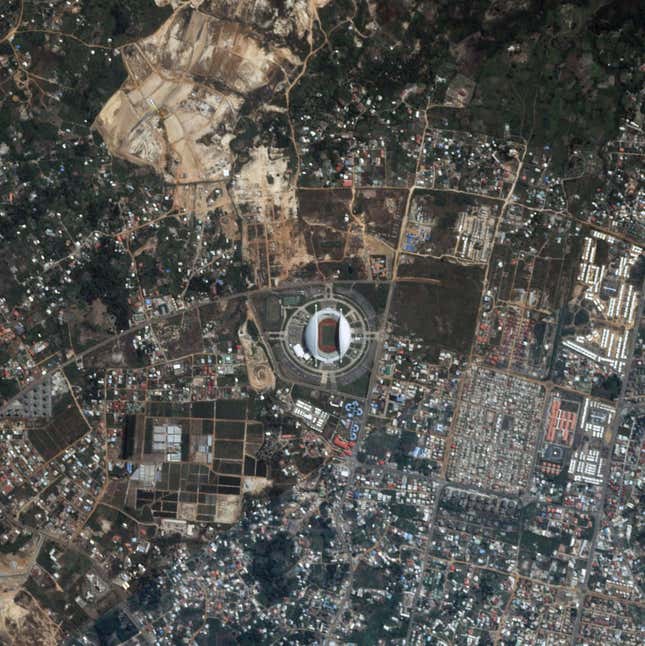 Dams: turning natural resources into power
China has a keen interest in finance and a track record of building dams in Africa. Chinese-contracted dams are visible in Ethiopia, Nigeria, Gabon, Mozambique, Ghana, Congo Brazzaville, among others. While often utilizing elevation differences to turn water into power, hydroelectric dams could also negatively impact the environment and displace local communities without diligent project evaluation and execution.
Bui Dam, Ghana: More than four decades after a lengthy process to secure funding and construction of Volta Dam, the first hydroelectric dam of the country, the Ghanian government partnered with the Chinese to build a second. Unlike the first dam, China supplied the money and built the dam in less than 10 years. The dam opened in 2013 and was expected to raise Ghana's generating energy by 22%.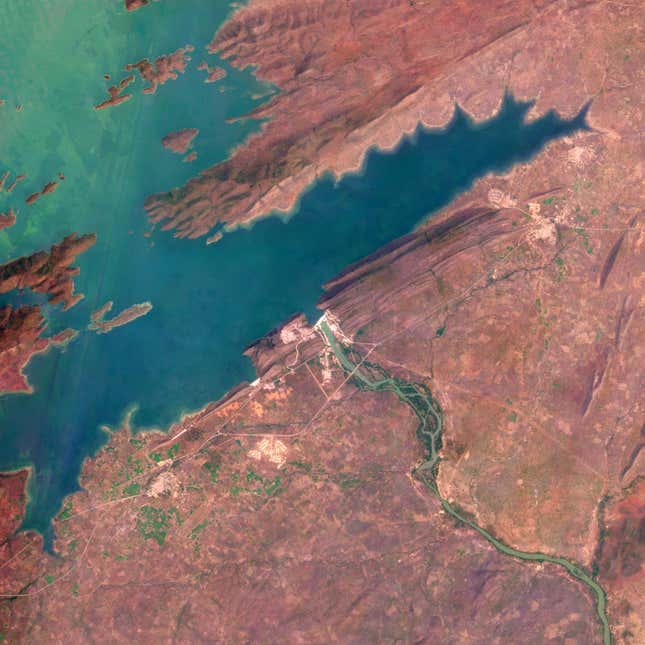 Merowe Dam, Sudan: Situated on the Nile River, the dam was Sudan's biggest hydropower project. China partially funded and built the dam in collaboration with German and French contractors. The dam, built between 2004 and 2009 with an installed peak output of 1,250 megawatts, was estimated to double the power generation capacity of the country.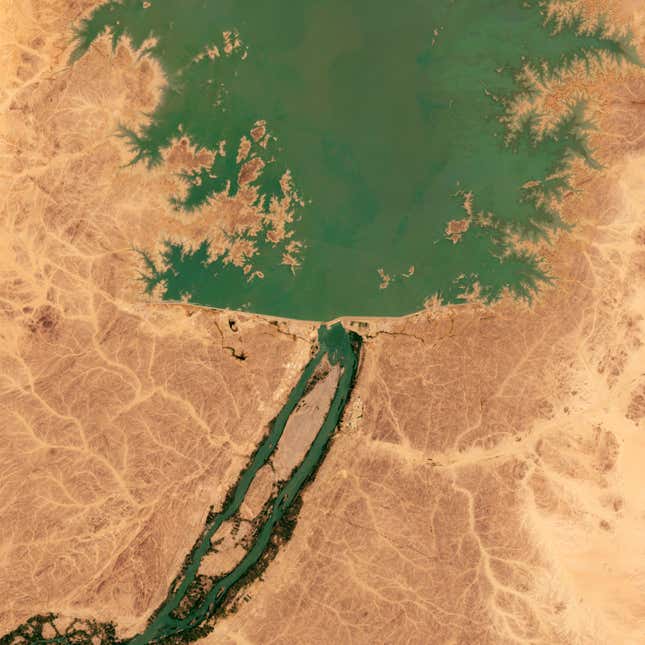 Kariba Dam expansion, Zimbabwe/ Zambia: China added two generators to the Kariba Dam, increasing its annual power generation capacity from 750 megawatts to 1,050. The project ran from 2014 to 2018. Zimbabwe saw the increased capacity a step toward the country's power independence from other African nations. But in the last year the world's largest man-made reservoir has drying up due to drought leading to blackouts.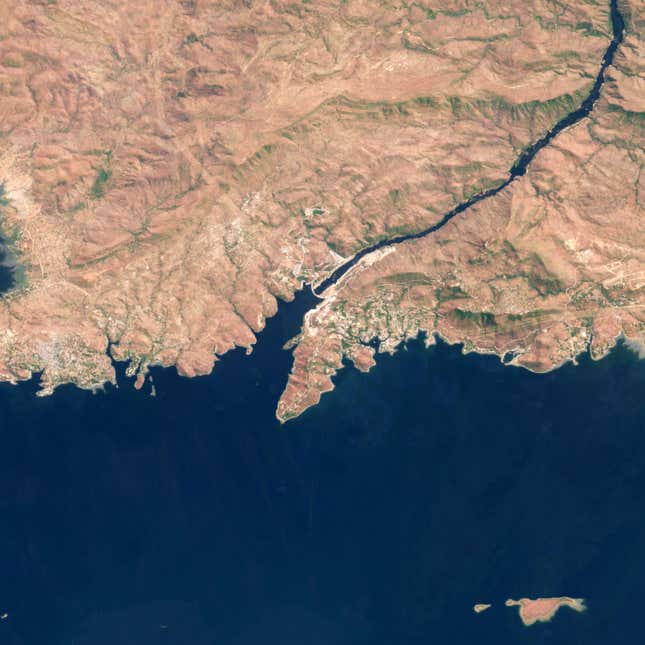 Grand Poubara Dam, Gabon: China, a main funder and contractor, built the hydroelectric dam between 2008 and 2013, with an installed capacity of 160 megawatts.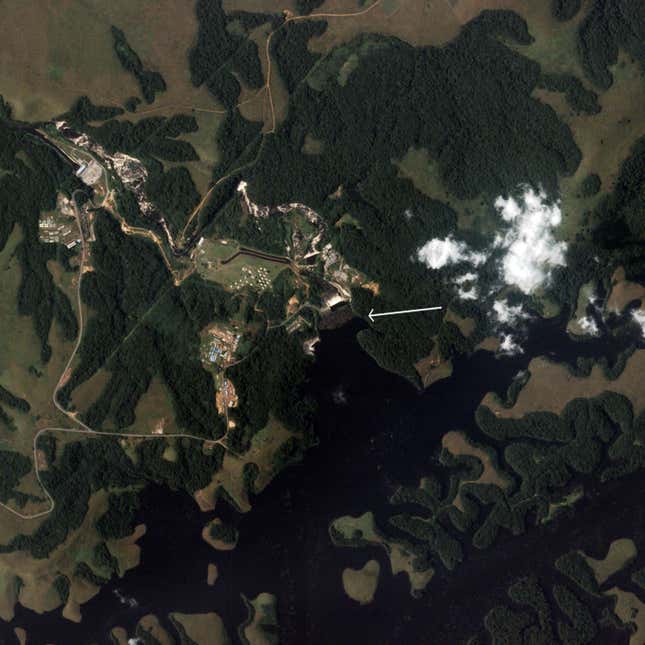 Bridges: bringing closer communities
China helped connect communities divided by waterways by building bridges. Expert at concrete and steel, Chinese firms built projects that stood out in both scale and their distinguishable design.
China Niger Friendship Bridge, Niamey, Niger: The capital city of Niger is divided by the Niger River. The only bridge that connected the city for a long while had been the President Kennedy Bridge. The Friendship Bridge, constructed between 2007 and 2011, offered a welcome alternative for the southern communities to cross the Niger River.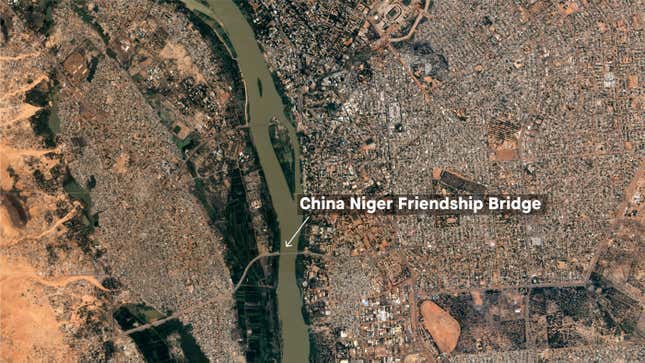 Mohammed VI Bridge, Morocco: Financed by the European Investment Bank and Au­toroutes du Maroc, the bridge was under construction for five years by a Chinese company and opened to the public in July 2016. It spans over 376 meters and is the longest cable-stayed bridges in Africa.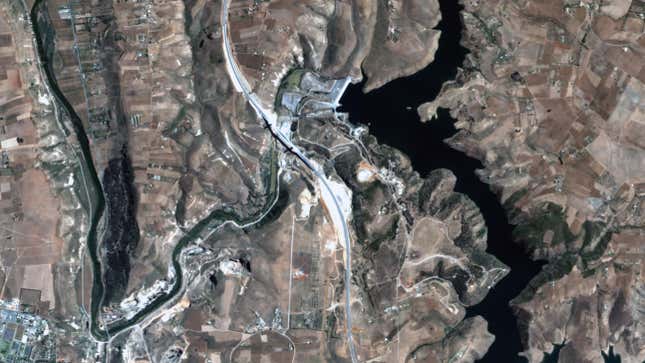 Maputo-Catembe Bridge, Maputo, Mozambique: China agreed to finance the bridge after Mozambique failed to get a loan from Portugal and the then-president paid a visit to China in 2011. Chinese firms carried out construction between 2014 and 2018. Upon inauguration, it was the longest suspension bridge in Africa.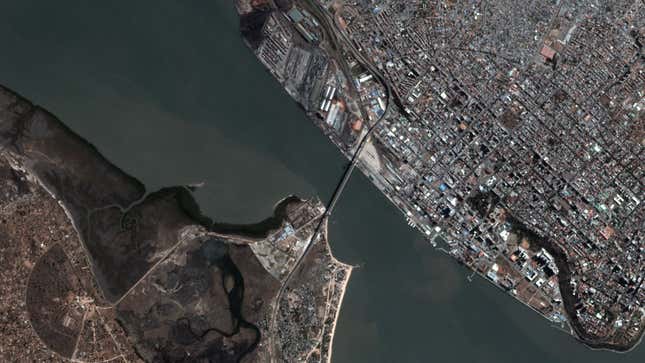 Cunene River Bridge, Angola: Linking major cities in southwestern Angola, the bridge was funded for $29 million and built between 2007 and 2009 by Chinese firms.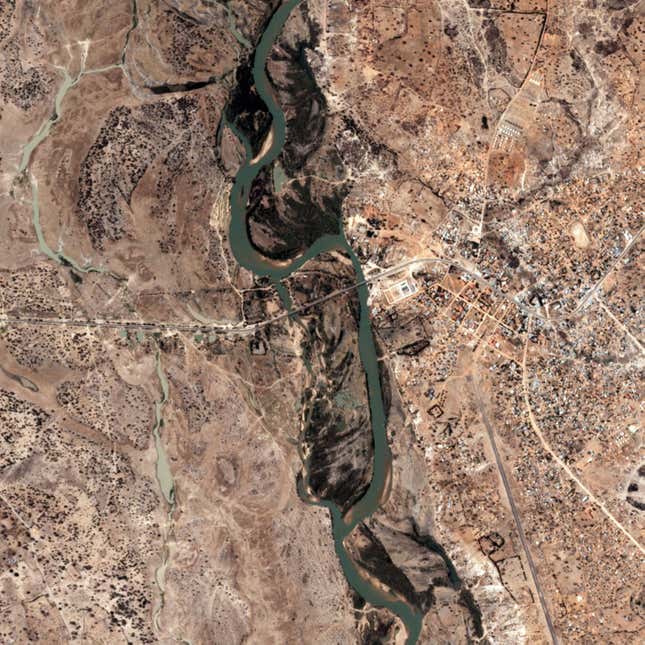 Roads and rails: turning "landlocked" to "land-linked"
"To prosper, build roads first," says an old Chinese proverb. The recent history of modern China proved that building road infrastructure would bring economic prosperity. This idea resonates well with landlocked African countries. They looked to China for both money and expertise to build transportation networks, connecting cities and reaching coastal ports.
Kampala-Entebbe Expressway, Uganda: The first toll road in the country, the four-lane expressway connects the capital city Kampala with the Entebbe International airport. China financed the majority of the construction cost, and built the highway from 2012 to 2018. It offers an alternative to the existing surface road, Kampala-Entebbe Road, that runs parallel to the east of the expressway in the image below.
Kipsigak-Serem-Shamakhokho Road, Kenya: One of China's first large-scale road construction projects in Africa happened to be an interest-free loan of $18 million to the Kenyan government to build a 54-kilometer highway in 2001.
Nairobi-Thika road, Kenya: Another early collaboration between Kenya and China, the eight-lane highway connects the capital city with the industrial town of Thika, northeast of Nairobi. China's Exim Bank, along with African Development Bank and the government of Kenya, financed the project. Chinese construction firms built the 50-kilometer highway between 2009 and 2012.
Railway from Khartoum to Port Sudan, Sudan: The 782-km railway is Sudan's section of a masterplan to connect eastern African countries by rail. Under US sanctions, Sudan looked to China for money, and they got it. China loaned $1 billion to finance the project. Chinese firms built the rails. When the railway opened in 2014, the Sudanese government showcased two bullet trains it bought from China for a total of $13 million.
Letlhakeng-Kang-Dutwe-Morwamosu Road, Botswana: China partially financed the construction of the highway in two concessional loans to a total amount of $83 million. Chinese firms won the contract to build it. Running through the southern part of the country, the highway shortens the trip between Gaborone, the capital city of Botswana, and destinations in the neighboring Namibia.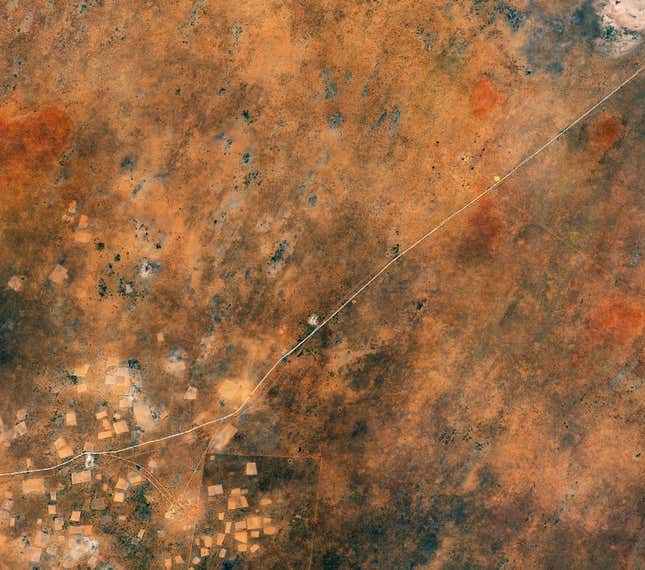 Addis Ababa–Adama Expressway, Ethiopia: The first toll-road in Ethiopia was mostly financed by China's Exim Bank (53%) and built by Chinese companies. The expressway connects the capital city of Ethiopia to Adama, a transportation hub about 100km south of Addis Ababa, "enabling smooth transportation along the busiest section of the Addis Ababa to Djibouti port route," according to a transportation official of Ethiopia.
Sign up to the Quartz Africa Weekly Brief here for news and analysis on African business, tech and innovation in your inbox