As the US-South Africa 'chicken war' comes to an end, one understated point is how market access into South Africa's poultry market could help stimulate America's plunging poultry exports.
Over the past four months United States' exports fell by 7.4% in volume, and 10.7% in value year over year. The 7.4% drop is attributed to the outbreak of the H5N2 avian flu that has hit some of US' largest chicken producing states like Missouri, Arkansas, and Mississippi.
As a result, 40 countries have placed restrictions US chicken imports. Among these include the top importer countries – China, South Korea and Angola, whose markets were valued at nearly $700 million in 2014.
It is no wonder why American producers expect 2015 to be a "down year" for exports, with less volumes and lower prices. To give you an idea: the U.S Department of Agriculture expects to chicken exports to drop by 8.5% this year.
If the U.S. Department of Agriculture's forecast for 2015 chicken exports is right, U.S chicken exports will look like this: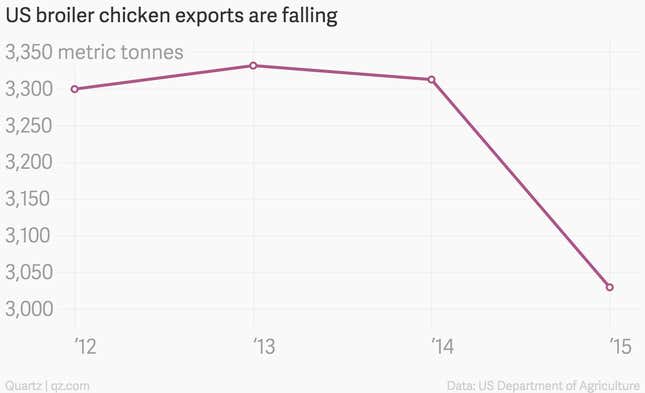 Despite this, the U.S. has found itself a small, but potentially lucrative market for its cheap unwanted chicken in South Africa.
American chicken producers can now look forward to exporting 65 000 metric tonnes annually – which would be about $65 million a year in value – as the country lifts its 15-year anti-dumping duties on U.S-bred chicken in order to secure their much needed participation in AGOA.
The 65 000 metric tonnes quota is less than what the U.S hoped for. As the South African news network, ENCA, reported, the U.S. originally wanted 110 000 metric tonnes of its chicken in South Africa's market.
In America, nost families consume five times more white meat pieces than dark meat pieces. This leaves America with a large dark meat surplus, allowing the US producers to export cheap unwanted dark meat: chicken leg quarters and thighs in particular.
The result: local poultry producers cannot compete with U.S. imports, since the price of U.S. chicken is below the domestic selling price. .
This is how chicken consumption looks like in South Africa, with an increase expected for 2015: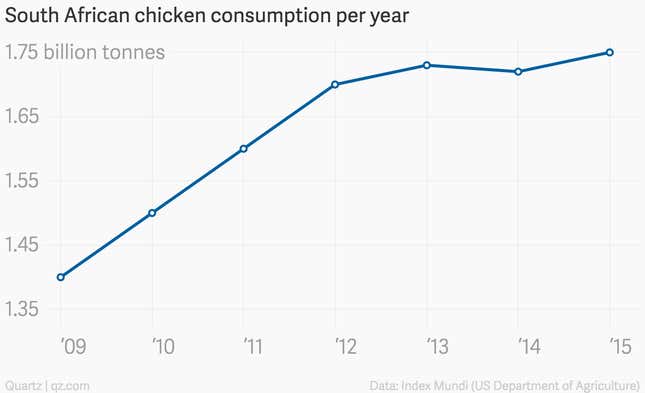 Chicken producers in America can rest assured that the intial quota of 65 000 metric tonnes (per year) will increase in just a matter of time.