Kenya's Westgate Mall, the site of the militant attack that left 67 people dead and hundreds injured in September 2013, will re-open next weekend, reports Kenya's Business Daily.
Nakumatt Supermarkets, a leading retailer in east Africa, will anchor the revamped mall, to open July 18, which once catered to some of Nairobi's wealthiest residents and expats.
"We are preparing for the opening and looking forward to welcome our loyal customers to come enjoy a new in store layout, wide stock variety and fresh ambience," Nakumatt Holdings managing director, Atul Shah said.
On September 21, 2013, eight self-declared jihadis from the Somali militant group al-Shabab stormed through the mall with automatic weapons and indiscriminately shot at shoppers. After an 80-hour siege, scores were left dead, including pregnant women and children.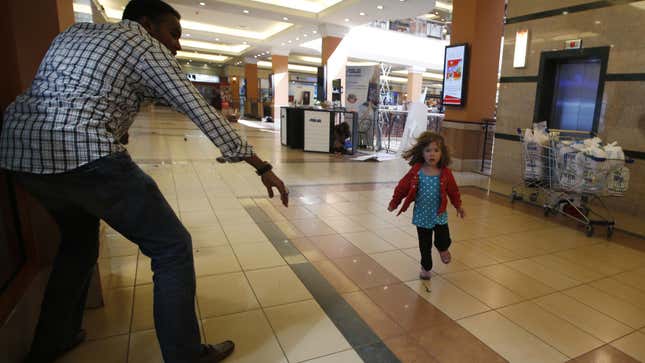 Terror attacks by al-Shabab have been a thorn on the side of Kenyan society over the last few years. In April, masked gunmen killed 147 people at a university in the northeastern town of Garissa. Just last week, the group claimed responsibility for the killing of 14 people in a village near the border with Somalia.
But Nakumatt is hoping, after two years and a new look, some of the wounds from that horrible attack are healed enough for people to return. Already, two of the more prominent outlets from the original space are reportedly coming back. Artcaffe, a high-end coffee shop, and Ashley's Beauty Centre will reopen in the mall.
Terry Mungai, the owner of Ashley's, said her store had expanded from its initial operation.
"As patriotic Kenyan business people, we are confident that Westgate Mall will arise from the ruins to greater heights than it ever was," Mungai told Business Daily.