Gambia has banned the female genital mutilation (FGM) and set penalties of up to life in prison for offenders of the new law. The country's parliament passed a bill criminalizing FGM, which usually involves the removal of a young girl's labia and clitoris, on Dec. 28th, a month after president Yahya Jammeh promised to end the practice, which causes lifelong health complications.
Those who break the law face fines of 50,000 delasi ($1,250) or three years in prisons. Offenders who cause death by FGM could face life sentences. The bill makes Gambia, a small West African country of about 1.8 million people, the 27th sub-Saharan African country to legislate against FGM. As much as 80% of Gambian women had been cut as of 2010.
Gambia appears increasingly progressive on gender issues. It is a signatory to the international Convention on the Elimination of All Forms of Discrimination against Women. And in 2010, Gambia enacted the "Women's Act," a law to deal with persistent discrimination that the United Nations called "the Bill of Rights for Women in the Gambia."
Yet, within a week of the FGM ban, local newspapers published a leaked memo from the government that an "executive directive has been issued that all female staff within the government ministries, departments and agencies are no longer allowed to expose their hair during official working hours." The memo tells women to "use head tie[s] and neatly wrap their hair."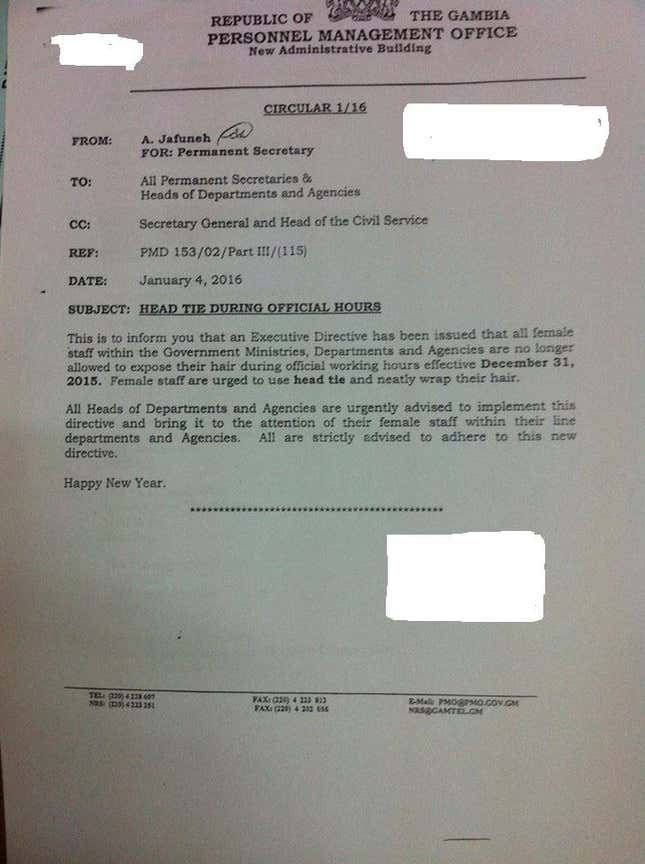 The president's office has not confirmed the memo. President Jammeh recently declared Gambia, where as much as 90% of the population are Muslims, an Islamic Republic.
Jammeh, who has ruled the country for 21 years, is known for his eccentricities. In 2007, he claimed to have found an herbal cure for AIDs.
Motivations for female genital cutting are complex and difficult to change but more African states are launching official bans. Nigeria outlawed FGM last year. Somalia, where female cutting rates are the highest, has said it would also like to stop the practice.