An American pastor is publicly appealing for donations after experiencing "major financial hardship" as the result of a lawsuit in which he is accused of inciting violence and discrimination against the Ugandan gay community.
In a Dec. 28 post on his website, Scott Lively, an American pastor, lawyer, and president of Abiding Truth Ministries, appealed for support to continue running his ministry. Lively said in a subsequent post that he's "paid a heavy price" for his work "exposing and opposing the now-global homosexual movement" in countries like Uganda, and facing off against an "enormously wealthy and powerful international homosexual network."
In the federal lawsuit against him, first filed in Massachusetts in 2012, the Ugandan group Sexual Minorities Uganda (SMUG), accuses the well-known pastor of a crime against humanity for allegedly inspiring a movement aimed at stripping away the rights of the Ugandan lesbian, gay, bisexual, and transgender (LGBT) community using legal, political, and social persecution.
Lively is being represented pro-bono by Liberty Counsel, a legal firm that also represents Kim Davis, a Kentucky county clerk who was jailed after refusing to issue marriage licenses to same-sex couples last year. Despite this support, Lively says the lawsuit is threatening the future of his ministry, writing that  "SMUG v Lively is truly a David v Goliath battle."
The suit was filed under the Alien Tort Statute, a legal tool which allows foreign citizens to sue in US courts for violations of international law. It is headed to a Massachusetts district court this fall and will be the first federal crimes against humanity trial dealing with the persecution of sexual minorities abroad—a precedent that Ugandan gay rights activists hope could stop the influence of Western religious extremism in Africa.
SMUG is being represented pro-bono by the Center for Constitutional Rights (CCR) in New York.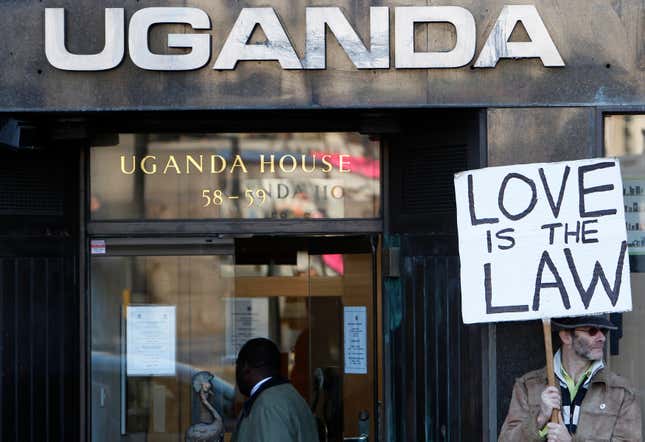 Uganda is one of at least 34 African countries where same-sex sexual acts are illegal, mandating life imprisonment for anyone who engages in "carnal knowledge" (i.e. sexual intercourse) "against the order of nature," according to its Penal Code Act.
Pam Spees, senior staff attorney at the CCR, said in a statement that Lively found support in Uganda with "a very specific and detailed methodology for stripping away the most basic human rights protections, to silence and ultimately disappear LGBT people."
SMUG and CCR cite Lively's work in Uganda since 2002, in particular his participation in an anti-gay conference in Uganda in 2009, and public "fear-mongering" of the gay community, including statements that homosexuals sexually abuse children and "recruit" minors for gay activities.
Additionally, Lively is accused in the lawsuit of collaborating with Ugandan religious and political leaders to craft the 2009 Anti-Homosexuality Bill. (His legal team denies this characterization.)
The 2009 legislation, nicknamed the "Kill the Gays" bill, called for the death penalty for acts of "aggravated homosexuality," including repeated, consensual sex with same-gender partners. It also required citizens to report suspected homosexuals as well as those involved in LGBT advocacy, or the "promotion of homosexuality."
The bill provoked an outcry from the international community, prompting Western donors—including the United States—to pull about $118 million in aid to Uganda. A revised version of the bill, which imposed life imprisonment for "aggravated homosexuality," was struck down for procedural reasons in August 2014. Ugandan lawmakers are reportedly looking into resurrecting the legislation.
While Uganda's anti-sodomy law dates back to British colonial rule, Frank Mugisha, SMUG's executive director, believes that targeted violence against the gay and transgender community quickly escalated after Lively and local pastors began an anti-homosexuality crusade in Uganda more than a decade ago.
"Before, there was [name calling] and people disagreeing with homosexuality in general, but we didn't have the idea of a 'gay agenda'," said Mugisha. "That exportation of hatred is something new in Uganda."
A July 2015 report by a consortium of Ugandan human rights groups documented 89 violations against Ugandans based on their sexual orientation in 2014, including "increased mob attacks, family rejection, evictions and media outings." A number of the recorded violations were perpetrated, or supported, by police, the consortium found.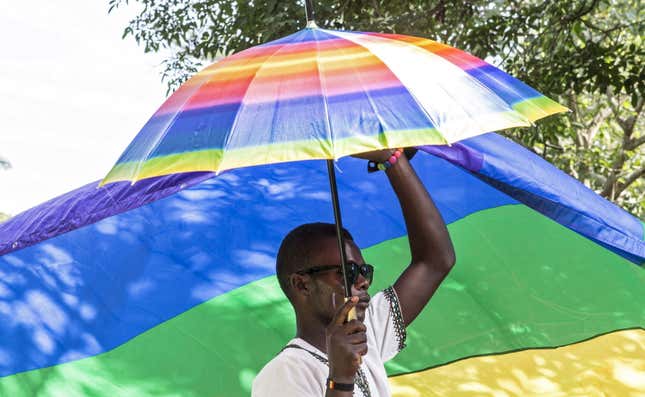 The report cited the influence of the Anti-Homosexuality Bill, saying that since its introduction in parliament in 2009, human rights violations against the LGBT community had increased. Human Rights Watch and Amnesty International documented similar violations in a 2014 report.
SMUG argues that Lively's characterization of the LGBT community, such as stating gays are more likely to sexually abuse children, escalated acts of discrimination, including an increased number of arbitrary arrests, house raids, and public outings of gay Ugandans by the local press, according to the complaint.
"In a way, violence toward LGBT people in Uganda has almost been normalized," Mugisha said.
Lively asserts his work in Uganda is protected under the First Amendment right to free speech. His legal team also contests allegations in the lawsuit that he assisted in the shaping of Uganda's "Kill the Gays" bill.   
"Scott Lively is even more confident today than he was at the beginning of the case that he will be vindicated and that this case will be exposed as a frivolous enterprise that it is," Horatio "Harry" Mihet, senior litigation counsel with Liberty Counsel, said.
Mihet added that "SMUG has no evidence to prove its allegations," which he says were crafted on a "cleverly devised a false and fictional narrative."  
Both parties agree SMUG vs. Lively will likely set a precedent for future cases involving the persecution of sexual minorities abroad.
"Being the first case of its kind, it's likely to have an impact, which is why it's so important for the right of American citizens to speak their conscience worldwide," said Mihet.
Regardless of the outcome of SMUG v. Lively, Mugisha hopes activists will be able to pursue legal action against other religious leaders and Ugandan politicians accused of being involved in hate speech and the anti-gay legislation.
"Our war is how we get foreign extreme Christians from exporting hate speech," Mugisha said. "If we can reduce the hate trade from the missionaries then we definitely will reduce the violence against the LGBT community."