British energy group Tullow Oil has discovered oil in Kenya's northern Kerio Valley, a finding that could mean the opening of a second oil basin as the East African country prepares to become an oil exporter for the first time.
Tullow said today (Mar. 16) that it had discovered "an active petroleum system with significant oil generation" across 700 meters in Cheptuket, south of the South Lokichar oil basin, which is already being developed by Tullow, its local partner Africa Oil, and AP Moller-Maersk of Denmark. Kenyan officials want to begin exporting some of the basin's estimated one billion barrels of oil by September.
"This is the most significant well result to date in Kenya outside the South Lokichar basin,"Angus McCoss, Tullow's exploration director, said in a statement. "Encountering strong oil shows across such a large interval is very encouraging indeed." Last year, the company drilled similar "wildcat" wells (unexplored sites with no history of oil production) in northern Kenya and came up empty handed.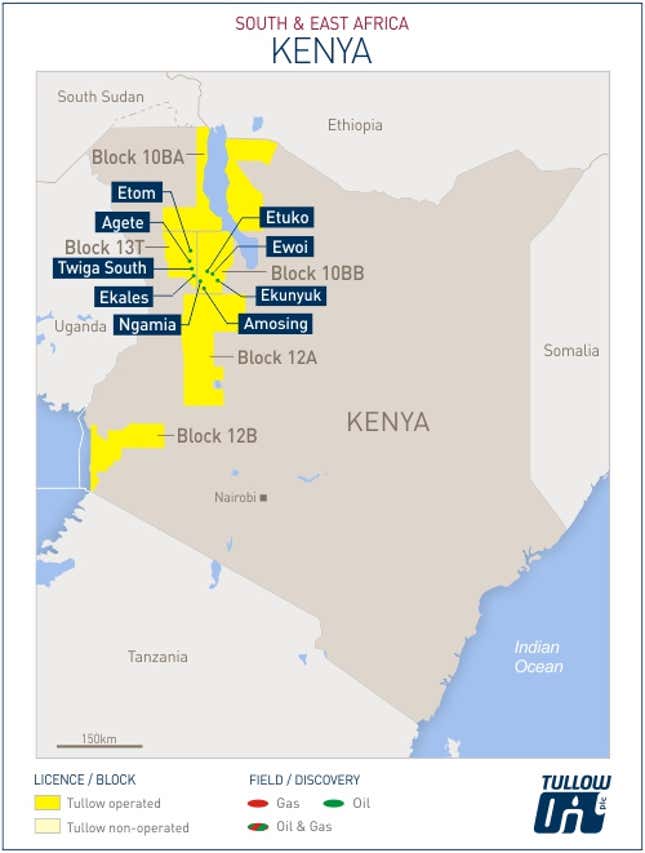 Kenya's dreams of becoming a major oil exporter have taken a knock recently, due to low prices and setbacks in the construction of a port and transport corridor in the remote northwest of the country, known as Lapsset (Lamu Port South Sudan Ethiopia Transport).
Uganda, home to Africa's fourth-largest reserves of crude oil, had planned to share costs with Kenya to build a 1,500-km (930-mile) pipeline to the Kenyan port of Lamu. But the landlocked country decided last month to partner with Tanzania instead. Without Uganda's help, Tullow and its partners will have to spend an estimated $4.5 billion to build the pipeline on their own.
For now, Kenyan officials are still trying to negotiate a deal with Uganda. In the meantime, the country's oil exports will be transported by trucks and trains.