It's been just over a year since we launched Quartz Africa. We believed Africa's stories needed to be told with the same cutting-edge digital tools we had harnessed for the rest of Quartz's global coverage, to much acclaim and awards. From the first day we had a bias towards stories of African innovation in the sense of big ideas, creative vision, entrepreneurship and homegrown, globally scalable problem-solving.
It turns out our premise and our goals are shared by many more readers than we could have guessed a year ago. The positive response and the support for Quartz Africa's first year from readers in fields from business and science to arts and politics has been overwhelming.
This is why we had no hesitation in taking the time to once again to identify and highlight a new set of impressive African thinkers for our Quartz Africa Innovators series.
As with our inaugural 2015 list the innovators have been chosen for their groundbreaking work, thought-leading initiatives, and creative approaches to problems.
If you're in Nairobi on July 20, you can join us for the Africa Innovators Summit at the Radisson Blu Hotel. You'll hear from some of these innovators and Quartz's editors through on-stage interviews, performances, and presentations followed by a cocktail reception and dinner.
—Yinka Adegoke, Quartz Africa editor
Jump to: Amrote Abdella ● Iyinoluwa 'E' Aboyeji ● Bilikiss Adebiyi-Abiola ● Ally Angula ● Mantse Aryeequaye & Sionne Neely ● Patrick Awuah ● Edwin Bruno ● Evelyn Gitau ● Marie Githinji ● Danai Gurira ● Joseph Hundah ● Cyrus Kabiru ● Wanuri Kahiu & Nnedi Okorafor ● Agosta Liko ● Rafael Marques de Morais ● Dada Masilo ● Given Mkhari ● Matsi Modise ● Isaac Nabwana ● Wilfred Ndifon ● Axel Ngonga ● Okechukwu Ofili ● Diana Opoti ● Yusuf Randera Rees ● Winnifred Selby ● Laolu Senbanjo ● Gbenga Sesan ● Smockey (Serge Bambara) ● Kola Tubosun ● Ciiru Waweru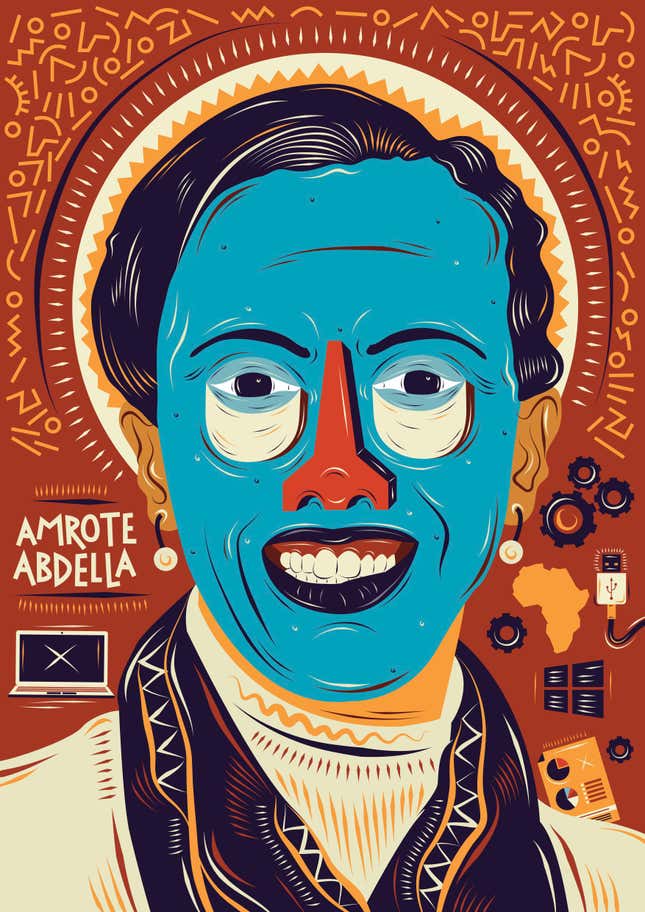 Amrote Abdella
Tech executive, Microsoft
@amroteab
Ethiopia
Amrote Abdella has held top positions at major international corporations such as the World Bank, World Economic Forum and Microsoft. A regional director for Microsoft's 4Afrika Initiative, Abdella helps startups across Africa to get technical expertise, supports them to scale up while also enabling them to create African solutions which can scaled to global solutions.
Since its launch in February 2013, the Microsoft 4Afrika Initiative has grown to empower more than 273,000 small and medium enterprises (SMEs), 76,000 youth, 20,000 government workers and nine innovation hubs with access to resources, technology and skills.
With a passion for entrepreneurship, Abdella advises entrepreneurs looking to start businesses in Africa to always think of developing solutions relevant for Africa. She believes that the 4Afrika Initiative is perfectly aligned to accelerate the development of African solutions not just for African problems but the world at large. For her, just like in Africa's case, the sky of possibilities is limitless.
"Amrote is a true champion of African entrepreneurs and African youth in general. She cares deeply about the growth of the continent and is always involved in the most important discussions that shape the future of the continent. Beyond her work at Microsoft funding African startups, she is an incredible resource and generous with her time to African entrepreneurs who reach out for advice," Sara Menker, founder Gro Intelligence and 2015 Quartz Africa Innovator.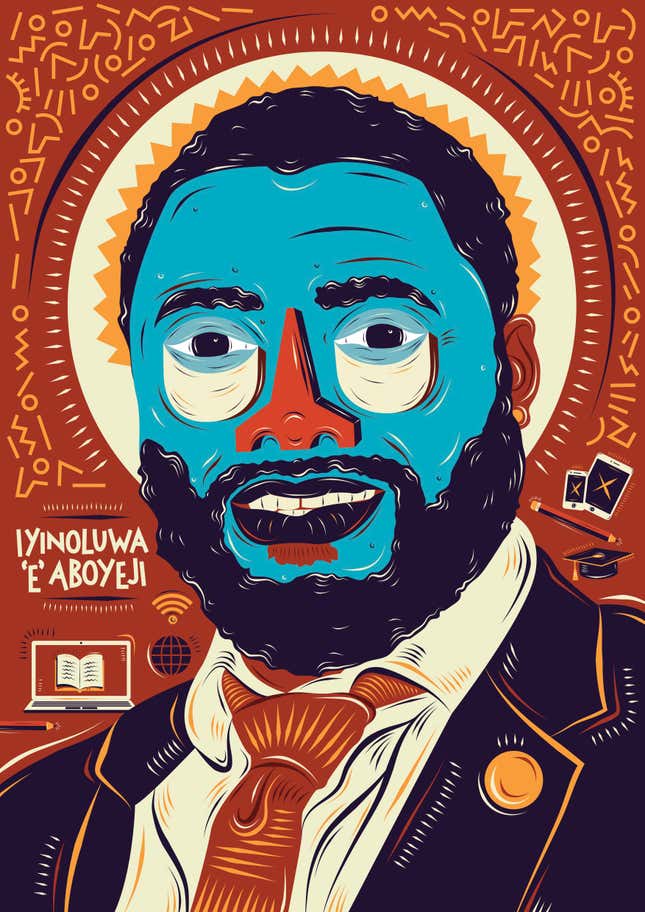 Iyinoluwa 'E' Aboyeji
Co-founder Andela
@iaboyeji
Nigeria
Iyinoluwa 'E' Aboyeji has been a serial entrepreneur since he was at university, experimenting and engaging with social enterprises wherever he's been. Just two years ago when he wound down his distance learning startup Fora to start Andela with co-founder Jeremy Johnson it seemed liked a risky and almost foolhardy move. A training center for young Nigerians to learn how to code but would go one step further and find job placements for these students. Yet that daring vision has been proven out with arguably the highest pedigree of investors ever for an African startup. Andela's lineup includes Silicon Valley backers like early Twitter investor Spark Capital, AOL founder Steve Case, and Omidyar Network among others. But the really big win came earlier this summer when Mark Zuckerberg's Chan Zuckerberg Foundation chose Andela as its first key investment on the continent, leading a $24 million round.
Yet, raising funds isn't the most impressive thing about what 'E' and the team have managed to achieve so far. Andela was founded on the premise that talent is "evenly distributed around the world"—but opportunities to succeed are not. So it has used the funds to also expand to Nairobi, and maintained an entry requirement for the program which has a lower acceptance rate than Harvard.
"Iyinoluwa is a relentless thinker who believes that the future of Africa lies in empowering its youthful population," says Oluseun Onigbinde, CEO of BudgetIT and a 2015 Quartz Africa Innovator honoree. "He has set high standards for himself and Andela to me is the first stretch of that long journey. He is constantly forging alliances, seeding in youthful dreams and carving new approaches for a better Africa."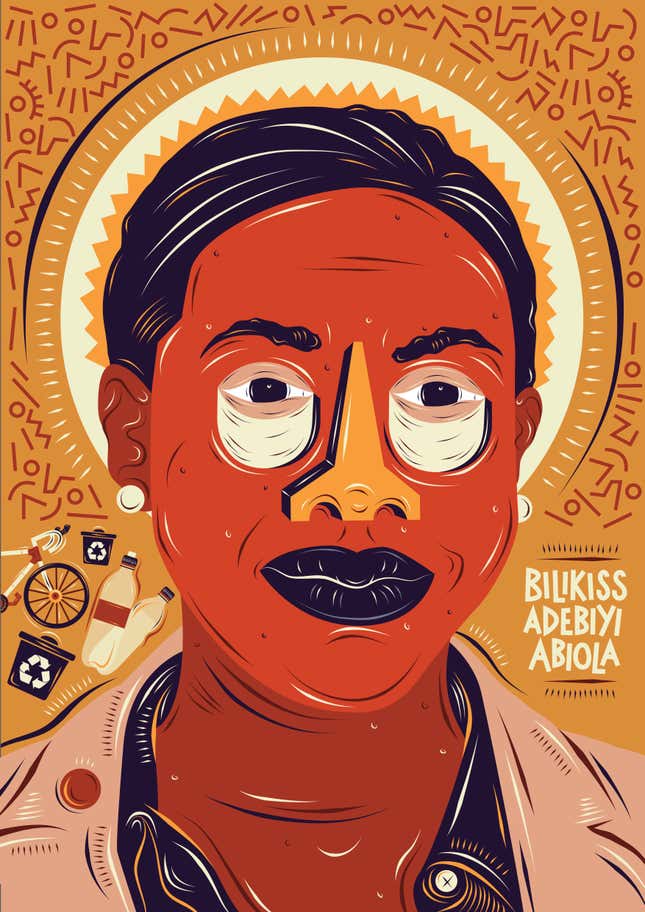 Bilikiss Adebiyi-Abiola
Founder, Wecyclers
@bilikiss
Nigeria
Along many streets of Lagos, Nigeria's commercial capital, piles of waste have long been an eyesore. Bilikiss Adebiyi-Abiola's recycling company, Wecyclers, saw that as an opportunity by cleaning up the city and putting some money in the pockets of those who help along the way. Using affordable tricycles to meander Lagos' infamous traffic jams, Wecyclers collects recyclable waste from households in low income communities in exchange for points that can be redeemed for food, cash and household items. Wecyclers' work has proven crucial in a city where only 13% of waste is recycled annually and as a result, it now works in collaboration with the Lagos state waste management agency. For the 6,500 low income households who typically live on less than $1-a-day now signed up to the service, Wecyclers is fulfilling Adebiyi-Abiola's dream of turning waste into a resource for those "who need it the most." She says, "Waste is currently a big problem for people living in poor conditions, but I want to turn it into a solution" Wecyclers has received grants from the MIT Public Service Center and the Steve Case Foundation.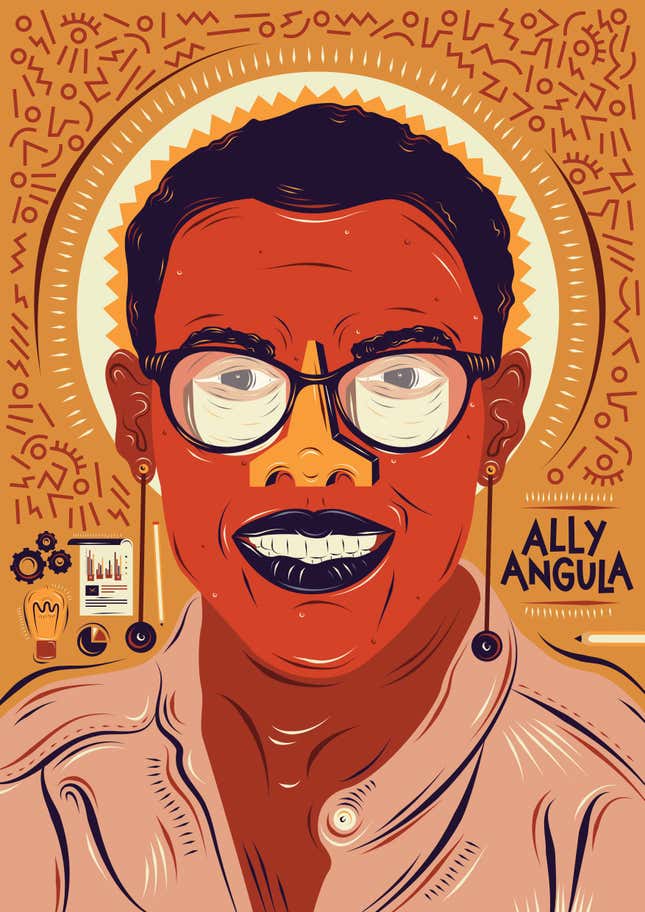 Ally Angula

Founder, Leap Holdings
@allyangula
Namibia
Namibian entrepreneur Ally Angula clings to the dream of an African that will not fail the next generation. Born in exile, in a refugee camp in Angola, Angula may have started school later than usual, but she eventually qualified as a chartered accountant, landing a partnership at KPMG.
Her wrongful arrest by corrupt policemen in Zimbabwe shook Angula from comfort, Angula recalled in her TedX talk in Windhoek. Rather than remain an angry "disillusioned have-made-it African," she wanted to make sure that bribery and corruption would never again be a way out of poverty. She wanted Africans to produce their own goods, become agents of their own lives.
So in 2013 she left her office job and began by clearing a field, starting a self-sustained horticulture business that became the foundation for Leap Holdings. Next, she founded Namibia's first locally manufactured clothing range, My Republik. The brand's popularity saw her venture into retail and this year, My Republik has expanded to Rwanda.
Passionate about building entrepreneurship in Namibia, Angula also hosts talks with aspiring entrepreneurs and startups. Determined to give back, she started a scholarship fund for fellow dreamers. Her drive and success has been recognized by a number of global organizations, like Desmond Tutu and the African Leadership Institute.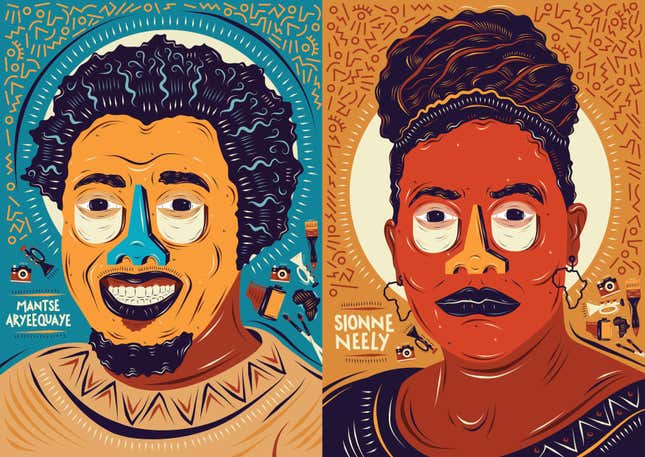 Mantse Aryeequaye & Sionne Neely
Founders, Chale Wote Festival; directors Accra [dot] Alt
@AccraBoy @sionnene
Ghana 
Artistic entrepreneurs, Sionne Neely and Mantse Aryeequaye are the brains behind Chale Wote Street Art Festival, which they founded in 2011, when only 400 people attended and had 20,000 attend last year. Neely, a researcher and writer together with Aryeequaye, a filmmaker and producer, have been hailed for their immeasurable contribution to artistic talent in Ghana.
The carnival is a fusion between music, art, dance and performances, which are showcased and celebrated in the streets of Jamestown in Accra each year. The idea was to capture the essence of African art in a post-colonial setting and cultivate a wider audience by "breaking creative boundaries and using art as a viable form to rejuvenate public spaces".
In August every year, the independent, not-for-profit, free-of-charge, open-air festival captures the attention of the world through colorful performances, live music shows, paintings, graffiti, photography, dance by hundreds of artists from within and outside Ghana. Neely and Aryeequaye are also directors at Accra [dot] Alt a cultural network they founded in 2010 to support the alternative work of Ghanaian artists and promising creative minds across the world.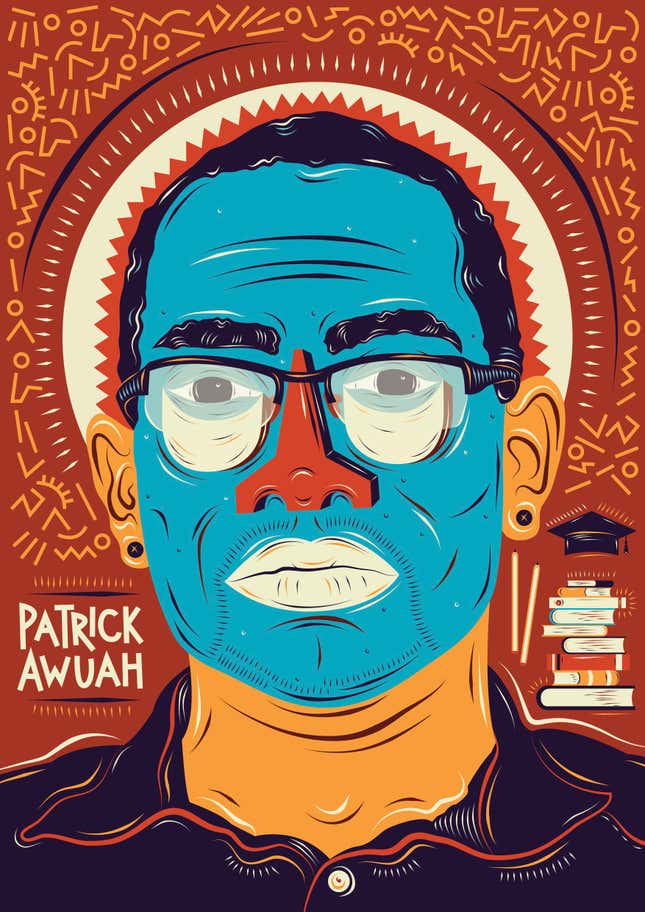 Patrick Awuah
President/founder Ashesi University
@patrickawuahjr
Ghana
Patrick Awuah's ambitions are huge and his vision is bold. Awuah started Ashesi University in Ghana just 14 years ago and it is already one of the leading tertiary education institutions not just in the country, but the continent.
Awuah penned his plans for Ashesi while working as an engineer for Microsoft. Initially positioning the school as a liberal arts college the focus isn't just on teaching humanities and sciences. A big part of the focus takes into account the African context and places a lot of emphasis on ethics, African studies and entrepreneurialism. In order to do this Awuah has had to push back at the traditional boundaries and definitions of the role of tertiary education in Ghana. In the process he has inspired other innovators.
Bright Simons, founder of mPedigree, and a 2015 Quartz Africa Innovator honoree is effusive in his admiration for the work of his fellow Ghanaian. "Patrick hasn't been building just a university," says Simons. "By grounding the entire Ashesi ethos on the institution's honour code and defying Ghana's educational authorities until they saw the light, he's proven beyond doubt that this is a political project: a totally new way to see African activism."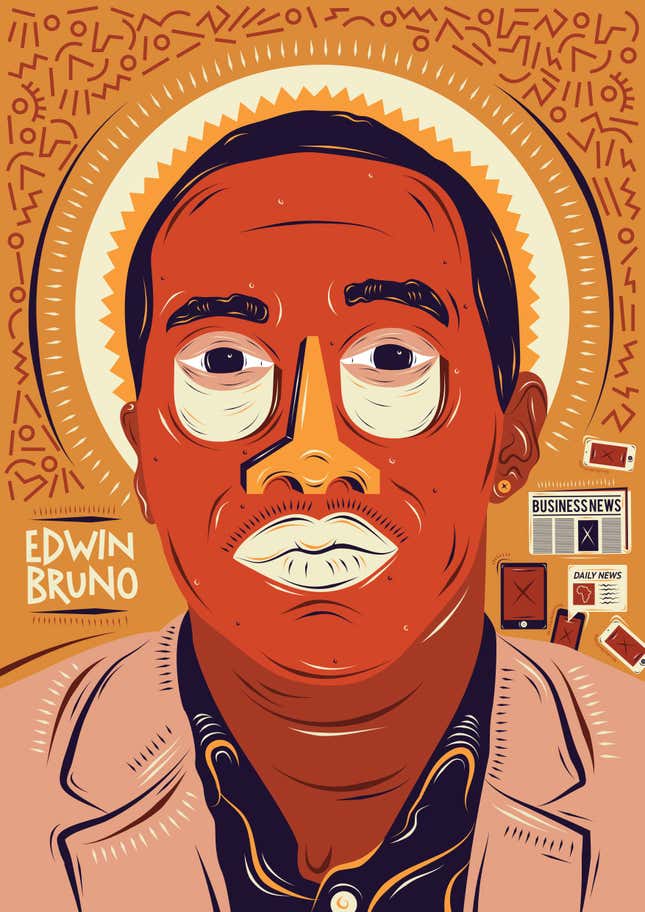 Edwin Bruno
Founder and CEO of Smart Codes, developer of M-Paper
@iedwn
Tanzania
Edwin Bruno, who heads Smart Codes, a technology company in Tanzania, developed M-Paper in 2015 to deliver digital newspapers to readers on their mobile phones. Inspired by the success of M-Pesa, the mobile money service, Bruno believed there was a way of developing an M-Pesa for newspapers, and in so doing, increasing outreach of print editions to more Tanzanians the world over.
The print media faces a daunting future. Circulation and advertising fortunes have been shrinking as consumers shift consumption trends online and on digital platforms. As a personal digital newsstand, M-paper delivers over 50 newspapers and magazines as well as books in Swahili and English to its readers from around the world at half the cover price.
In November 2015, M-Paper took home the Best Educational Innovation Award at the AppsAfrica Innovation Awards 2015. Following its success in Tanzania, Bruno believes the app can be scaled up to more African countries the way mobile money has.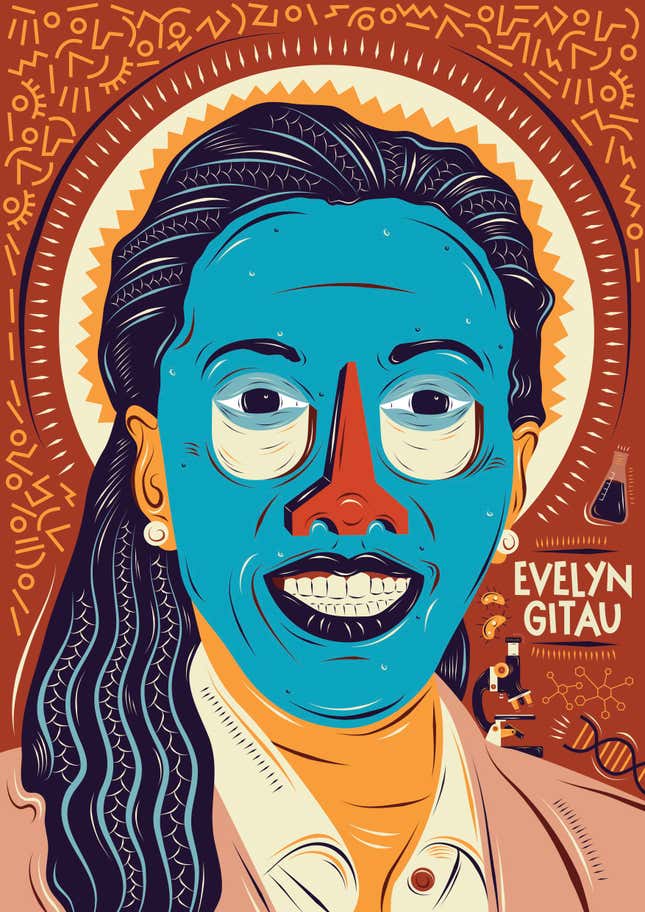 Evelyn Gitau
Cellular immunologist, African Academy of Sciences
@evelyngitau
Kenya
Evelyn Gitau has dedicated herself to researching how diseases affect one's cells, specifically in children with cerebral malaria. With a specialization in cellular immunology, Gitau has helped spearhead internationally competitive research on disease pathogenesis and immunity from Kilifi, Kenya. She has also been instrumental in the development of a rapid malaria test despite the enormous challenges of getting the right equipment needed in her work. She is now seeking to develop a rapid diagnostic test for multiple infections with a simple drop of blood, resulting in rapid and effective treatment of malnourished children.
"In the course of her work, she became fascinated with both the overlap between severe malaria and other serious childhood infections as well as the interplay with severe malnutrition," the Next Einstein Forum states.
Dr Gitau believes Africa needs to adopt new technologies that will improve how common diseases are diagnosed and treated. She also mentors young girls with the hope of inspiring many of them to become future scientists.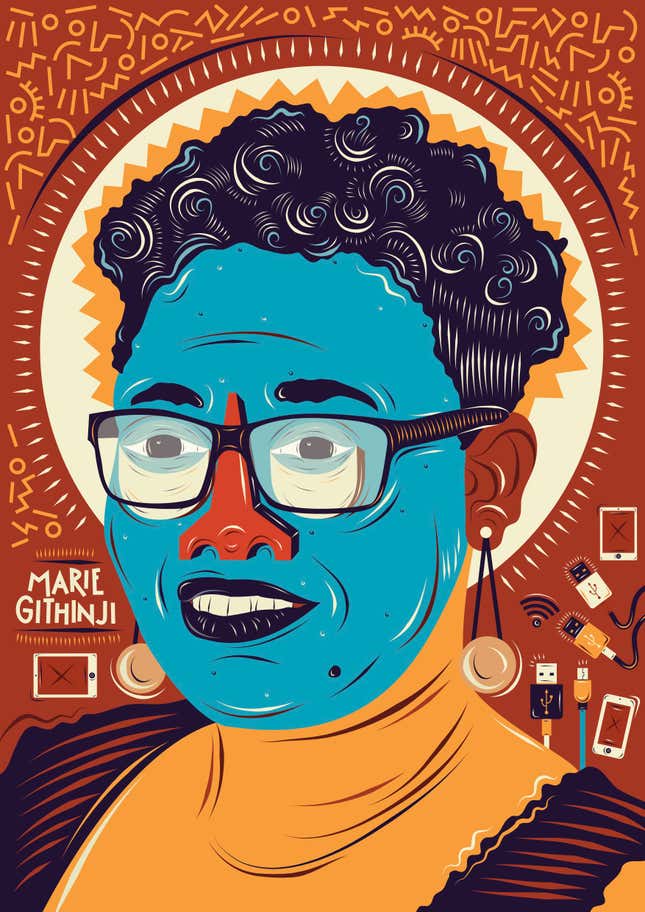 Marie Githinji
Co-founder, AkiraChix and eLimu
@mariegithinji
Kenya
In 2010, Marie Githinji co-founded AkiraChix, a social enterprise to inspire and train the next crop of African women in the continent's technology space.
Each year, AkiraChix admits 30 bright and promising young women from low income backgrounds to a one-year training and mentorship program.
The women are taken through year-long rigorous courses in programming, design and entrepreneurship with the endgame of equipping them with requisite knowledge that will give them an opportunity to be financially independent. This way, they are able to break out of the poverty cycle and changing communities, one woman at a time. In July 2015, one of AkiraChix's co-founders shared a platform with presidents Barack Obama and Uhuru Kenyatta during the sixth Global Entrepreneurship Summit.
Nagged by an unwavering passion for technology, Githinji went on to co-establish eLimu, an interactive platform that engages primary school going children as a teaching aide with digital content. This has been a great boost to learning outcomes as many African countries move to implement digital learning programs in schools.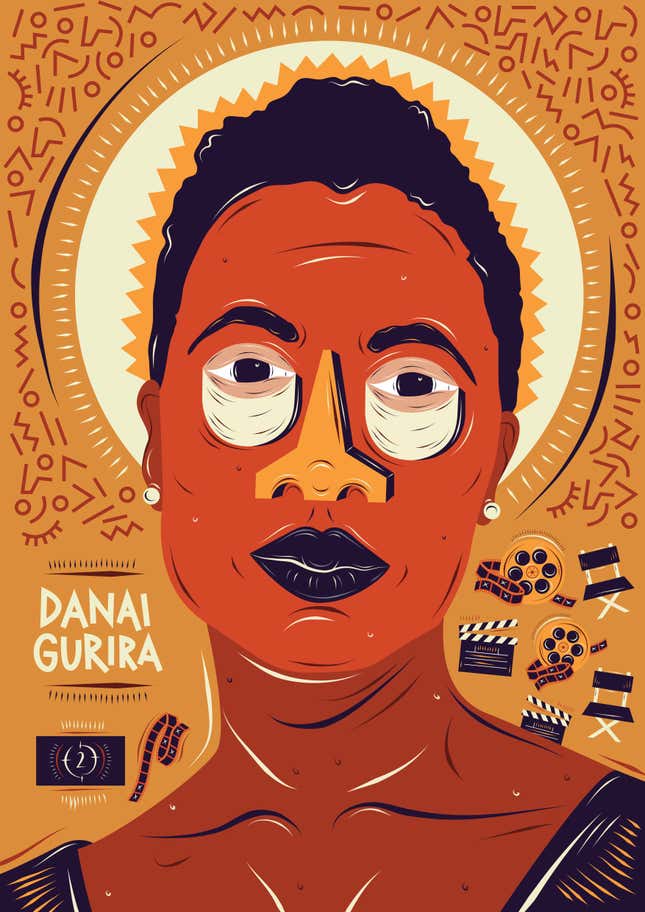 Danai Gurira
Actress and playwright
@DanaiGurira
Zimbabwe-US
Danai Gurira has had huge success in the US both on TV (as a popular lead character in AMC's popular Walking Dead) and on stage (she's written four plays in the last decade.) But 2016 proved to be a stellar year for the Zimbwean-American. Familiar, Gurira's play about a Zimbabwean family living in Minnesota, opened off-Broadway, while Eclipsed, the story of the five women during the second Liberian civil war and starring Kenyan superstar Lupita Nyong'o, opened on Broadway and was nominated for six Tony Awards.
Gurira, who was born in the US to Zimbabwean parents and raised in Zimbabwe, has an MFA in Acting from New York University's Tisch School of the Arts, and currently splits her time between Los Angeles and New York. She has taught aspiring playwrights and actors in Zimbabwe, South Africa and Liberia, and is president of the Almasi Arts Alliance, a non-profit that supports collaborations between African and American artists and organizations.
Gurira has focused much of her writing on women of African descent and of color. "My hypothesis is: people in the West can absorb African women's stories without any shaken or stirred mixer," she has said. "It can come directly from the source."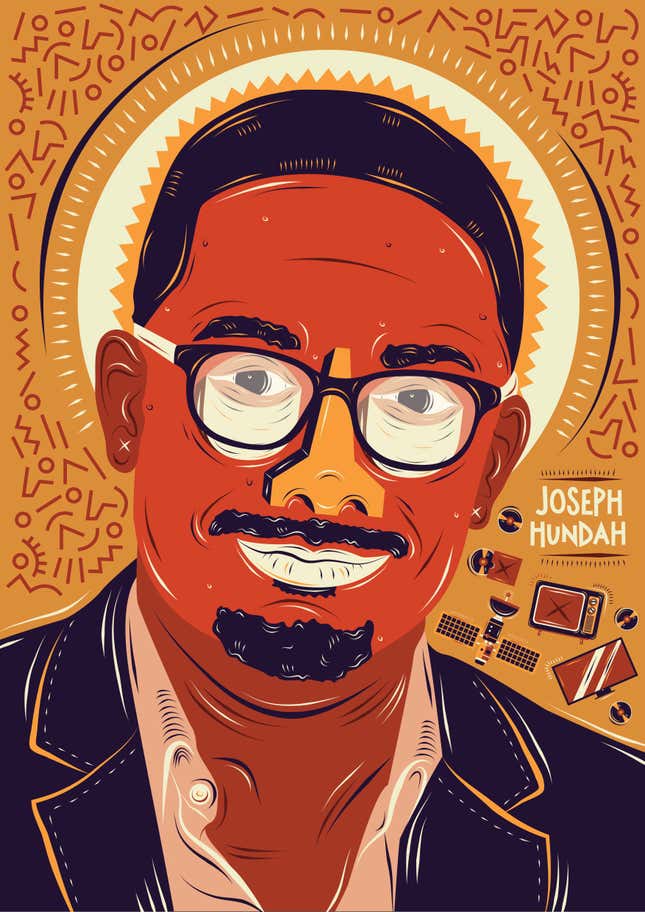 Joseph Hundah
CEO, Econet Media Group
@Joseph_Hundah
Zimbabwe

Hundah has spent 15 years working at Africa's biggest TV companies, including in top management positions at MTG Africa, Multichoice, the SABC, and M-Net. You can thank him for the highly entertaining African versions of the reality shows Idols and Big Brother. Hundah was recently hired to be president and CEO of the media subsidiary of the Johannesburg-based, multinational telecommunications company Econet.
He is tasked with expanding the media group's reach, and developing Kwesé, Econet's TV service. This year alone, the group has signed broadcast deals with the English Premier League, the NBA, Cricket Australia and Viceland. By doing so he is leading a challenge to Africa's dominant multichannel platform DSTV/M-Net, a former employer. The Naspers-owned DStv has at times been compared with a monopoly, what Hundah has to do is to compete with a player which helped create and write the rules for Africa's TV market in the first place.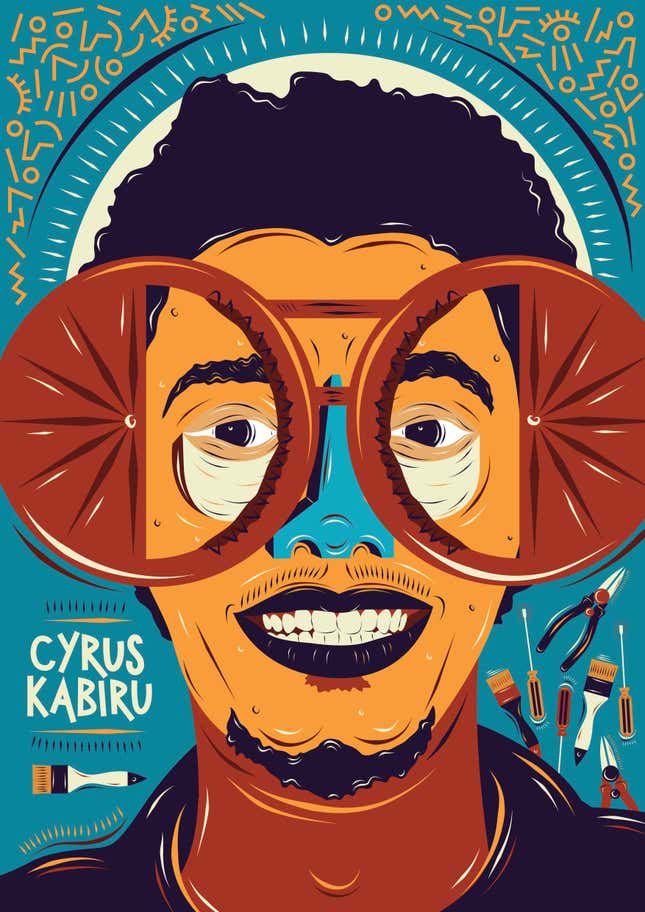 Cyrus Kabiru
Artist/sculptor
@ckabiruart
Kenya
Self-taught Kenyan artist Cyrus Kabiru turns garbage into art in a process he calls "giving trash a second chance." For Kabiru, born and raised in Nairobi near a dump site, using electronic waste and other discarded material in art is a form of environmentalism. "I consider myself a soldier of nature."
He is best known for his extravagant eyewear made from garbage found around Nairobi, "C-Stunners," which has been designing compulsively since he was young. "I will probably never stop," he says. He's made 150 pairs so far and says he still has another 900 designs to go.
Kabiru is currently working creating a residency for creatives outside of Nairobi, "Away Studio," reserved not only for artists but anyone who needs a respite from Nairobi. Another project that he has kept out of the public eye is a tribute to the Black Mamba bicycle, a bike that was once popular in Kenya and has now been replaced by cars and motorbikes. It represents both progress and a loss of the past. "Black Mamba reminds us of those days when we thought we'd never have something like motorbikes. No one ever thought we'd be able to afford motorbikes. The [bicyle] has a long story.. it was common in Africa and Kenya. Now they are disappearing."
Kabiru— a TED fellow whose art has been shown and sold throughout Africa, North America, and Europe—believes the fields of art and technology have increasingly more common ground in Kenya. "I think art and technology, it's all the same. We are working as a team."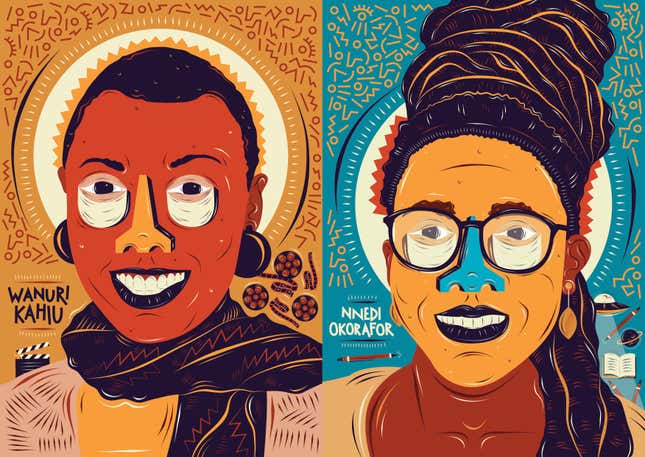 Wanuri Kahiu & Nnedi Okorafor
Filmmakers
@Wanuri; @Nnedi
Kenya/Nigeria-US

Okorafor and Kahiu are about to usher their feature-length animation film The Camel Racer into development, with the support of South Africa's Triggerfish Animation Studios and the Walt Disney Company.
Okorafor is a Nigerian-American professor of creative writing and literature, who counts a PhD in English amongst her many academic credentials. She has written multiple novels exploring African-based stories of science fiction, magical realism and fantasy.
Nairobi-born Kahiu has an MFA in directing from UCLA and won multiple awards for her 2008 feature film debut, From a Whisper. Her 2009 science fiction film Pumzi followed an East African scientist's quest to bring plant life into a post-apocalyptic world suffering from a devastating water shortage. Kahiu is also the founder of Alawi Entertainment, a film and TV production company.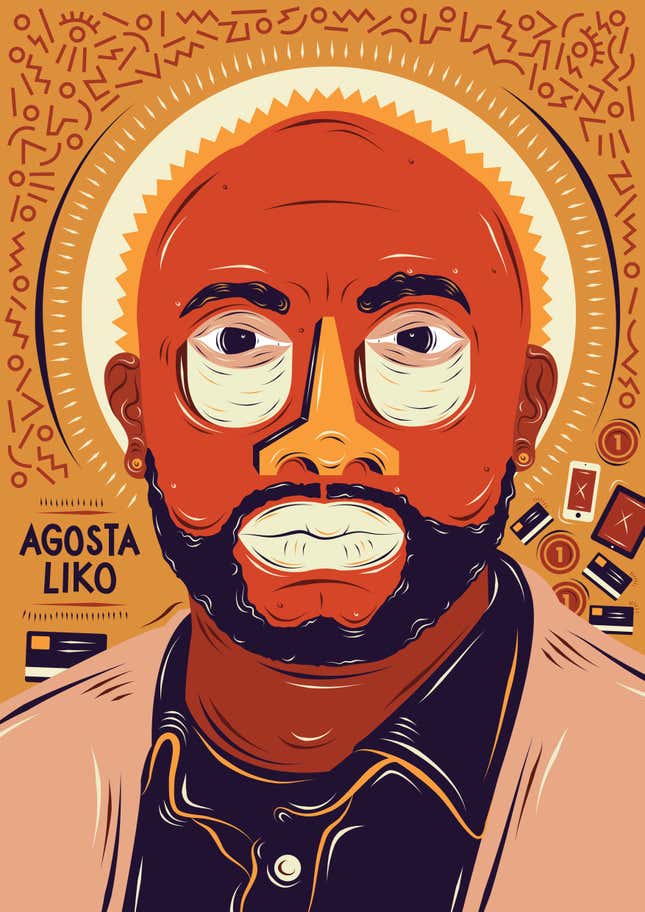 Agosta Liko
Founder, PesaPal
@AgostaL
Kenya 

Techpreneur Agosta Liko is the founder of PesaPal, an electronics payment system that has described as the PayPal of Kenya. Liko, educated at Moi University in Eldoret, Kenya worked in the United States in finance and law before returning home, just as Kenya's mobile money revolution was taking hold.
Two years later he founded PesaPal, which fills the gap between mobile money and online payments. Using PesaPal, businesses and individuals can now take payments online with their mobile money accounts or credit cards. The escrow system has allowed e-commerce to take root by giving shoppers and sellers a chance to verify transactions. Users can also make payment from their phones without having to get online.
Today, PesaPal continues to expand, entering new markets in Africa and expanding into all areas of life. Kenyans now use the system to pay for everything from school fees, utility bills and rent to pooling money together for funerals and weddings. Liko, a longtime tech advocate in Nairobi' so-called "Silicon Savannah," cares about showing the world the Kenyan perspective on tech and business in Africa. "Until lions have their historians, tales of the hunt shall always glorify the hunters," he said in 2010.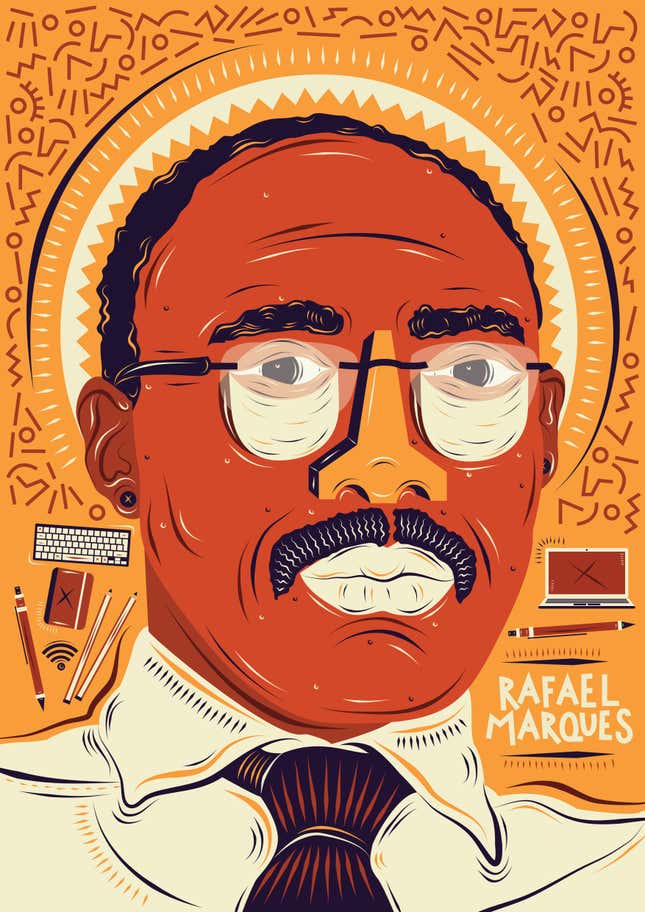 Rafael Marques de Morais
Journalist, activist, founder Maka Angola
@RafaelMdeMorais
Angola
Sometimes, the success of journalist is not based on audience numbers or clicks, but rather how it impacts the life of reporter themselves. Angolan journalist Rafael Marques de Morais would rather not be the story, but his determination to uncover corruption in his country's oil industry, has made him the target of the government and turned him into an activist.
Even as a rookie reporter, Marques' refusal to accept the status quo left him without a job at the state-run newspaper. After Angola's civil war ended in 2002, rapid development followed and so did damning accusations of state corruption. He has written a book on human rights abuses in Angola's diamond industry and it's links to the country's generals. He also co-authored an article for Forbes exposing how Africa's richest woman—and the president's daughter—made her fortune. His work also appears in various international publications.
His work has landed him in jail more than once, but from his kitchen table in his home in Luanda, Marques is determined to continue his work. In 2009 he founded the Maka Angola website as a means to ensure his independence while pursuing his work.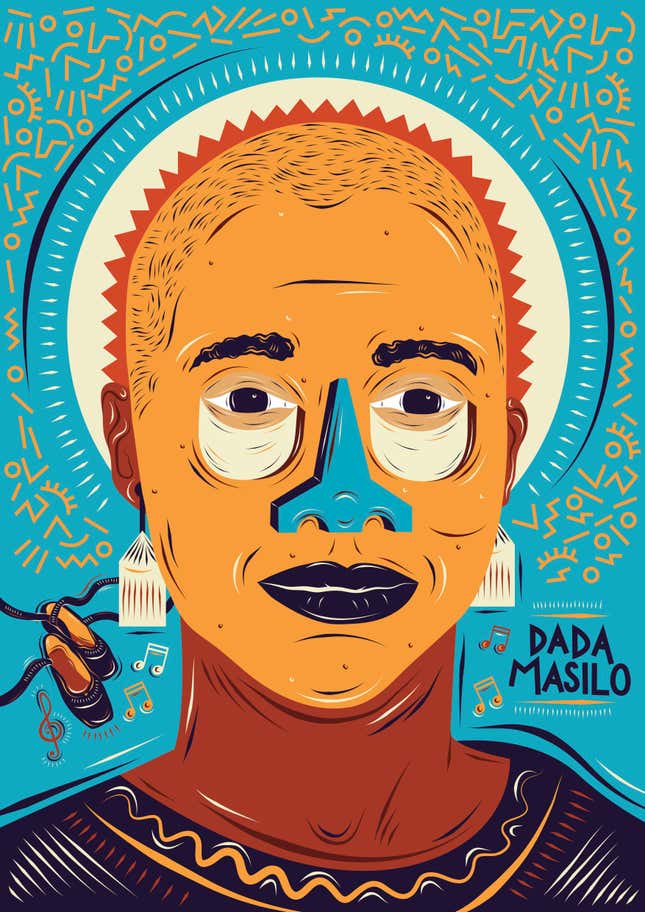 Dada Masilo
Contemporary Dancer
@dadamasilo
South Africa
Dada Masilo grew up in Johannesburg's Soweto township and wandered into a dance class because it looked like fun. That soon turned to a deep passion that saw her become a classically trained dancer and choreographer known for breaking the boundaries of traditional dance and infusing her identity and experiences into the classics like Romeo and Juliet, Carmen and now Swan Lake.
This year, Masilo turned Tchaikovsky's masterpiece on its head as she enthralled audiences in Europe, the United States and Africa. Her barefoot gender-bending choreography was met with rave reviews. You can watch her powerful and subversive solo here.
This isn't the first time Masilo has broken through the traditions of dance. Early in her career Masilo was spotted by renowned South African artist William Kentridge. The dancer and drawer collaborated on a piece that used spoken work, video installations and of course dance.
Ballet was her childhood love, but as she grew, contemporary made more sense to her. Masilo is also fluent in traditional Zulu and Tswana dance, West African dance and flame. While her technique has won international acclaim it's the message she creates with her movements that stand out—authentic, frustrating sometimes heart-breaking pieces. "I don't just want to be a body in space," she says. "I want to open up conversations about issues like homophobia and domestic violence, because those are realities at home."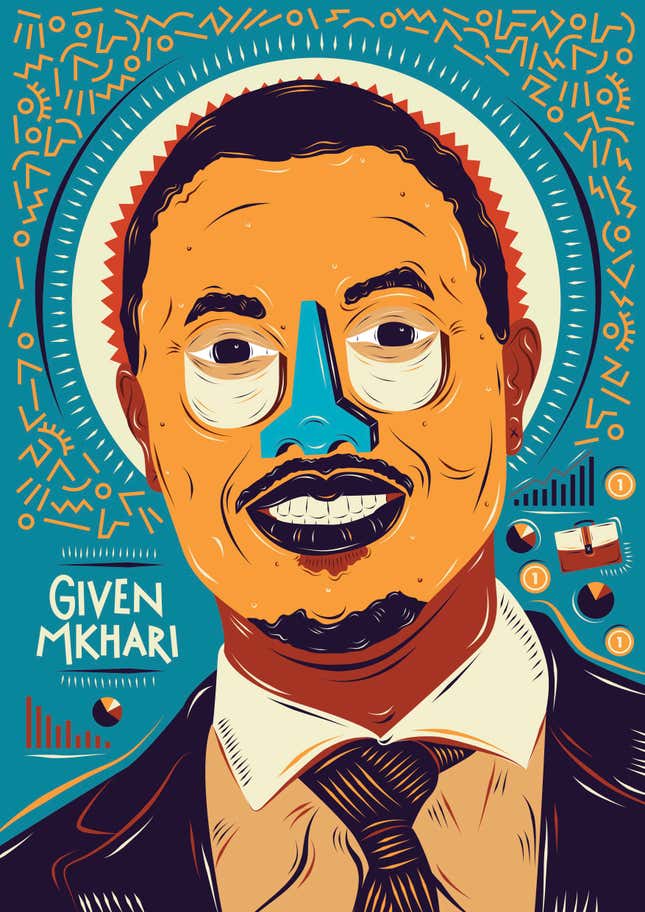 Given Mkhari
Media Mogul, MSG Afrika
@MkhariGiven
South Africa
Given Mkhari qualified as a teacher because his role models were all teachers, even the presenters on the local radio stations he admits to regularly calling into. But it was always radio that Mkhari wanted to pursue and so while studying education, he founded the campus radio station, beginning a legacy in media.
After graduating, Mkhari won a scholarship to Bard University in the United States where he was mentored by the father of modern African storytelling, Chinua Achebe. Back home, he was determined to create media houses that told African stories. Mkhari became a household name hosting a talk show on a national radio station owned by the public broadcaster.
But the aim was always to aim the platform and so Mkhari started the first commercial radio station in the rural north of South Africa, now transformed by post-apartheid South Africa. Next, he launched Power FM, a talk radio station in Gauteng in 2013, the hub of South Africa's black middle class who are finding their feet and their voice. Two more radio stations are set to be launched within the next few months.
To Mkhari, the medium is as important as the message and through his company, MSG Afrika Investment Holdings, he and his partners own stakes in advertising and public relations agencies, printing companies, outdoor marketing and a television production company. The next step is to expand their footprint across the continent.
"Every year, every month, quite frankly every day, is an opportunity, it's a legacy creation opportunity," Mkhari told BizNews.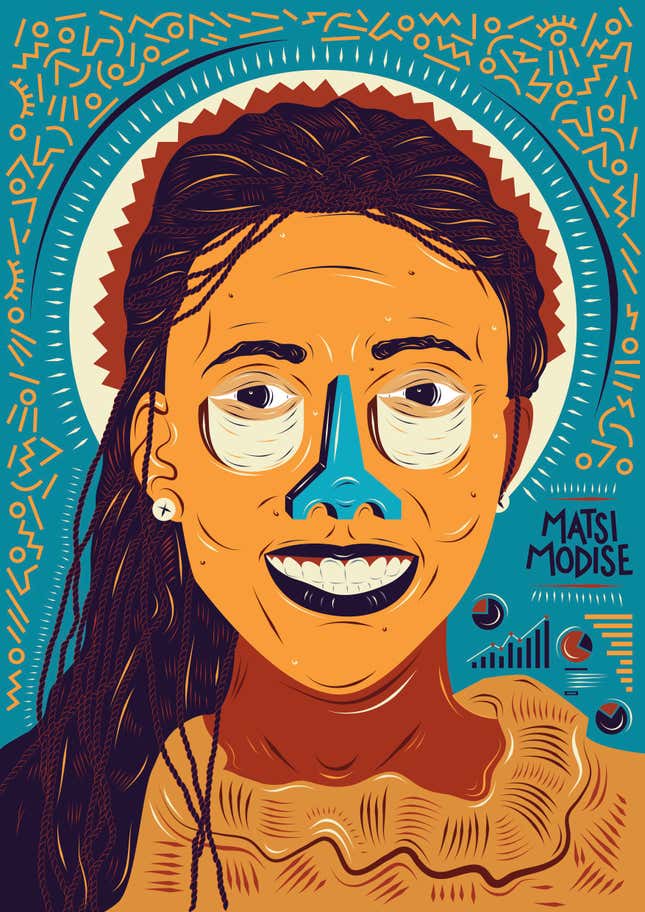 Matsi Modise
Managing director Simodisa
@matsimodise
South Africa
For Matsi Modise, it isn't enough to be an investor or mentor. Modise sees herself as an entrepreneurship activist, determined to help South African startups and small business grow into viable entities. At Simodisa, Modise and her team analyse the challenges that prevent local startups from reaching the scale that could change lives.
Sometimes, that means teaching startup founders the basics of a successful business. Simodisa teaches startups how to formulate a business plan identify, pitch their ideas, source funding—especially venture capital funding—while also creating networking platforms. Simodisa also helps startups navigate the bureaucracy of regulatory systems and access the necessary government agencies and contacts.
Perhaps their most innovative and practical approach to Simodisa is the Startup kit that includes a bank account and company registration, technology infrastructure, mentorship and partnering and digital resources. Modise knows something about starting her own business. Modise began her career as a private banker, but soon turned to business consultancy, launching an advisory firm in her early twenties. Her experience has taught her that while most businesses have all the right ingredients, their founders don't know how to make it all work together.
In 2013, Modise founded Furaha Afrika Holdings, a pan-African advisory focused on enterprise development. Modise's work with the Africa 2.0 initiative also takes her across continent, working on boosting trade between African enterprises. In South Africa she served as the National Executive Director of the South African Black Entrepreneurs Forum, an organization aimed at helping South Africa's previously disadvantaged black entrepreneurs access new opportunities.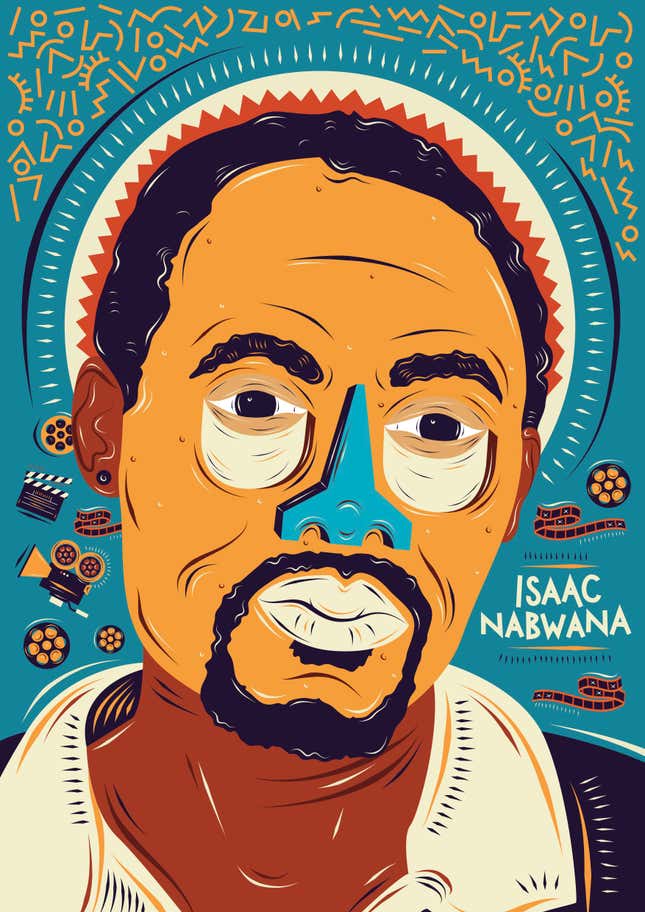 Isaac Nabwana
Filmmaker, movie director
@isaac.nabwana
Uganda
In Wakaliwood, Uganda's nascent film industry, filmmaker Isaac Nabwana, is one of its best known directors with a fast-growing reputation for producing thrillers on a shoestring budget.
A self-taught filmmaker, producer, director, scriptwriter and editor of action movies at his studios in Kampala's Wakaliga slum, Nabwana's passion for movie production shines through. In 2005, armed with a small borrowed camera, he began producing music videos for young artists for a small fee before moving on to making films. On a budget of no more than $200 on each film, Nabwana has made countless movies in the last eight years, ushering in a new genre of Luganda-spoken films in Ugandan cinema. The trailer for his action thriller "Who Killed Captain Alex?" has gathered more than 2.6 million views on YouTube alone.
"People loved it so much," says Nabwana. "Many action movies have been produced in Uganda or Africa but under Hollywood with massive budgets. But, this was not sponsored by anyone but by the passion of the actors."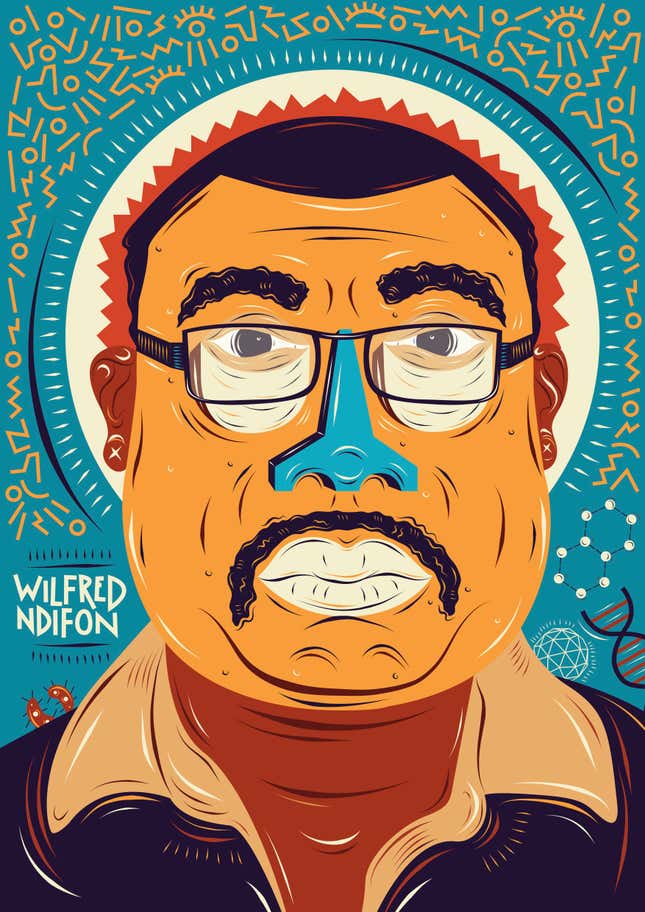 Wilfred Ndifon
Immunologist
Cameroon
Cameroonian scientist Wilfred Ndifon uses mathematics to understand the human immune system. He is best known for his recent work on a 70-year-old immunological mystery that has held back efforts to fight infectious diseases around the world. Ndifon's theory on why original antigenic sin—when the body becomes less resistant to repeat infections—occurs is also the first to explain how it can be alleviated.
Ndifon's work is contributing to research on a malaria vaccine and ways of predicting a person's predisposition to specific immunological diseases. His past work includes a breakthrough on the influenza vaccine. Ndifon, born in Buea, Cameroon, studied theoretical biology at Princeton University and was a recent adviser to the World Health Organization on vaccines and immunizations.
Ndifon especially cares about pushing other young Africans to go into the sciences. He says, "I would advise young Africans to find a problem that they are really passionate about solving, and then identify the course of study that would equip them with the skills needed to address that problem."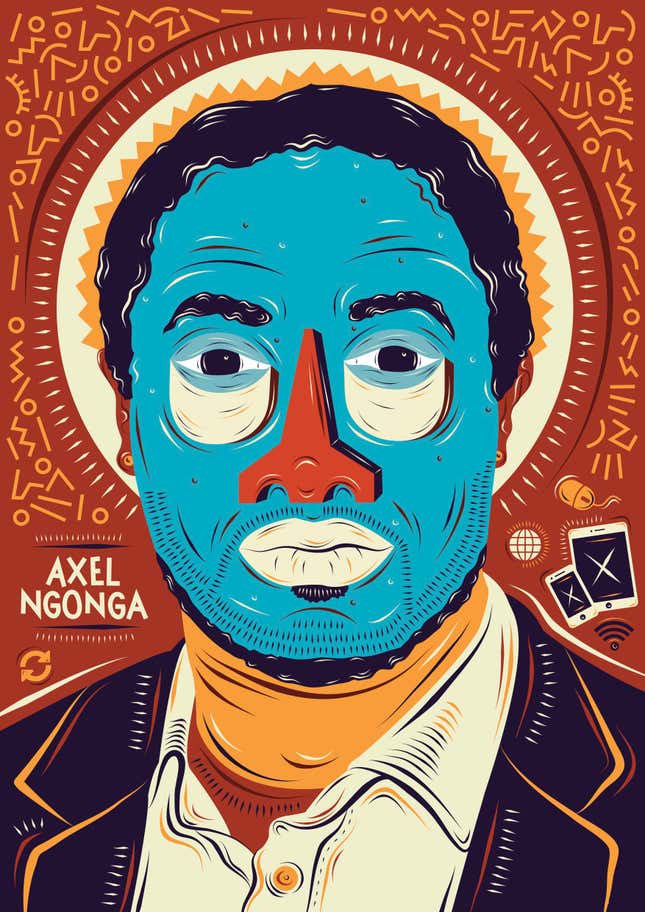 Axel Ngonga
Web semantics/big data scientist, University of Leipzig
@ngongaaxel
Cameroon
Axel Ngonga was born in Cameroon in 1983 and went on to university in Germany. As a child Ngonga was captivated by ants and always followed them to decipher their patterns. His father, an engineer and mother, a mathematics teacher had a great influence on him on the interest he would develop as a research scientist. He completed a doctorate in computer science at the University of Leipzig in Germany in 2009 and researches on semantic web technologies and big data.
Today, he specializes in semantic web technologies, with a goal to facilitate the development of smart data-driven approaches aimed at supporting humans in the performance of complex tasks such as learning new subjects, analyzing huge amounts of data and in surgery. His vision is to pursue the development of more efficient and cost-effective approaches to enable people to better process large amounts of data. This technology could help improve education, bio­medicine and agriculture in Africa in a more efficient way. Such information can be applied in tackling challenges such as food insecurity, public health and medical complications among others.
"The output of African universities in science suggests that something is definitely wrong," he recently observed. "Either we do not invest enough or the investments are misplaced. I think we should aim to create centers of excellence where promising scientists are given the opportunity to research innovative questions and renowned scientists can share their knowledge and achievements."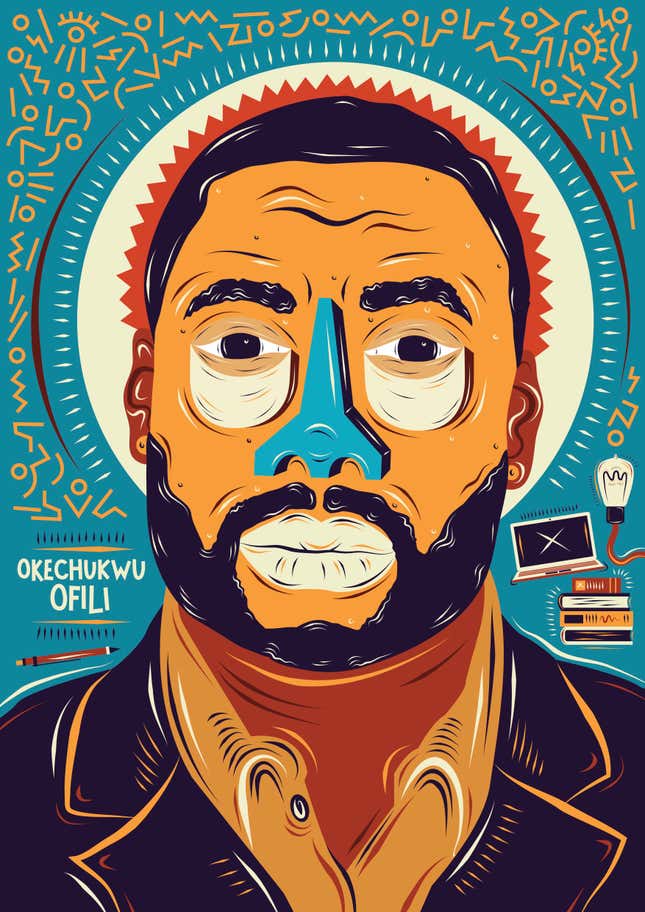 Okechukwu Ofili
Founder, Okada Books | Writer and entrepreneur
@ofilispeaks
Nigeria
Although trained as an engineer, Ofili has dedicated much of his professional life to literature. Ofili's advocacy for a revamped educational system are laid bare in his books which satirically highlight the rigid thought processes and systems that constrict the creativity of young Africans.
Ofili's passion for literature saw him start Okadabooks, a book publishing and reading app which allows African writers publish their books online and sell to over 80,000 users on the app.
Given the ubiquity of mobile phones in Africa and the spiking internet penetration, Okadabooks is looking to make it "easier and cheaper" for Africans to read. Since its launch, Okadabooks has had 11,000 books listed and had over 750,000 book downloads.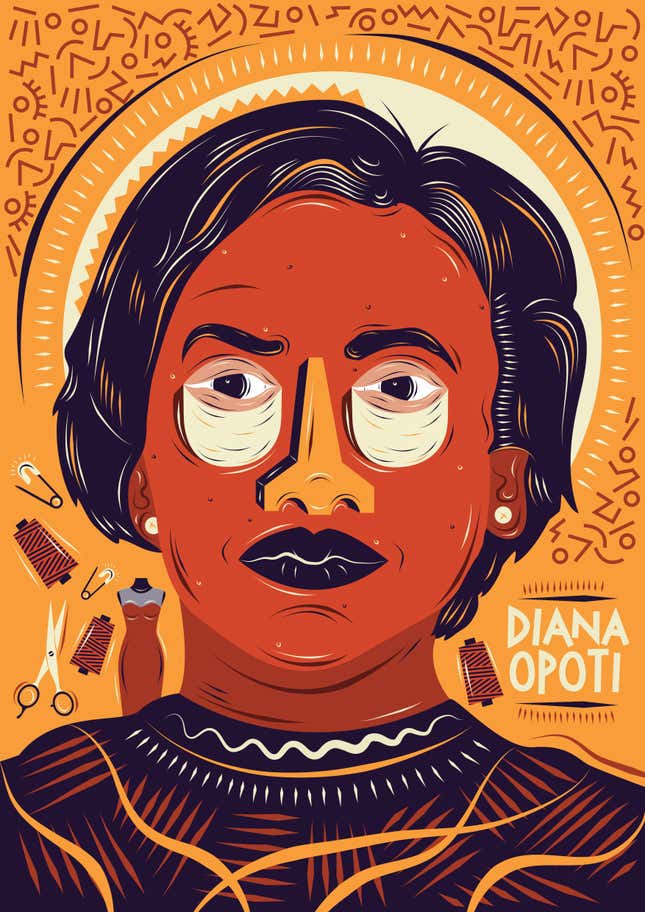 Diana Opoti
Founder and MD, Diana Opoti PR
@dianaopotipr
Kenya
Diana Opoti calls herself a voice for African fashion. She runs Diana Opoti PR, a fashion brand consultancy that specializes in telling stories about how African fashion brands can identify ways of connecting premium African labels with consumers. This way, she is able to not only promote outfits made in Africa but also give a voice to African fashion designers on the global stage.
"Notice the shift in Africa's consumer markets; consumers are asking for luxury African labels…We strive to create the positioning of premium African and global fashion labels through strategic approaches and connecting brands to niche or target clients," she states.
She garnered international attention with her inaugural "100 Days of African Fashion" crusade, which ran from June to September 2014 with sponsorship from Martini, a global fashion brand. The campaign calls for the dedication of 100 days of every year to wearing different African designers. She has worn pieces from designers across Nigeria, Kenya, Ghana, South Africa, Uganda and several other African countries, giving them greater recognition.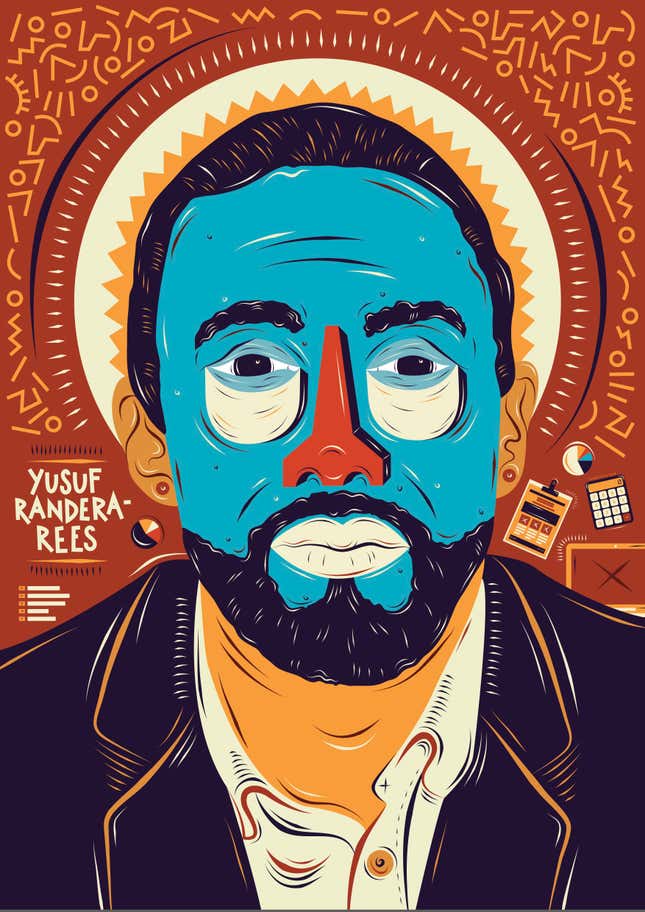 Yusuf Randera Rees
CEO and Co-founder of the Awethu Project
@awethuyusuf
South Africa
With an education from Harvard and Oxford Universities, and a job at Credit Suisse in New York City in his early twenties, Yusuf Randera Rees wanted to do more. So he came home to South Africa and founded the Awethu Project, creating a startup that invests in other startups.
"Every day I come across people who are more talented than me, more charismatic than me, smarter than me, have talents that should matter in economic value, yet those people are getting paid 3,000 rand and 4,000 rand [less than $280] a month and they are going to be stuck there for their entire lives. It's not fair and it doesn't make sense to me," Randera Rees once told Business Day newspaper.
Unlike investors looking for big returns, the Awethu Project is looking for impact. Driven by the frustration with ongoing inequality in South Africa, the Awethu Project identifies entrepreneurs with raw talent and teaches them how to navigate the business world. So far, the programme has unearthed minibus taxi drivers with psychometric test scores that could rival the world's top one percent, says Randera Rees.
The group invests in small businesses that make less that $1,000 a month, schoolchildren and aspirant industrialists. Their aim is not only to streamline the corner store, but develop a group of black industrialists in South Africa by helping talented entrepreneurs escape structural challenges by entering a three-year partnership with the micro-businesses.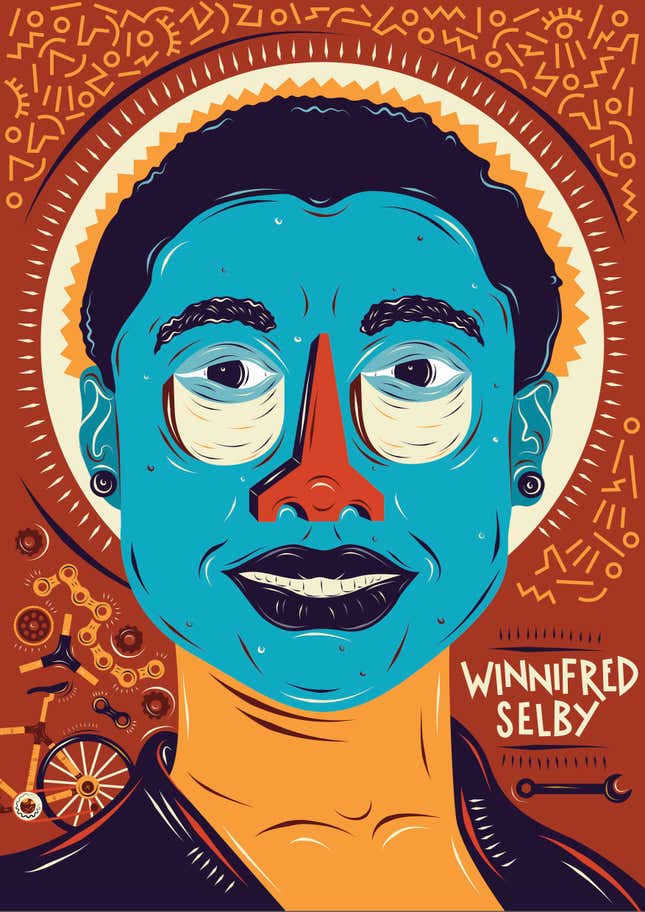 Winnifred Selby
Founder, Ghana Bamboo Bikes
Ghana
Winnifred Selby has taken an old idea of the bamboo bike—whose first appearance was at an exhibition in London in the late 1800s—and made it new again. After years of seeing local farmers and students walking miles every day,  Selby founded the Ghana Bamboo Bikes, an NGO that makes bicycles from locally available material. Her goal was to kill "four birds"—employment, farming productivity, school attendance, and income—with one stone. Two years later, she founded the business arm of her organization, Afrocentric Bamboo, whose focus is exporting handmade bicycles—they sell for about $100 locally and $250 abroad.
Selby's bikes are designed with bamboo, meaning they're light and don't rust. Selby says that tests show bamboo is especially good at absorbing bumps and even stronger than steel. The one-piece design of the frame means they are sturdy and there's less need to replace parts.
Selby is now one of Africa's youngest and best known social entrepreneurs. She was 15 years old when she started Ghana Bamboo Bikes and 17 when Afrocentric Bamboo was founded. Asked to give advice to other aspiring entrepreneurs, she has said, "There were so many friends who laughed when they heard about the bamboo bike idea. Some people will definitely discourage you, but one thing I've realized in life is that you have to be focused. People never understand your journey because it is not theirs to understand."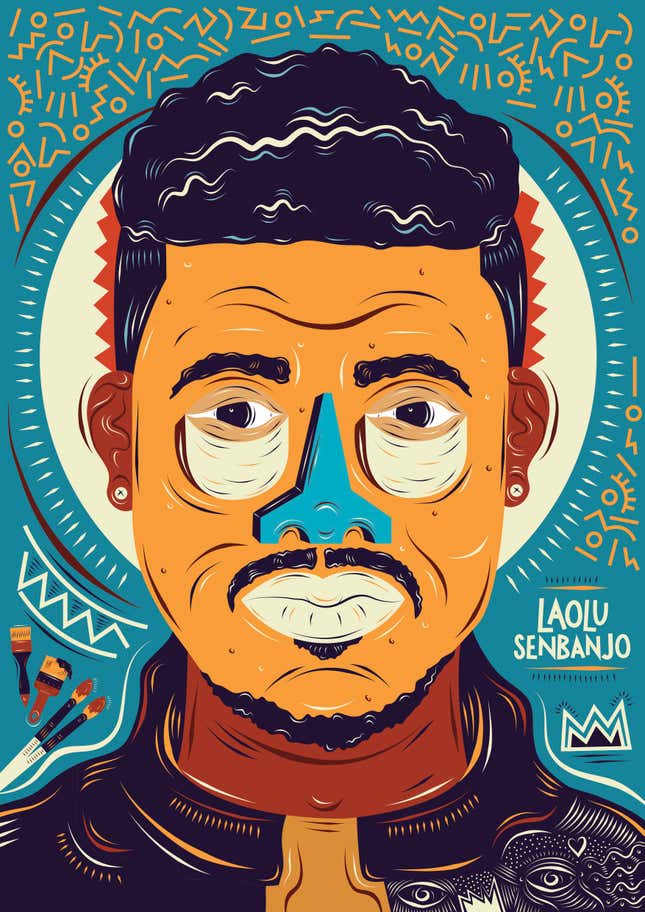 Laolu Senbanjo
Artist, founder, Laolu.NYC
@afromysterics
Nigeria
Over the past year, Laolu Senbanjo has broken into mainstream pop culture with his Yoruba culture-inspired art, Afromysterics, which he describes as "the mystery of the African thought pattern." Trained as a lawyer, Senbanjo has taken up his passion and has evolved into one of the most distinctive African artists on the international stage. Unrestricted by canvass type, Senbanjo's art appears on human bodies, clothes and sneakers. The popularity of his work has grown exponentially such that he was named by Nike, as one of the 'Masters of Air' at Nike Air Max Con in March. His collaboration with Nike to create African-art inspired sneakers turned out to be a sold-out success. Transcending fashion, Senbanjo's landed arguably his biggest break working with pop star Beyonce, on a video for her groundbreaking Lemonade album. Senbanjo's sees the growth of his art as an important contribution to helping Africans reconnect to their roots and also helping non-Africans understand Africans better. "We're at a point in the world right now where everybody is looking towards Africa. Perceptions are changing," he says. "All of a sudden it's cool to have that African-ness."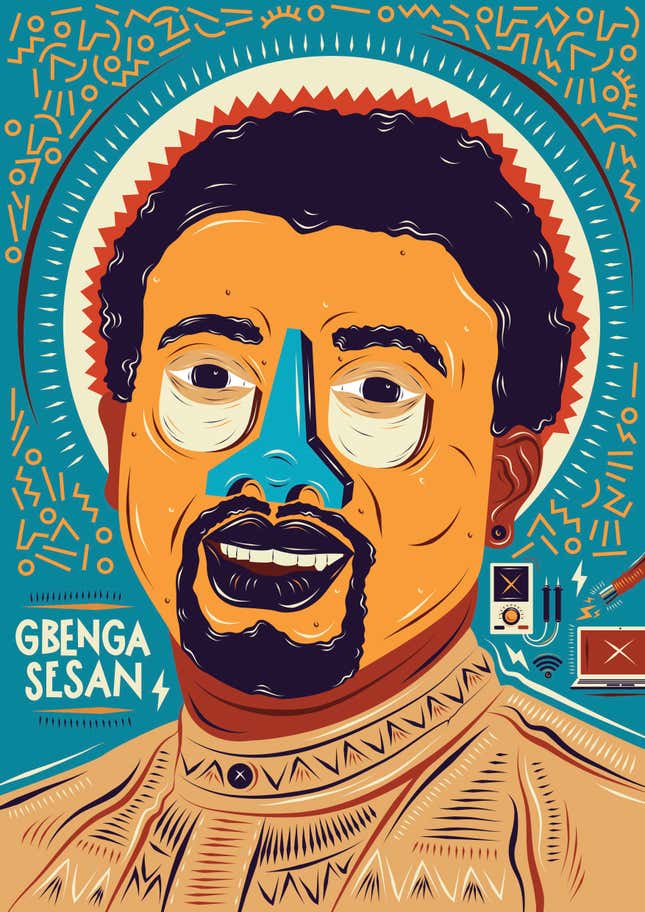 Gbenga Sesan
Executive director, Paradigm Initiative Nigeria
@gbengasesan
Nigeria
As a child, Gbenga Sesan was denied the chance to use a computer at school because a teacher said they were not for people like him. Inspired by that rebuke, he has spent much of his life teaching and providing hundreds of young people in Nigeria's poorest communities with IT skills and matching them opportunities through his work as executive director of Paradigm Initiative Nigeria (PIN). As an activist, Gbenga leverages technology to push projects such as the development of the first mobile application used for election monitoring in Nigeria in 2011. Sesan's PIN also acts as a watchdog of the government's ICT-related policies and, when necessary, is a vocal critic of questionable policies such as the infamous Frivolous Petitions bill, believed to be a pretext for regulating social media.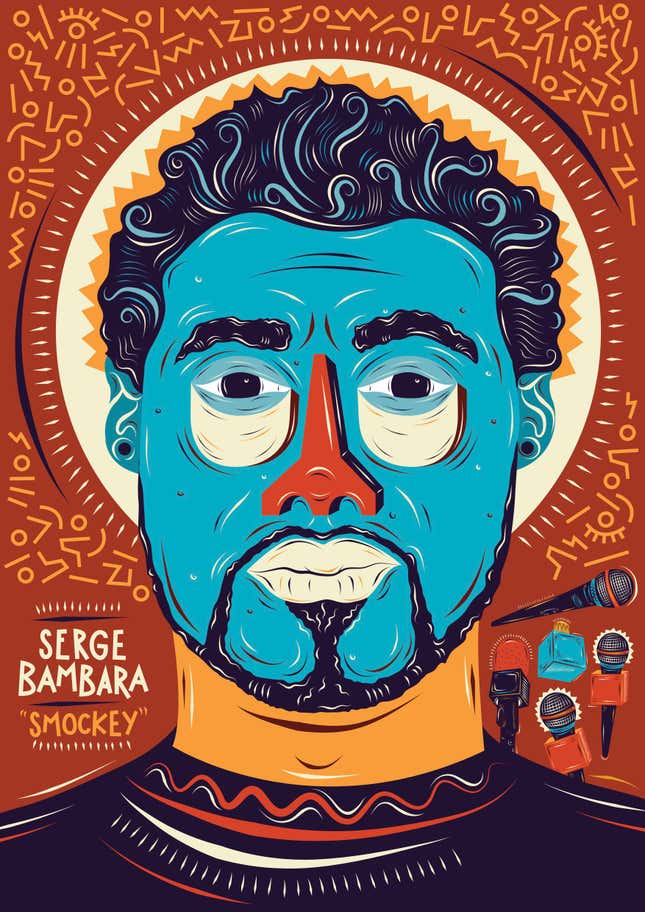 Smockey (Serge Bambara)
Hip Hop artist/political activist
@smockey_abazon
Burkina Faso 

In September 2015 Smockey, the Burkinabe hip-hop artist, saw his acclaimed recording studio in Ouagadougou destroyed by a fire started by a group of local soldiers. Those solders were loyalists to the former president Blaise Compaore taking advantage of a seven-day coup to destabilize the path to democracy. Their beef with the rapper? Smockey had played a leading role as one of the faces of the Burkinabe people's rejection of Compaore in 2014. As an artist Smockey has always blended classic American hip hop rhythms with traditional Burkinabe music.
He uses music as a platform to help 'spread the truth' deploying cheeky humor and political commentary to help raise awareness. Songs like 'Votez pour moi' attacked the lack of democracy in Burkina Faso, while 'A qui profite le crime' called out government corruption. And it's not just political commentary, 'Tomber la lame' took on female genital mutilation.
In 2013, he started Le Balai Citoyen ("The Citizen's Broom"), a grassroots political movement, together with Sams'K Le Jah, a reggae musician. This movement played a key role in helping young Burkinabes stand up to the 27-year rule of president Blaise Compaore, which ended in October 2014.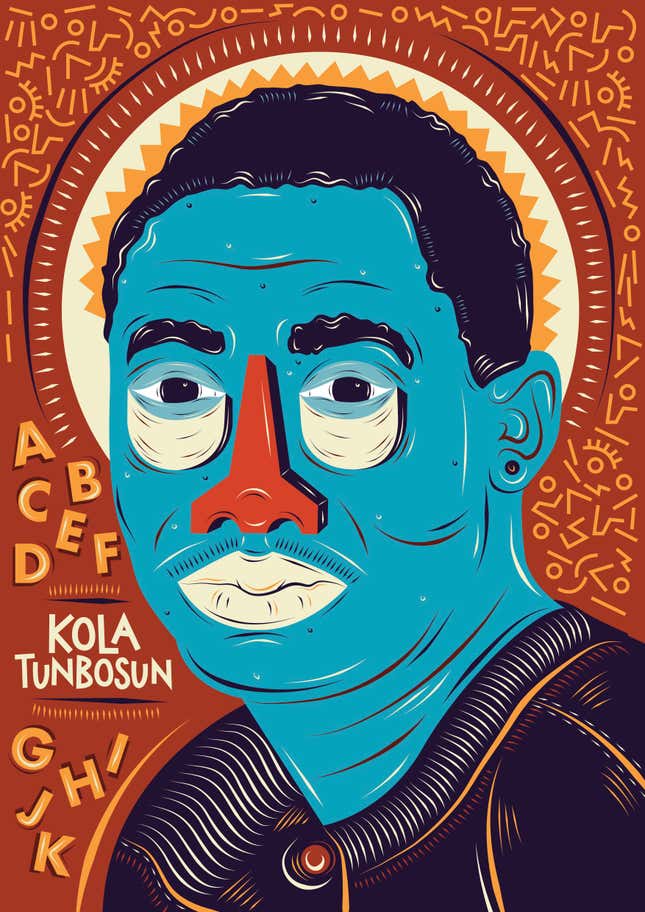 Kola Tubosun
Founder, YourbaName.com | Writer and linguist
@baroka
Nigeria
Seeing that the age of millennials, smartphones and social networks was bringing with it an erosion of local dialects with young people, Kola Tubosun has focused his efforts on preserving Yoruba, one of Nigeria's major languages. In 2012, Tubosun started a campaign on Twitter for the inclusion of Yoruba as one of the languages into which Twitter was being translated. After two years of an annually popular "Tweet Yoruba Day" on which Twitter users tweeted only in the local language, Twitter announced it had made Yoruba the second African language, after Afrikaans, to be included in the Twitter translation center. Tubosun's Yoruba advocacy is not only limited to tweets as over the past year, he has launched Yorubaname.com, a crowdfunded name and culture documentation project which serves as a dictionary for Yoruba names, meanings and pronunciations so that "one day in the future, Microsoft Word no longer has to draw that red wriggly line" underneath a Yoruba name. Earlier this year, Tubosun's efforts saw him become the first African recipient of the Premio Ostana Special Prize for Mother Tongue Literature—an award reserved for individuals who engage in "notable advocacy for the defense of an indigenous language."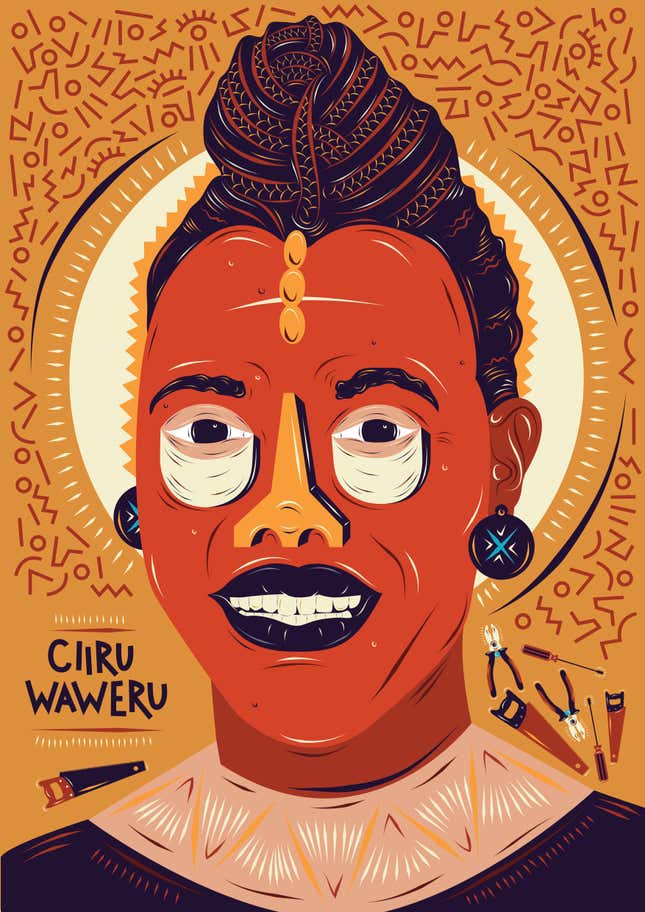 Ciiru Waweru
Founder, FunKidz
@CCiiru
Kenya

Ciiru Waweru is the founder of FunKidz, a brand for furniture, textiles, and accessories for children. Before FunKidz, Waweru founded and ran an interior architecture consultancy where she noticed the need for homegrown technical skills in manufacturing. With that in mind, she started FunKidz whose aim is to improve both education and manufacturing in Kenya. The company has an in-house training program for local carpenters and joiners. In a mentorship program, children learn about technology through animation and robotics.
Waweru's education program and entrepreneurial efforts have been recognized by UNESCO, UN Women, and most recently the White House. At a White House event for women in business in Africa and the Middle East this year, first lady Michelle Obama praised Waweru's business and dedication to her community. She runs a mentoring program on technology and innovation for children.
Waweru's goal is to bring the skills of Kenya's artisans to a higher level. She posted recently on her company's Facebook page that her team of carpenters or "fundis" are more than that. "We are not just 'fundis' we are designers and manufacturers with a global vision."
Credits
Editor
Yinka Adegoke
Writers
Jackie Bischof
Lynsey Chutel
Yomi Kazeem
Lily Kuo
Joshua Masinde
Illustrator
Karabo Moletsane
Art director
Elan Kiderman
Editor-in-chief
Kevin Delaney