Johannesburg, South Africa
In a Johannesburg concert venue that usually hosts pop stars, Indian prime minister Narendra Modi had the crowd on their feet. Modi is in South Africa as part of a tour of southern and east Africa aimed at strengthening diplomatic and economic ties. Following on from October's India Africa Summit in New Delhi, India is still playing catch-up to China in the race for Africa. But Modi may have an impressive advantage: the hearts and minds of Africa's centuries-old Indian diaspora community.
"You are part of the flourishing global Indian family," Modi said as the crowd cheered, some rising to their feet. "A bond on which we are building the promise of our prosperous future." After two hours of what seemed like countless song and dance performances, Modi could still whip the crowd into a frenzy. They chanted his name as he entered and left, and cheered especially when Modi referenced their ancestral and current connection to the Indian sub-continent.
The event was organized by SAWelcomesModi, a group representing South Africa's Indian community of 1.3 million people. Among the crowd were Indians from neighboring Lesotho and Botswana. The first Indians arrived in southern Africa in 1684 as slaves, then from the 1860s, thousands of Indians were brought to South Africa as indentured laborers as part of the British colonial system.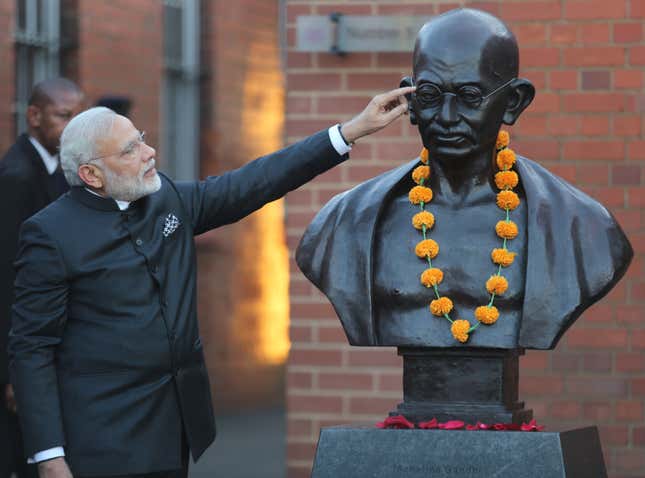 The most famous Indian in South Africa is Mahatma Gandhi, whose political activism began in South Africa as a young lawyer horrified by the living conditions of South African Indians. His practice of peaceful resistance inspired Nelson Mandela and Modi made much of this connection as he donned a Madiba shirt, the brightly patterned shirts made famous by Mandela.
This human connection is the foundation in Modi's plans to create a stronger presence in Africa, as the country tries to match China. India's trade with Africa has grown from $1 billion in 1995, to $35 billion in 2008, rising to roughly $70 billion last year. It's not quite the $200 billion trade relationship China enjoys in Africa, but India seems determined to close the gap. Still, despite India's pronouncement that it is "not focused on an exploitative or extraction point of view," India has not presented much of an alternative to China.
The more than two million Indians in Africa are a starting point to strengthening these ties. A day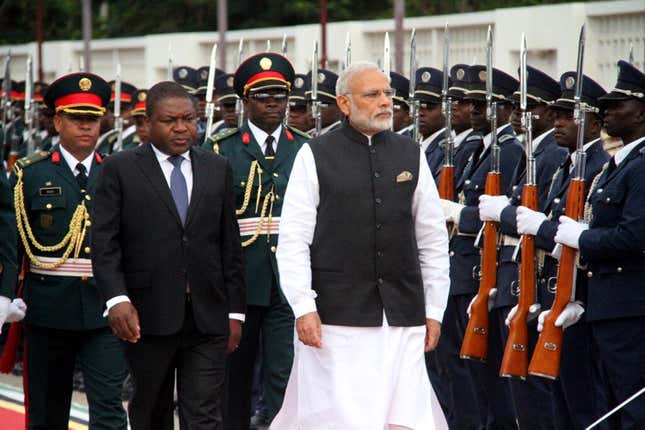 earlier, Modi was in neighboring Mozambique where he met with President Filipe Nyusi. Again, Modi reminded his hosts of the Indian community already living in Mozambique for generations. As the first Indian prime minister to visit the Portuguese-speaking country in 34 years, Modi promised that such a gap would never again pass the two countries strengthened their trade and investment ties. Next, Modi will head to Kenya and Tanzania, both of which have large Indian communities.
Earlier in the day, Modi met with Zuma in an official visit, where the two leaders strengthened their ties by pledging to increase trade to $18 billion by 2018, Zuma said in his speech. India is South Africa's sixth largest trading partner and while that trade deficit benefits India, Indian companies in South Africa have created 10,660 jobs, mainly in tech and financial services, according to Zuma's office. With a slowing economy, South Africa needs as much foreign direct investment as possible. As India fuels its industrialization, the country needs more raw materials and access to commodities.
But there is one more thing that India wants from South Africa: It's backing to join the Nuclear Suppliers Group, which it secured by Friday morning. The only African country with a commercial nuclear reactor, South Africa holds some sway in the community. For eight years, India has lobbied to join the elite club that was expressly created to stymie India's nuclear ambitions. The NSG's guidelines were first published in the 1970s in response to "India's diversion of nuclear imports for supposedly peaceful purposes to conduct a nuclear explosion in 1974."
"India is desperate to emerge from its developing country niche and become a member of the elite group that settles international issues—in other words, a country that matters," journalist Malik Ayub Sumbal wrote in the Diplomat. "Perhaps inclusion in the NSG represents a step towards this dream."
Last month, China blocked India's attempts to enter the group. Before the meeting in Seoul, Modi went on a global charm offensive, lobbying nations like France, Mexico and the United States for their support. When it came to the actual vote, India's failure to sign the Non-Proliferation Treaty (NPT) and the Comprehensive Test Ban Treaty unsettled some members of the exclusive club who voted against them. At the next meeting of the group, India is likely to renew it's campaign to join the elite club, this time with South Africa's backing. As India reinforces its economic relationship with Africa, it's ties to the continent also strengthen it's soft power.