It's not just the US; Gabon is experiencing its own "birther" movement. Ahead of a general election on Aug. 27, opposition candidates and critics of president Ali Bongo, who is seeking re-election, have claimed he is not actually the son of the late Gabonese president, Omar Bongo, but a war orphan brought over from Nigeria during the Biafran war in the late 1960s.
The accusations, if taken seriously by voters, could mean the unseating of a political family that has ruled the oil-rich country for almost 50 years. Bongo, who took over the presidency from Omar in 2009, is competing against 14 other candidates.
The issue of parentage and nationality has surfaced in African elections from the Ivory Coast, to the Democratic Republic of Congo, to Zambia. Rivals have accused Ivorian president Alassane Ouattara of really being from Burkina Faso, while some say president Joseph Kabila of the DRC actually hails from Rwanda.
"It is as if only adopted children make it in politics," says Kamissa Camara, a West and Central Africa political analyst.
In Gabon, however, the so-called birther debate has unfolded a little differently than usual. Questions about Bongo's heritage are part of a larger debate about the hold his sprawling family has over Gabon's economic and political life, as well as the legacy of Omar Bongo, who before his death was the world's longest-serving head of state and left more than 50 children to squabble over his massive inheritance .
Doubts about Ali Bongo's origins first entered the public debate after French journalist Pierre Péan claimed in his 2014 book Nouvelles Affaires Africaines ("New African Scandals") that Bongo's Nigerian heritage has long been an open secret among an inner circle of the Gabonese elite.
According to Gabon's constitution only those who are Gabonese by birth or whose parents have been in Gabon for four generations can run for the presidency. Over the past year, rival political parties have filed more than 2,500 complaints to Gabon's constitutional court, disputing Bongo's candidacy. The president's own half-sister and rival, Onaida Bongo, claims that his birth certificate was falsified.
Bongo has repeatedly denied the allegations, insisting he was born in 1959 in Brazzaville, the former capital of French Equatorial Africa. The region became independent in 1960 and formed four different countries—Gabon, Congo, Chad and the Central African Republic. The city of Nantes in France, which oversees all birth certificates of people born at the time in the colonial region, released Bongo's original birth certificate last year.
In late July, Gabon's constitutional court ruled that the president was indeed Gabonese and fit to run. Still, rival candidates have continued to call on him to submit to a DNA test to prove his parentage.
"It is a case of clear political manipulation by the opposition," president Bongo told Quartz, "and it is time to put an end to this story. I truly am my father's son."
The birther movement may be motivated more by frustration with the Bongo family's long legacy than it is by concern over Omar Bongo's true lineage. The Bongo family has amassed vast wealth over the decades, with French documents showing both president Omar and members of his family using that money to buy luxury property, expensive cars and private planes.
""I think the debate is more about how to end this family's rule, rather than who is a real Gabonese and who is not, or what ethnicity matters most," says Oumar Ba, a political science Phd candidate at the University of Florida who has been following the election.
Unseating Bongo in the polls will still be a difficult task. According to Gabon's electoral system, the candidate with the majority of votes wins—easy for Bongo given the number of other candidates. Political pluralism is also not very strong, with many of the opposition parties having spun off from the ruling Gabonese Democratic Party. Major broadcast media and newspaper outlets are also controlled by or affiliated with the government, and Bongo has had plenty of money to fund his campaign.
Confronted with the question of his family's long hold on Gabonese politics, president Bongo said, "The people of Gabon know me and know what I stand for. Voters must think beyond the family name and judge each candidate on their program and their vision for Gabon. The question to ask oneself is, 'Can he change Gabon? Can he make our lives better?'"
Still, Bongo faces the strongest opposition he has encountered under opposition candidate Jean Ping, former head of the African Union commission. Ping has an unusual background—his father was a Chinese immigrant who moved to Gabon after working at a bicycle factory in France—and he was once married to one of Bongo's sisters.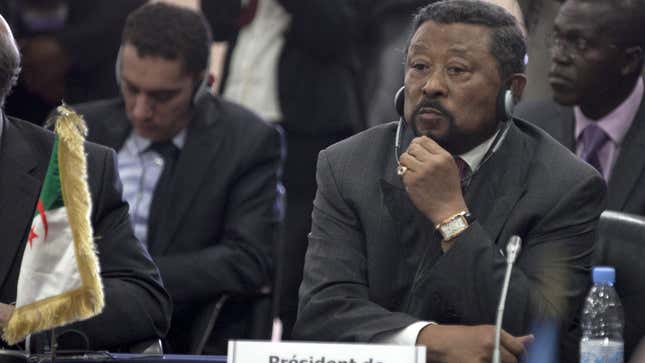 Ping himself is not focused on the birther issue even though his supporters are. "The focus now is on moving Gabon forward with new leadership," he told Quartz. "Our potential as a people and a nation is being wasted by the current government."
Gabon's struggling economy is another factor. The decline in oil prices has hit the economy hard. The International Monetary Fund recommended earlier this year that the country diversify its economy and contain spending to increase revenue. Gabon has a higher per capita income than many of its peers in Africa, but about 30% of its 1.7 million people remain vulnerable to poverty.
"Every politician or businessman who has made it in Gabon has had some sort of relationship with the Bongo family," says Camara. "So it's not too much about identity politics, it's more about who has close ties with Bongo, than who doesn't."