Nairobi, Kenya
Adan Barre, a 20-year-old Somali refugee, was meant to be en route to Kentucky from Nairobi on Sunday (Jan. 29). Eight years after being selected for a resettlement process in the US, he had finally gotten approval to leave Dadaab, the world's largest refugee camp, located in northeastern Kenya, for his new American home.
But with a stroke of a pen two days earlier, US president Donald Trump had brought that dream to a halt, with an executive order on immigration that barred citizens of seven Muslim-majority countries, including Somalia, from entering the US for the next 90 days, and a ban on the admission of all refugees for 120 days. Initially, the ban appeared to include US permanent residents from those countries—they were later exempted. The decision and its unclear wording sparked protests at American airports, confused airlines and their crews, and left refugees in a state of despair. In the case of Somalia, it also reversed an almost three decades-long tradition of Americans offering its people refuge.
At Dulles airport in Virginia, a Somali mother was reportedly detained with her two American-passport holding children for 20 hours with no food. Questions also loomed over whether dual passport holders could travel freely despite the ban. The Canadian government says it has "no concerns" its Somalia-born, immigration minister could travel to the US.
Barre estimates that there are around 150 refugees that, like him, are now stuck at a transit center in Nairobi as a result of Trump's order. "There's nothing much we can do," he says, speaking to Quartz from the center, which is managed by the International Organization for Migration. It's currently unclear how many Somali refugees have pending applications for resettlement in the US.
Somalia will be especially hard-hit by the suspension of refugee admittance. More than 25 years of civil conflict has destroyed the country's political and economic infrastructure, creating widespread poverty. As a result, about two million citizens live outside Somalia, with the country coming third in a worldwide list of refugee-contributing countries in 2015—just behind Syria and Afghanistan. The Horn of Africa nation is plagued by terrorist activities perpetrated by the al-Qaeda-linked group al-Shabaab, and has the undesirable title of the world's most corrupt country.
As the world's top resettlement country, the US has received tens of thousands of Somali refugees since the war began in 1991. Estimates from the UN Population Division show that there were around 2,500 Somalis living in the US in 1990. By 2015, between 140,000 and 150,000 Somalis had made America their home.
Still, only a tiny number of Somalis are granted US passports, green cards, and nonimmigrant visas each year. US state department data show that 272 permanent residency cards and 299 non-immigrant visas were awarded to Somalis for the 2015 fiscal year. Compare that with countries like Mali, which received more than 2,300 nonimmigrant visas; or Liberia, which got 4,430 annually-allocated diversity visas.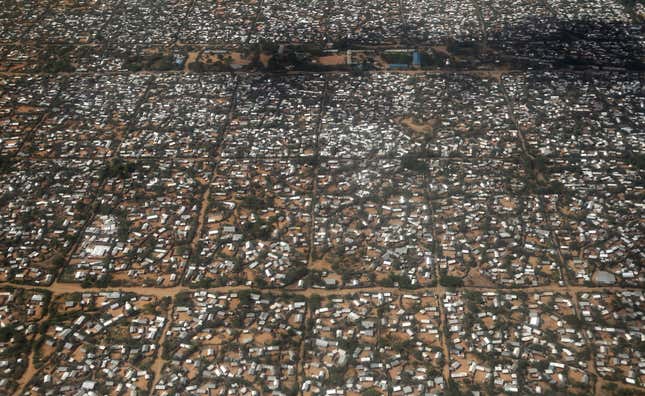 In order to gain admittance, refugees have to go through a detailed vetting system involving eight federal agencies, six different security databases, five background checks, four biometric security checks, and two inter-agency security checks, according to the UN's refugee agency.
Those measures weren't enough for Trump, who warned during his presidential campaign of the apparent dangers posed by Somali immigrants and promised to halt immigration from "terror-prone regions," and beef up "extreme vetting" procedures.
Given this rhetoric, observers anticipated the new administration would take some form of action against refugees, but they didn't expect it to be so broad, and so quick. "I think all of us must have been taken aback by the scale and the speed with which that decision was taken," says Rashid Abdi, the Horn of Africa project director for the International Crisis Group.
Abdi says the impact of the travel ban will be wide-ranging, from affecting the families of refugees already settled in the US who are petitioning for family or spousal reunification, to limiting the opportunity for Somali-Americans to visit and contribute to their home country. It could also upend how the administration approaches and funds future aid and development projects.
Diminished hope
Kenya houses an estimated 300,000 Somali refugees, many of them in Dadaab; many who have lived in the country their entire lives. They say the executive ban would only exacerbate the challenges they face, particularly as Kenya has repeatedly said it wants to close down Dadaab and stop taking people in. Many refugees see resettlement programs as their last hope.
Adan Mohamud Ibrahim, who has lived in Dadaab since 1992, says the ban shocked the camp's inhabitants. Part of a family of eight awaiting relocation, Ibrahim is afraid he will never get a chance to see his two Boston-based brothers again. "Our mother is worried, I am worried. Whatever hope there is, it is currently dwindling very fast."
Abdi worries the ban will embolden African countries to make "Trump-like decisions" regarding refugees. Ethiopia, Kenya, Uganda, and the Democratic Republic of Congo are among the world's 10 top refugee-hosting countries.
Former African Union head, Nkosazana Dlamini-Zuma, said on Monday (Jan. 30) that the ban heralds "turbulent times" for the continent and will be "one of the greatest challenges to our unity and solidarity." The Somali government has yet to issue a response on the issue; the decision has also come at an inopportune time, with the country going through parliamentary and presidential elections.
For stranded refugees like Barre, hope is the only bulwark against despair. If they are taken back to Dadaab this week, as some reports have indicated, it will be a challenge for them to restart their lives.
"We left our homes, sold our household items, and even took loans to do some shopping in the hope of repaying when we get to America," Barre said. "We don't know what we will do."