On any given day in South Africa's cities the daily commute can be chaotic and unpredictable. A new open source data platform hopes to bring some order to that—or at least help others get it right.
Contributing to that chaos is a formal public transportation system that is inadequate for a growing urban population and an informal transportation network that whizzes through the streets unregulated. Where Is My Transport has done something unique by finally bringing these two systems together on one map.
Where Is My Transport has mapped Cape Town's transport systems to create an integrated system, incorporating train, bus and minibus taxi routes. This last one is especially difficult, because the thousands of minibuses that ferry most South Africans are notoriously difficult to pin down.
Minibus taxis seat about 15 people and turn any corner into a bus stop, often halting traffic. They travel within neighborhoods and across the country and are the most affordable means of transport for the majority of South Africans. But they are also often unsafe vehicles, at times involved in horrific road accidents.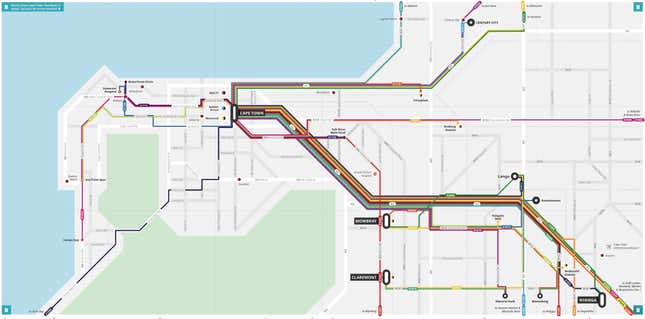 Devin De Vries, one of the platform's co-founders, says he was inspired by the Digital Matatus project in Nairobi. The South African platform differs, however, in that it provides open source information for others who think they may have a solution to South Africa's troubled public transportation system.
"Transport is a complex ecosystem, and we don't think any one company will solve it, De Vries told Quartz. "That's why we made our platform open and hope that many endpoints—apps, websites, et cetera—will draw on the data so people can access it."
This could lead to trip planning apps like Moovit or Transit for African commuters, or help cities better map their public transportation system, De Vries hopes.
"I don't know exactly how we're going to help—yet," said De Vries. "But what we do know is that information is needed."
The mapping system was created after 13 local data collectors traversed, recorded and verified  657 unique routes. Where Is My Transport also communicated with the city, taxi associations and commuters with the intention of creating data that is useful to everyone—not just ambitious developers.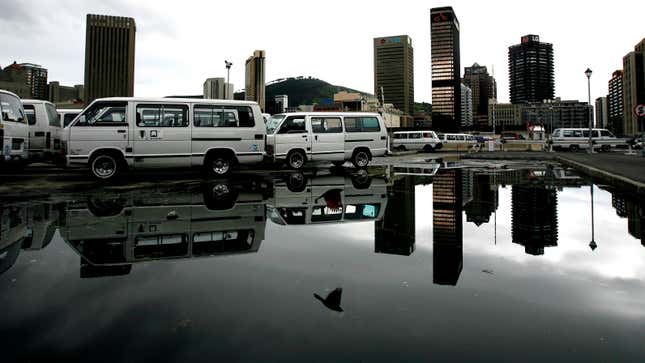 One Cape Town commuter hopes the data source will help make her trips safer. As a woman, Leah Lamour  will not risk taking a taxi after dark, fearing unsafe taxi ranks or dark stops.
It would also help if the data platform expanded so that it included the names of drivers, their owners, permits and licenses to increase accountability the way ride-hailing services offer wealthier commuters, the 21-year-old student adds.
"Real time data would be big for me," she says. "It would make the idea of taking a taxi much safer and it would take away the stigma of public transport."
The challenge for Where Is My Transport's prospects, is if technology will ever replace the colorful taxi culture of the loudmouthed conductors-cum-assistant drivers hanging out of the windows—known as gauardjies (pronounced gah-chee)— and passengers passing and calculating fares over each other's shoulders and swapping travel tips. That would require the kind of technological integration that speaks to both drivers and commuters.
De Vries says he and his team are still working on creating real-time tracking of this normally erratic ecosystem. Where Is My Transport has already started mapping other cities.