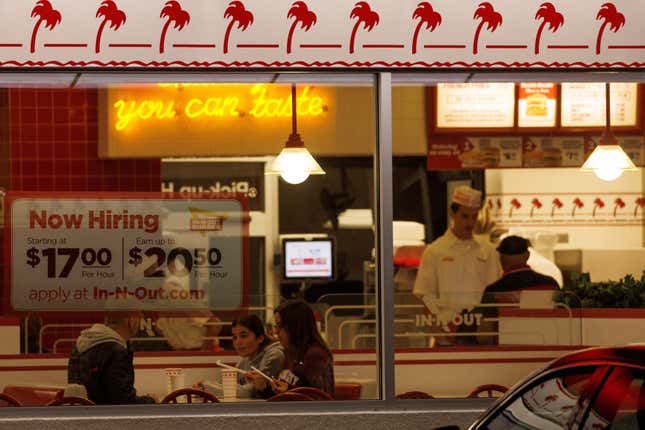 The US economy added 311,000 non-farm jobs between January and February, beating economists' expectations for an addition of 225,000 jobs in the month, according to new data from the Bureau of Labor Statistics.

Earnings expectations for Microsoft and other tech giants
The data showed that growth in jobs is slowing—but likely not at a pace that will satisfy the Federal Reserve. Having raised interest rates through much of last year while keeping one eye on the labor market, the Fed will probably speed up its rate hikes on the back of these new figures. The Fed meets next on March 21-22 to decide on the next interest rate move.
The February jobs increase was led by leisure and hospitality, retail trade, government, and healthcare. As post-pandemic demand continues its dramatic shift from goods to services, the services industry is adding the most workers, with leisure and hospitality growing by more than 100,000 jobs in February.
In parallel, the unemployment rate rose to 3.6%, although this data is sourced from a different survey to the one that yields non-farm employment numbers. The rise in unemployment may have been, in part, because more Americans entered the labor force in February, with the labor force participation rate ticking up from 62.4% to 62.5%. The prime-age employment participation rate moved up from 82.7% to to 83.1%, its highest level since January 2020.
"I would imagine we get 50 basis points," said Conor Sen, founder of Peachtree Creek Investments, referring to the Fed's next interest rate hike. That would be a larger step up than the 25-basis-point hike that the Fed delivered at the beginning of this year. "But if you're worried about structural overheating," Sen added, "the labor supply story is getting better."
Hourly earnings growth was also subdued in February, rising by just 0.2% on average, versus 0.3% the month prior. The average hourly earnings of production and non-supervisory workers actually fell by 0.1%. This data could well recommend a slower pace of hikes or a rate hike pause in the coming months—if the Fed is so inclined, that is.