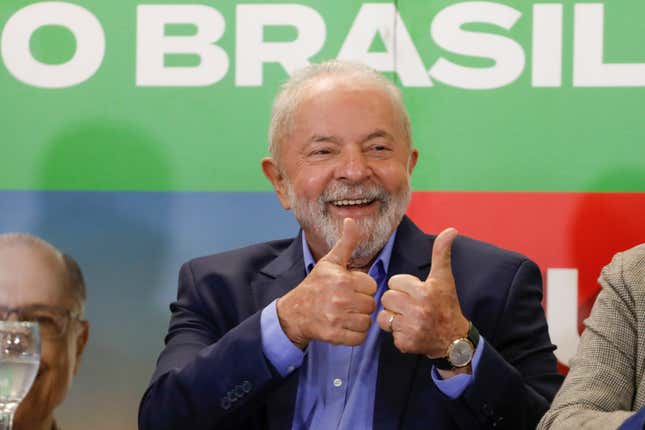 Last week, Brazil announced that its gross domestic product grew by 0.9% during the second quarter of this year, three times more than market expectations. This gain builds on previous growth for Brazil's economy, which expanded by 1.9% in the first quarter.
Why a tightening of credit conditions could lead to a weak economy
The good news comes amid an economic downturn for South America, with major emerging economies like Chile, Colombia, and Peru shrinking in the first half of the year. In Argentina, one of Brazil's closest trading partners, the central bank recently took drastic steps to stabilize the peso, including raising interest rates to a benchmark of 118%.
So how has the Brazilian economy managed to defy the odds? Among the contributing factors: Brazil avoided the worst of South America's high inflation, enjoyed a bumper harvest from its agricultural sector, and saw its international credit rating upgraded.
But mainly, president Luiz Inácio Lula da Silva's time-tested tax-and-spend strategy—along with a strong campaign for public ownership of utility and energy companies—appears to be stimulating the economy much like it did in the early aughts.
A brief history: The radical economics of Lula's first presidential stint
Ahead of Lula's first presidential election win in 2002, the outlook was grim. Economists warned that if he was elected and able to enact his sprawling social welfare reforms, the economy would crash. Brazil's currency, the real, lost 35% of its value after polls indicated that Lula would be the likely victor. He was even forced to write an open letter to calm the markets, promising he wouldn't make radical changes too quickly.
Then Lula won, and the crash didn't materialize. Instead, Brazil embarked on the largest-ever expansion of its economy. Lula opened up the country to commodity exports, creating an influx of wealth that his government redistributed to lift 20 million Brazilians out of poverty.
In fact, Lula's first stint in office could be considered an economic miracle. He radically expanded the welfare state, while reducing public debt from 60% to 40% of GDP. Raising the minimum wage several times, he also reduced inflation from 12% to 6% between 2002 and 2010. And he increased manufacturing and commodity exports, while dramatically reducing deforestation in the Amazon.
What does Lula understand? It's the economy, stupid
Flash forward two decades, and how did Lula celebrate the news that Brazil's economy is back on track? By chastising the nation's central bank for keeping interest rates high and criticizing wealth inequality.
"[Brazilians] need to understand that the money that exists in this country needs to circulate in the hands of many people," Lula wrote in a tweet on Friday (Sept. 1). "We do not want the concentration of wealth. We want more people to have access to credit to make the wheel of the economy turn. The growing economy needs to be distributed."
This dogged rhetoric shows just how ambitious Lula really is. Once again, he's trying to transform Brazil's economy—this time without an export boom—while making the country richer from top to bottom.
That's what separates Lula from his unpopular left-wing peers (such as Chile's Gabriel Boric and Colombia's Gustavo Petro): a determination to focus on economic gains. Between April and August, his approval rating jumped 9 points to 60%, largely thanks to an uptick in support among conservative voters.
The political cover afforded by his economic successes allowed Lula to attempt a series of radical reforms that would have immediate and dramatic effects on Brazil.
They include a total ban on logging in the Amazon, major infrastructure upgrades, an increase in the minimum wage, and a vow to eradicate hunger in Brazil. Lula has also gone ahead with the prosecution of his corrupt predecessor, Jair Bolsonaro.
But it's not just domestic reforms. Lula recently helped broker a major expansion of BRICS, while also proposing a regional currency meant to challenge the US dollar in South American trade. Both of these ambitious moves aim to counter the developed world's hegemony in the global economy and cement Brazil's role as a geopolitical leader.
Related stories:
🍃 Brazil is forgoing oil wealth in favor of environmental goals
✊ Latin America's pink tide is preparing for the green revolution
🪵 Deforestation in the Amazon dropped by a third since Lula became president