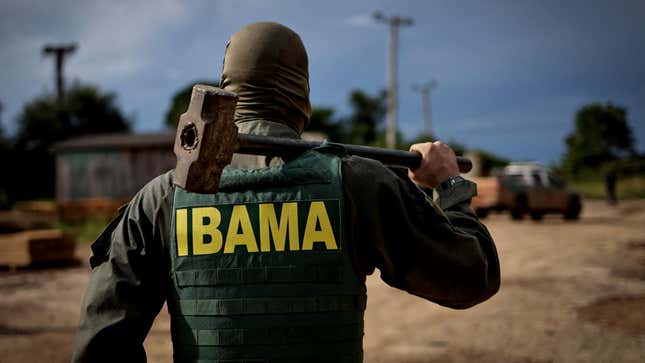 In the first six months of his term, Brazil's president Luiz Inácio Lula da Silva has somewhat succeeding in curbing the damage his successor Jair Bolsonaro, the so-called Trump of the Tropics, did to the Amazon rainforest. Deforestation in the area dropped by 33.6%, satellite images showed.
Don't expect the Fed to help your investment in Amazon
Data from a system called Deter, which managed by Brazil's National Institute for Space Research, showed that between January and June this year, the rainforest had alerts for possible deforestation covering 2,650 square kilometers (1,023 square miles), down from 4,000 square kilometers during the same period last year under Bolsonaro.
"The effort of reversing the curve of growth has been reached. That is a fact: we reversed the curve; deforestation isn't increasing," João Paulo Capobianco, the Environment Ministry's executive secretary, during a presentation.
While it appears that Lula is making good on his campaign pledges to rein in illegal logging and undo the environmental crisis, it may be premature to celebrate the win. The dry season, when deforestation tends to jump, starts in June, and fires usually peak between July and November.

And the picture for June wasn't promising. Last month, there were 3,075 fires in the Amazon—the most since 2007. But this wasn't the Lula government's doing apparently. The jump is due to clearing of areas deforested in the second half of 2022, Jair Schmitt, head of environmental protection at Ibama, Brazil's federal environmental agency, told The Associated Press.
Quotable: Brazil is curbing Amazon deforestation
"Brazil will once again become a global reference in sustainability, tackling climate change, and achieving targets for carbon emission reduction and zero deforestation," —Lula in a speech in early June, when his government laid out its plans to halt deforestation in the Amazon by 2030
Amazon deforestation, by the digits
60%: How much of the Amazon rainforest lies in Brazil
40 million: People who live in the Amazon, including over 500 indigenous and ethnic groups
2 billion: Trees felled in the Amazon during Bolsonaro's four years as president. That's 15 per second
10%: Reduction in environment-related staffing in Bolsonaro's government
1,500: New pesticides approved under Bolsonaro's rule; many with ingredients that are banned in the EU
20: Environmental activists killed in Brazil in 2021 (Bolsonaro has called environmental NGOs "cancers")
17%: Forest's area that has been lost as of last year. At 20-25%—which would've been breached under Bolsonaro—the Amazon would reach a "tipping point" after which it would lose its ability to regenerate trees, and large areas would become savannah, affecting its ability to absorb carbon emissions. In 2021, parts of the Amazon were already emitting more greenhouse gasses than they were absorbing
72%: How much Amazon's deforestation rate declined between 2004 and 2016, during Lula and the Workers' party's previous terms in office
89%: Expected decrease in Amazon deforestation over the next decade in case of a Bolsonaro defeated in the 2022 Brazilian presidential election, as per an October 2022 Carbon Brief analysis
Person of Interest: Luiz Inácio Lula da Silva aka Lula
The left-wing leader garnered huge popularity for his welfare policies, making strides in solving Brazil's hunger crisis and redistributing wealth, lifting at least 20 million Brazilians out of poverty, when he was president between 2003 and 2010.
However, the septuagenarian couldn't run for office in 2018 because of corruption and money laundering convictions the year prior. But these were voided by the Brazilian Supreme Court in 2021.
He came back last year with plans of environmental policy overhaul—including tackling illegal logging, aiming for net-zero deforestation, and delivering on emissions targets. He also publicly committed to policies such as introducing carbon pricing and issuing new financial incentives for sustainable farming.
Getting Brazil's climate action back on track
Brazil is the largest economy, greenhouse gas emitter, and energy consumer in South America, but the impact of its climate action reverberates across the world as the Amazon rainforest is one of the planet's largest carbon sinks. Further deforestation would create dire circumstances comprising worsening air quality, severe drought, loss of biodiversity and extinction of endangered species, rise in respiratory disease, a heightened risk of "zoonotic spillover" that would cause more pandemics, and an increase in the frequency and intensity of extreme weather events around the globe.
The Lula government is aware of those risks and is taking steps to mitigate the threats. It has strengthened remote surveillance via satellite imagery, the AP reported, citing Schmitt. By cross-referencing land records, owners of deforested areas are identified and sanctioned with restricted access to financial loans and other measures.
The government has doubled deforestation fines and it has also been seizing illegally raised cattle within embargoed areas. It's a form of "immediate punishment" instead of relying on a rarely-footed slow-moving fines and appeals process, Schmitt said.
But there's one gap left to fill: Lula needs more environmental officers. The Brazilian government's environmental agency, Ibama, had no new hires between 2014 and 2020. Combined with Bolsonaro's trimming of the federal agency headcount, the leftover workforce is sparse and overworked. The number of Ibama's enforcement agents is at its lowest in 24 years. The are just 700 agents, with 150 available for deployment.
And beefing up the staff is a long and winding process. The government put out a call for new Ibama hires, but it takes at least 10 months before new agents are in the field, due to rules about public-sector hiring and training for such dangerous missions.
Related stories
🍃 Brazil's election winner will play a key role in the climate crisis
🪵 Brazil is failing to stop illegal logging of the Amazon
✊ Latin America's pink tide is preparing for the green revolution