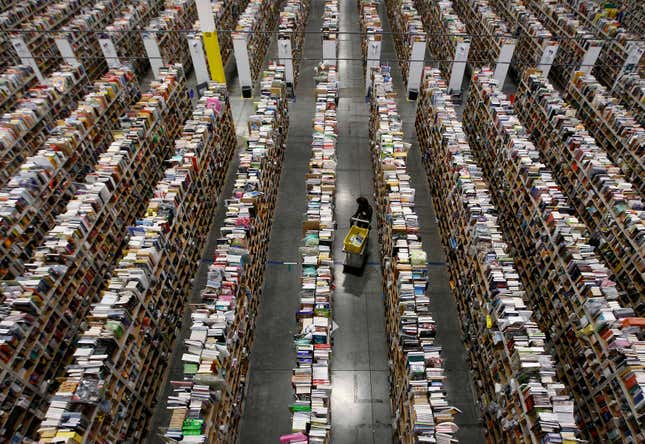 The world's biggest online retailer no longer thinks it is a powerhouse in e-commerce, especially in the EU bloc. Amazon has filed a lawsuit in the European General Court, claiming that it is being targeted because of its size outside the region.
Don't expect the Fed to help your investment in Amazon
Under a new EU law, called the Digital Services Act (DSA) and scheduled to take effect on Aug. 25, Amazon is classified as one of 19 "very large online platforms," or VLOPs. The classification matters: VLOPs are subject to tougher content rules, and they have to share more data with authorities and researchers. They also have to undergo external, independent audits.

Amazon contends, though, that the EU's classification is inaccurate because over 70% of its profits came from North America last year. In a statement, the company said most of its revenue comes from its retail business, and "we are not the largest retailer in any of the EU countries where we operate."
"If the VLOP designation were to be applied to Amazon and not to other large retailers across the EU, Amazon would be unfairly singled out and forced to meet onerous administrative obligations that don't benefit EU consumers," an Amazon spokesperson told Reuters, without disclosing the company's total users in the EU.
Amazon is the first US company to challenge the EU rules, out of 19 that fall under the DSA's VLOP category. They include Meta, Google, Apple, Alibaba, Twitter, and TikTok.
What is a "very large online platform"?
Under the DSA law, a platform is designated as a VLOP if it "has more than 45 million users (10% of the population in Europe)." Amazon runs dedicated, localized e-commerce websites in France, Germany, Italy, the Netherlands, Spain, Sweden, Turkey, the UK, Sweden, and Poland. It has over 200,000 permanent employees in the region, but it is not clear if it has over 45 million consumers.
Last month, Zalando, a German online lifestyle retailer, also filed a suit contesting its designation as a VLOP, arguing that fewer than 31 million visitors were likely to buy its products from third-party sellers, well below the 45 million mark.
What's in store for VLOP companies in the EU
The DSA imposes new standards that govern and monitor hate speech, disinformation, and online counterfeits across all major digital platforms. It also aims to force Big Tech companies to create a platform for users to flag problems, ban online ads that target children, and designate regulators to punish noncompliance.
A breach of the law will draw a maximum fine of 6% of the annual worldwide turnover of the infringing provider in the preceding financial year, and perhaps even a ban on operating in the EU.
Amazon's revenue rose by 9.1% in 2022 to $513 billion.
"With the DSA, the time of big online platforms behaving like they are 'too big to care' is coming to an end," Thierry Breton, the EU's internal market commissioner, told the press. Already, the law is having an effect. Arguably the DSA is behind Meta's decision to hold off on its launch of Threads in the EU, even as it went live on July 5 across the rest of the globe.