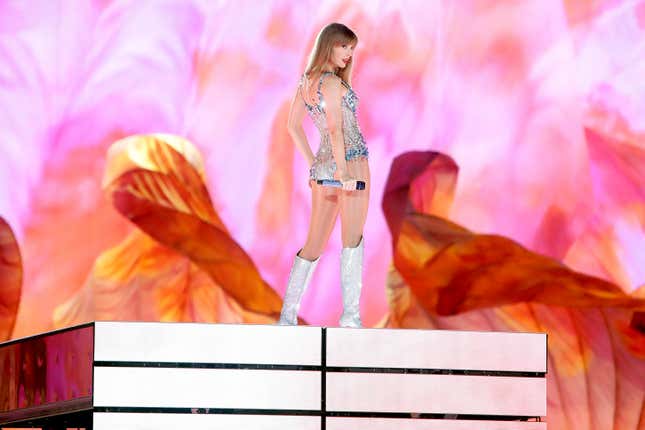 A massive pop star, having just finished a billion-dollar world tour, is releasing her concert film in theatres, and AMC wants to cash in on it—swiftly.
Why a tightening of credit conditions could lead to a weak economy
The American theatre chain plans to run at least four shows per day every Thursday, Friday, Saturday, and Sunday when the concert film of Taylor Swift's Eras Tour releases on Oct. 13. The film will be released in the US, Canada, and Mexico.
After the news of Swift's film broke yesterday (Aug. 31), AMC's stock price rose 9.2% in intraday trading. By the end of the day, though, those gains had been reversed—a reflection, perhaps, of broader industry gloom after a smashing summer.
The release of Barbie and Oppenheimer took the box office by storm after their simultaneous release on the weekend of July 21, sending AMC's shares up 33%. After coming down from that so-called Barbenheimer high, though, AMC announced and carried out a reverse 10:1 stock split, which caused the stock to sink.
The Barbenheimer summer might have even been an aberration. Analysts don't expect the box office to return to pre-pandemic levels until 2024 or even 2025, and neither does Adam Aron, the CEO of AMC. The company could use a post-summer booster shot. Little wonder, then, that as AMC spots a bright spot in the Taylor Swift concert film, it is keen to capitalize on it.

Charted: AMC's stock price has teetered
By the digits Taylor Swift's concert film in theatres
568: The number of locations AMC has across the US. That means it will screen at least...
...2,272: Taylor Swift concert movie shows daily on Thursday, Friday, Saturday, and Sunday

$19.89 + tax: The price of an adult ticket for the Eras Tour concert film
$13.13 + tax: The price of a child or senior ticket for the film across all locations, excluding AMC's branded premium large-format screens
$12.55: AMC's closing stock price yesterday (Aug. 31), a far cry from...
...$551.38: AMC's all-time high stock price on June 2, 2021, thanks to the meme stock mania in which retail investors propped up the price of legacy companies by coordinating their holdings on Reddit
Will AMC's Taylor swift movie sales go the Ticketmaster way?
In anticipation of outsized demand, AMC has bolstered its website and ticketing engines to handle more than five times the current record for the most tickets sold in an hour, the company said in a press release.
Despite this preparation, though, "AMC is also aware that no ticketing system in history seems to have been able to accommodate the soaring demand from Taylor Swift fans when tickets are first placed on sale," it said, warning against possible Ticketmaster-type fiascos that irked fans trying to buy tickets to Eras concerts.

AMC cautioned that there could be possible delays, longer-than-usual ticket-purchase waiting-room times, and possible outages.
One more thing: A new business opportuntity
AMC said the Eras movie "marks the inaugural step of a new line of business for AMC Entertainment."
In addition to exhibiting the film at its own theatres, AMC is also serving as the theatrical distributor, securing locations and screens with numerous other movie theatre operators. It has already signed deals with Cinemark (US), Cineplex (Canada), and Cinepolis (Mexico). AMC expects that other movie theatre operators will join the list.
Watch this: Taylor Swift Eras Tour concert film trailer

Related stories
🎟️ No one needed Barbenheimer more than AMC
🎤 Beyoncé and Taylor Swift are poised to knock out the record holder for highest-grossing tour of all time