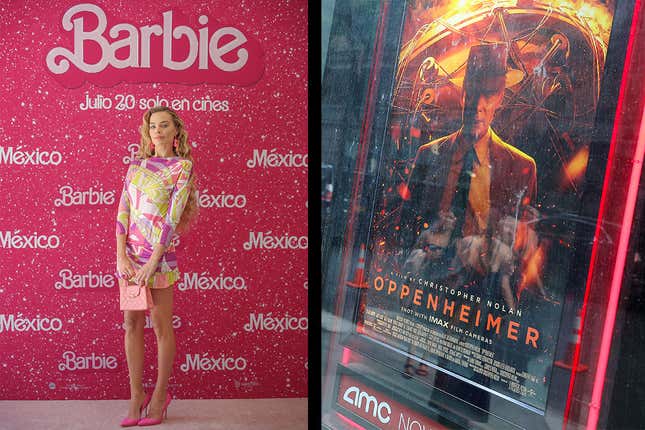 The Barbenheimer phenomenon is a stellar marketing opportunity for the two films' Hollywood studios, but it's even better news for AMC theaters, which said in a press release that 20,000 movie-goers have already booked double features.
Should you keep investing in Big Tech?
Revenue for the company has yet to return to pre-pandemic levels, peaking in quarterly revenue at $1.5 billion in June 2019. Sales dropped drastically during the covid pandemic, and while they've somewhat recovered, revenue has flattened since September 2022, hovering just below $1 billion quarterly. Even the hotly anticipated Mission Impossible: Dead Reckoning missed opening weekend projections, bringing in just over $56 million in ticket sales, though it has been a box office leader this summer.
Opening weekend for Barbie and Oppenheimer could top $200 million, with Barbie bringing in $90 million to $140 million in domestic ticket sales, and Oppenheimer between $40 million and $60 million. Christopher Nolan fans are expected to control around 70% of all premium showings including IMAX, Dolby Cinema, and ScreenX.
The excitement for Barbie, meantime, could also lead to multiple viewings, particularly with young audiences—while Oppenheimer could draw adults who might otherwise not go out to the theater.

The Barbenheimer phenomenon

Barbenheimer started as internet memes juxtaposing the two films, which are both opening on July 21, 2023. The appeal of the meme comes from the fact that the movies are so starkly opposite in tone: Barbie is a bubbly film based on a fashion-loving doll, while Oppenheimer is a darker period piece about the development of the atomic bomb. The two films also came with very different marketing strategies from two different studios, with Barbie being distributed by Warner Bros. Pictures and Oppenheimer by Universal Pictures.
The rivalry would normally put the two films in competition, but both appear to be benefiting from the Barbenheimer phenomenon. Artists and t-shirt makers have produced their own Barbenheimer mashups, rendering both films in the same image. AMC saw the momentum worthy of putting out a press release, stating that the double feature bookings are a "great sign that the growing online conversation around seeing both of these incredible films is turning into ticket sales."
The two films also are opening amid dual union strikes, the first time in 63 years when both actors and writers have stopped work. Hollywood studios allegedly put off negotiation meetings in order for the two films to launch, according to union members in the Screen Actors Guild and the American Federation of Television and Radio Artists (SAG-AFTRA), and the Alliance of Motion Picture and Television Producers (AMPTP).
Actors in both of the films have officially joined the strike. The cast of Oppenheimer left the premiere in London and Barbie co-writer Noah Baumbach did not attend the world premiere in Los Angeles.