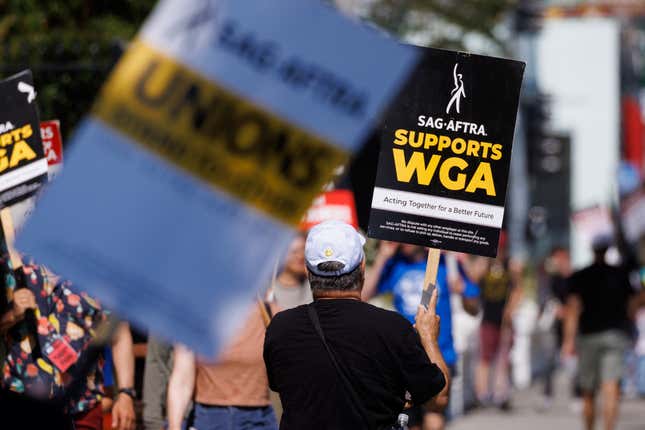 Some 160,000 actors in the United States, from major stars to background players, are refusing to work after talks failed between their union, the Screen Actors Guild and the American Federation of Television and Radio Artists (SAG-AFTRA), and the Alliance of Motion Picture and Television Producers (AMPTP).
Should you keep investing in Big Tech?
SAG-AFTRA president Fran Drescher and executive director Duncan Crabtree-Ireland announced that the strike will begin at midnight today, following a unanimous vote by the union's national board.
It's the first time in 40 years that actors have gone on strike. They'll join screenwriters in the Writers Guild of America (WGA), who have been striking since May 2 over similar concerns: How the profits from global entertainment are shared with the people who produce it.
Production has already slowed without writers, but the joint strike will likely bring most non-reality American television and movie making to a halt. It could also throw a wrench into promotional campaigns for summer blockbusters and awards shows like the Emmys.
While the onset of streaming and so-called prestige television have ushered in what some call "peak TV," the changing economics of the industry have made it more difficult for writers and actors alike to make a decent living.
Actors have complained about the changing nature of residuals, payments traditionally linked to re-runs of a show or sales in a foreign market. Streaming has changed the way those payments are accounted for and in many cases reduced them significantly, and as more entertainment companies move toward that model, actors—particularly those who are new to the business or aren't mega-stars—fear that their pay will plunge.
The economics of entertainment are tough for writers and performers
Consider Orange Is The New Black, the prison dramedy that helped launch Netflix as a series TV competitor. While a hundred million Netflix users watched at least one episode, actors complained about truly dismal pay and slim residuals—one actor who appeared in six seasons received less than $20 in residuals this year, compared to $600 for a few Law and Order episodes, a show that appears on NBC.
Screenwriters are also being stretched by structural changes that force them to do more work with less pay. Both actors and writers are seeking assurances that so-called artificial intelligence technology will not be used to replace or reduce their work. The Director's Guild won a three-year deal with the AMPTP in June that included limits on the use of AI.
"Nobody wants a work stoppage, but if our leadership is saying our deal isn't there, we gotta hold strong until we get a deal that's fair for working actors," actor and producer Matt Damon told reporters at the July 13 premiere of the movie Oppenheimer in London. "It's the difference between having healthcare and not for a lot of actors, and we gotta do what's right by them."
Producers, meanwhile, are facing cost-cutting as the streaming model doesn't seem to be profitable for anyone but Netflix. While Amazon and Apple don't report the results of their investments in original entertainment, Amazon CEO Andy Jassy is taking a hard look at the lackluster viewership of his company's programming, ostensibly there to attract customers. Producers seem inclined to take a hard line on the strike, with one studio executive telling the Hollywood news outlet Deadline that "the endgame is to allow things to drag on until union members start losing their apartments and losing their houses."
Disclosure: The author is a member of the Writers Guild of America (East).