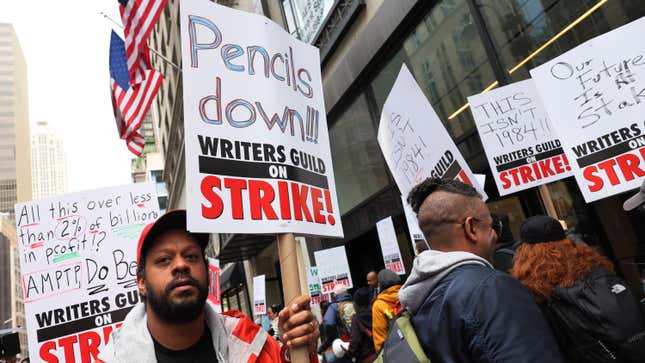 The impact of Hollywood's ongoing writers' strike, which started on May 1, is becoming increasingly clear.

3 considerations before your company takes a stance
Movies and series whose scripts were locked in before the strike started on May 2, can go on with production. Many, including Amazon's The Rings of Power have decided to continue filming without writers or showrunners on set, but there's limitations to what they can do.
Existing scripts "must be shot EXACTLY as they were as of midnight on May 1. Not a word can be changed, cut, added, not a scene can be altered," George R.R. Martin, a popular novelist and a member of the Writers' Guild America (WGA) for his screenwriting work who is also on strike, explained in a May 7 blog post. "All that requires writing… and from now until the strike ends, the writers will be on picket lines, not on sets."
Picket lines are stirring up delays and disruptions. On the east coast, production on Showtime's Wall Street drama Billions shut for a few hours amid picketing, as did filming for Paramount+ Evil's fourth season and Apple TV+'s Severance. On the west coast, picketers paused the filming of the second season of Loot, the Apple TV+ series starring Maya Rudolph. In solidarity with the writers, Drew Barrymore dropped out of MTV Movie & TV awards. The show, which aired on Sunday (May 7), was not only missing a host, but also a red carpet and press access.
For many formats—late night shows, network series, and more—the pause will last until the strike ends. That'll only happen if studios under the Alliance of Motion Picture and Television Producers (AMPTP) offer to reform pay, mini writers rooms, and more.
Meanwhile, let's take a look at where the show can't go on, as of May 9—a week since the strike began.
The shows that stopped production

The second season of NBC comedy Night Court 
The second season of Unstable, the Netflix comedy series starring Rob Lowe and his son John Owen Lowe.
Starz's The Venery of Samantha Bird shut down production with two episodes out of eight left to film
Season 3 of HBO Max/Universal TV hit comedy series Hacks has come to a standstill.
The seventh season of Disney Channel's longest-running live-action comedy series, Bunk'd, has been put on hold.
Saturday Night Live stopped production indefinitely with three episodes left in its 48th season.
The shows that closed writers rooms
It's pens-down in Netflix's Cobra Kai's writing room, according to screenwriter Jon Hurwitz. The team is on the picket lines because "if A.I. wrote our show, it would have just been The Karate Man," he tweeted.
Starz's Power Book III: Raising Kanan
Showtime's Yellowjackets folded for the time being after one day in the writing room.
ABC's Abbott Elementary, whose creator Quinta Brunson has shown support for the writers' strike, is not working on season 3 before a resolution is found. 
The writer's room on a Game of Throne prequel A Knight Of the Seven Kingdoms: The Hedge Knight has closed because "Ira Parker and his incredible staff of young talents are on the picket lines," Martin, author of the books that served as inspiration, wrote in his blogpost.
Quotable: Netflix's Stranger Things won't start filming its fifth and final season until the WGA strike ends
"Writing does not stop when filming begins. While we're excited to start production with our amazing cast and crew, it is not possible during this strike. We hope a fair deal is reached soon so we can all get back to work. Until then—over and out. #wgastrong."—Tweet by showrunners the Duffer Brothers
The flip side: Studios are suspending deals
Amazon, HBO, Warner Bros. TV, NBCUniversal, Disney, CBS Studios and other major studios are moving to suspend some first-look and overall deals, according to Variety. Among those suspended was David Simon, The Wire creator who was with HBO for 25 years. Netflix and Paramount are expected to send letters this week, too. In most such deals, there's a clause allowing companies to suspend deals if people take part in "labor action" such as strikes.
One more thing: Movies aren't immune
Marvel Studios is shutting down pre-production on Blade, a vampire thriller starring Mahershala Ali which was set to begin filming next month in Atlanta, according to The Hollywood Reporter.
Hollywood writers' strike, by the digits
11,000: Unionized writers in Hollywood
98%: An overwhelming majority of the 9,218 ballots cast by WGA members between April 11 and April 17 supported strike action
100 days: How long the last Writers Guild of America strike lasted for, between Nov. 5, 2007 and Feb. 12, 2008
$2 billion: How much the 2007-08 writers' strike cost the LA economy
153 days: How long the longest WGA strike on record lasted back in 1988
4%: How much median weekly writer-producer pay has declined over the last decade. Adjusting for inflation, the decline is 23%
$60,932: Current minimum for a first draft non-original screenplay, which is only 1.2% of the minimum budget threshold of $5 million—or 0.3% of a still-modest $20 million budget
Half: Share of series writers that work in streaming now
Disclosure: Quartz's US-based reporters are represented by the Writers Guild of America East, which is affiliated with WGAW.