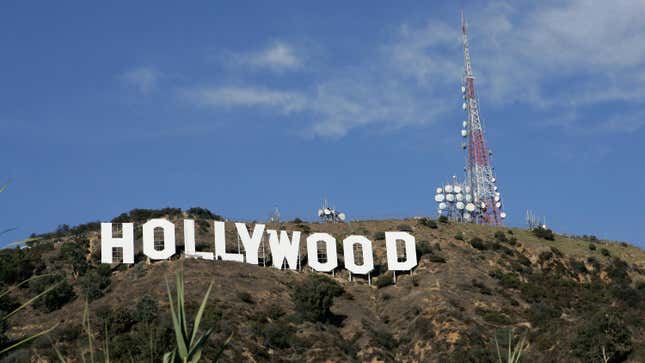 Hollywood's writers are putting their pens down until they get a better offer for their new contracts, a move that will rattle the US entertainment industry and that was a hot topic on the Met Gala's red carpet last night (May 1).

Actor and filmmaker Olivia Wilde told Reuters she supports the writers as they stand up "for what they deserve," even if it proves disruptive for the industry. One of the Met Gala's co-chairs, Spanish star Penelope Cruz, was of the similar opinion. "Sometimes things have to be done to be heard," she told Reuters. Quinta Brunson, creator and star of Abbott Elementary, and late night host Jimmy Fallon, both said they were members of the WGA and expressed solidarity with fellow writers. Speaking to Variety, Fallon said his show might go dark during the strike, but that needs to be done to support the writers.
Amanda Seyfried, who most recently gathered accolades for playing infamous Theranos founder Elizabeth Holmes in Apple TV's The Dropout told Variety, "I don't get what the problem is. Everything changed with streaming, and everybody needs to be compensated for their work. It's fucking easy."
Why are Hollywood writers going on strike?
An indefinite strike is kicking in just as the Writer's Guild of America's (WGA) three-year contract with the Alliance of Motion Picture and Television Producers (AMPTP)—the trade association that represents Hollywood studios, including Disney and Netflix—expires. Starting this afternoon (May 2), writers will start picketing across Los Angeles and New York.
In a March report, the union had lamented that "companies have leveraged the streaming transition to underpay writers, creating more precarious, lower-paid models for writers' work." The business models of these streaming platforms is still the bane of writers' existence. The demonstrations follow six weeks of deliberations with streaming giants Netflix, Amazon, Apple, Disney, Warner Bros. Discovery, NBCUniversal, Paramount, and Sony under the umbrella of the AMPTP, WGA said.
"Though our Negotiating Committee began this process intent on making a fair deal, the studios' responses have been wholly insufficient given the existential crisis writers are facing," the WGA said.
The union even uploaded a document outlining its proposals and AMPTP's responses to them. Considerations around improvements to weekly pay, rules around writer's rooms, establishing a viewership-based residual, and setting limits to the use of artificial intelligence, among other things, were outright rejected.

Quotable: Hollywood has "nothing" without writers
"The pattern is obvious: The proposals that they refuse to engage with are the ones that would protect writers the most. That would protect us from being turned into gig workers they pay by the day. We are fighting for nothing less than the survival of writing as a viable career. So we're going on strike, to remind them that while our work has made them rich, without us they have nothing. It's going to be hard, but we're going to win, because we're going to stand together, be honest with each other, and fight for each other. And when we do that, we win." —Adam Conover, standup comic, writer, and TV host, who created Adam Ruins Everything
Hollywood writers' strike, by the digits
11,000: Unionized writers in Hollywood
98%: An overwhelming majority of the 9,218 ballots cast by WGA members between April 11 and April 17 supported strike action.
100 days: How long the last Writers Guild of America strike lasted for, between Nov. 5, 2007 and Feb. 12, 2008.
$2 billion: How much the 2007-08 writers' strike cost the LA economy.
153 days: How long the longest WGA strike on record lasted back in 1988
4%: How much median weekly writer-producer pay has declined over the last decade. Adjusting for inflation, the decline is 23%.
$60,932: Current minimum for a first draft non-original screenplay, which is only 1.2% of the minimum budget threshold of $5 million—or 0.3% of a still-modest $20 million budget
Half: Share of series writers that work in streaming now
What happens if writers stop writing?
For movies and TV shows that already have scripts locked in, are in production, or are in post-production, it can be business as usual without writers for some time. That's why studios have been rushing to stockpile scripts. However, some things could grind to a halt, immediately or eventually:
🌚 The first casualty will be late night talk shows. Deadline reports that the likes of The Late Show with Stephen Colbert, Jimmy Kimmel Live!, The Tonight Show Starring Jimmy Fallon and Late Night with Seth Meyers are set to go dark starting May 2, with re-runs of past episodes airing instead of fresh ones. And if the past is precedent, Saturday Night Live will also struggle to keep airing. During the last strike 15 years ago, late night hosts Jay Leno, Conan O'Brien, and David Letterman ended up paying their non-striking staff out of their own pockets.
📺 Last time around, shows like Gossip Girl, Heroes, Breaking Bad, and 30 Rock, all had to broadcast truncated seasons. If the strike goes on long enough, there's a risk of seasons being cut short, or at least storylines and dialogues getting derailed.
Related stories
🎬 Hollywood has two weeks to reach a union deal if it wants to avoid a writers' strike
🤖 The Writers Guild is open to AI screenwriters—with a caveat
🇺🇸 The looming Hollywood writers' strike could leave America without political comedy in the age of Trump
Disclosure: Quartz's US-based reporters are represented by the Writers Guild of America East, which is affiliated with WGAW.