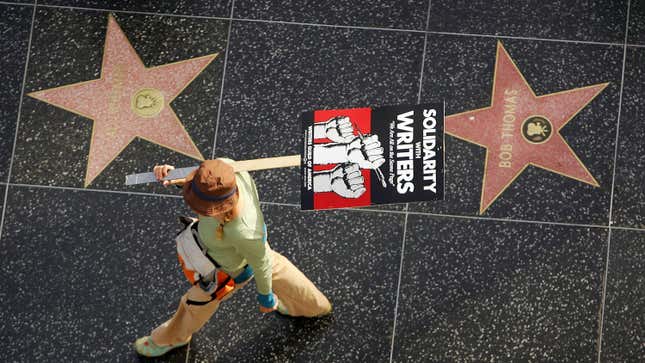 At least one union has made some progress in butting heads with Hollywood studios.

3 considerations before your company takes a stance
The Directors Guild of America (DGA) announced on June 3 that it has reached a "historic" (but tentative) three-year agreement with the Alliance of Motion Picture and Television Producers (AMPTP).
In addition to "ensuring DGA members will not be replaced by technological advances" such as AI, the DGA "made advances on wages, streaming residuals, safety, creative rights and diversity," according to Jon Avnet, chair of the DGA's Negotiations Committee.
The agreement brokered by DGA also contains a whole hosts of firsts:

terms new and conditions for directors and their teams on variety and reality shows made for subscription platforms

"terms, creative rights protections, working conditions and residuals" for scripted dramatic projects made for free streaming platforms such as Freevee, Tubi and Roku

compensation for the months of "soft prep" that feature directors currently perform for free prior to the start of shooting

"a pilot program to require the employment of dedicated safety supervisors" alongside a ban on live ammunition on set.
Meanwhile, the Writers Guild on America (WGA), whose 11,000-plus members started striking on May 2, has said that its attempts to set limits on the use of AI were outright rejected by the AMPTP. In contrast, the DGA was able to forge a "groundbreaking agreement confirming that AI is not a person and that generative AI cannot replace the duties performed by members."
By the digits: directors v studios
19,000: The number of members in the DGA, including directors, assistant directors, unit production managers, associate directors, and stage managers
24 days: The duration of negotiations between the DGA and the AMPTP
5%: The increase in wages under the first year of the contract, followed by 4% and 3.5% in the second and third year respectively. The contract also includes an additional 0.5% to fund a new parental leave benefit.
76%: The increase in foreign "residuals"—reruns, syndications, or other repurposed forms of a movie or show—for dramatic programs made for the largest platforms. "As our industry becomes increasingly global, these gains are imperative to ensuring our members are valued and compensated for their incredible work," Russell Hollander, the DGA's national executive director, said. Residuals for a one-hour episode will now be roughly $90,000 for the first three years.
1 hour: The "Unprecedented reduction in the length of the assistant director's day," as per the new agreement

1 day: The additional guaranteed shoot day for one-hour programs won by episodic directors for pay TV and subscription video on demand (SVOD)—the first such additional day added in more than 40 years
Juneteenth: Derived from the date of June 19, the holiday celebrating the end of slavery has officially been added to the paid leave calendar

Date of interest: June 6, 2023
The tentative agreement between the DGA and the studios will go up for approval by the guild's national board at a special meeting scheduled for tomorrow (June 6).
Quotable: WGA won't fall for divide-and-conquer
They [AMPTP] pretended they couldn't negotiate with the WGA in May because of negotiations with the DGA. That's a lie. It's a choice they made in hope of breathing life into the divide and conquer strategy. The essence of the strategy is to make deals with some unions and tell the rest that's all there is. It's gaslighting, and it only works if unions are divided.

—The WGA negotiating committee, to writers in an email last Thursday (June 1), when they suspected a deal with directors was in the offing, according a New York Times report.

A brief explanation of how AI threatens Hollywood writers

Already, AI is coming for both copywriting and technical writing jobs. Its days of cannibalizing movie and TV writing roles aren't far away either.
Like directors, writers want Hollywood to "draw a line in the sand right now and say, 'Writers are human beings'," Mike Schur, the creator of The Good Place and co-creator of Parks and Recreation, has said in his campaign.
Producers have come to their agreement with directors quicker because, perhaps, they are more urgently required on sets, to shoot from the scripts that studios have stockpiled. For now, AMPTP is continuing to play hardball with writers.
Next up: Actors may protest, too
The Screen Actors Guild—American Federation of Television and Radio Artists (SAG—AFTRA), the union that represents around 160,000 actors, announcers, broadcast journalists, dancers, DJs, news writers, news editors, program hosts, puppeteers, recording artists, singers, stunt performers, voiceover artists and other media professionals, is currently in the process of collecting a strike authorization vote.
The labor union's negotiations with the AMPTP are slated to begin on June 7. The expiration date on its current agreement is June 30.
Actors, too, have AI concerns. In December, Apple introduced a service that allows book publishers to use human-sounding AI narrators, displacing voice actors. AI is replicating the voices of musicians and actors in computer-generated songs and video game voiceovers. Motion capture technology could go a step further and mimic actors' abilities and styles, using their likenesses without consent and, consequently, compensation.
"As AI becomes increasingly powerful, we must protect our profession. We're asking every eligible member to vote YES to authorize a strike," the guild wrote.
One more thing: Copyright conundrum
In March, the US Copyright Office suggested that that content created entirely by algorithm and fully devoid of "human authorship" is not eligible for copyright protection. Monetizing something that has no legal obstacle to copying it is difficult, so it is in the studios' best interests to keep the human touch.
Related stories
✊ Met Gala attendees endorsed the Hollywood writers' strike
🎬 Hollywood has two weeks to reach a union deal if it wants to avoid a writers' strike
🤖 The Writers Guild is open to AI screenwriters—with a caveat