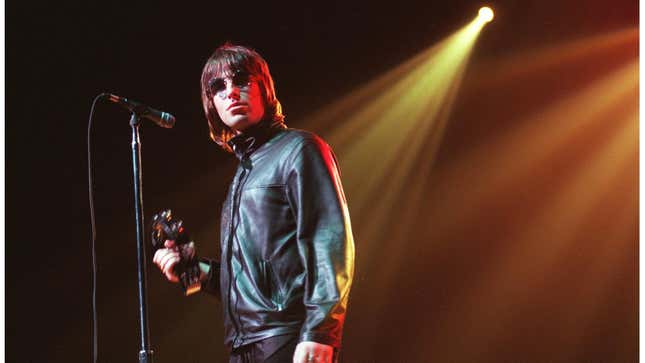 Liam Gallagher thinks he sounds "mega" in a new Oasis song… even though he didn't actually sing in it.

A new eight-track album called The Lost Tapes / Vol. 1 released by "AISIS" is the Oasis regrouping-that-never-was. British rock band Breezer put together the instrumentation and lyrics but they replaced the lead vocals. They used generative AI to mimic the voice of Liam Gallagher.
Gallagher, who admitted that he only heard a tune and not the whole album, tweeted that "it's better than all the other snizzle out there."
The former Oasis frontman is not the only one applauding the effort. Several nostalgic fans have been cheering on, too. "Impressive is an understatement. If I didn't know, I would have believed these could have been some real lost Oasis songs. I would definitely like to hear side two!" a YouTube user commented.
Rumors of Oasis, which disbanded in 2009 after a final fight between the volatile brother-duo Noel and Liam Gallagher, keep floating—but they're still only rumors. Until then, AISIS can feel the void. Luckily for fans, AISIS already has a second bunch of songs ready for release.
Regardless of the album's artistic merit, Gallagher's unequivocal endorsement of AI-generated art is a contrarian stance. Most creatives, be it singer-songwriters or photographers, are still deciding where to draw the line between artistic expression and copyright violation. And most of them are veering towards rejecting it because it's akin to piracy.
Just this week, when an AI-generated fake Drake ft. The Weeknd track went viral, AI expert Roberto Nickson tweeted this was "a modern Napster moment," referring to the website that got its start as a peer-to-peer music sharing with no regard for copyright.
A brief timeline of Drake ft. Weeknd's viral AI track
Sometime before April 4 (it's not clear exactly when): A user, posting under the pseudonym Ghostwriter977, releases "Heart on My Sleeve" first on TikTok. The track sounds like a back-and-forth between Drake and The Weeknd about the latter's ex-girlfriend, actor Selena Gomez.
April 4: "Heart On My Sleeve" is uploaded to Spotify and YouTube.
April 13: Universal Music Group urges streaming platforms to block AI services from scraping melodies and lyrics from their copyrighted songs.
April 14: Drake writes "This is the last straw" on an Instagram story with a clip referring to an AI-generated cover of him rapping 'Munch' by Bronx rapper Ice Spice. The same weekend, "Heart on My Sleeve" starts going viral. It racks up more than 15 million views on TikTok, and hundreds of thousands on every other platform.
April 17: Apple Music and Spotify pull the track following a complaint from Universal Music Group, the label that represents both Toronto-born artists.
April 18: YouTube, Amazon, SoundCloud, Tidal, Deezer, and TikTok take the track down, too. Although, it's largely turning out to be a game of whack-a-mole as versions keep popping up on YouTube.
Quotable: UMG has a legal and ethical problem with AI-generated songs
"[T]he training of generative AI using our artists' music (which represents both a breach of our agreements and a violation of copyright law) as well as the availability of infringing content created with generative AI on DSPs, begs the question as to which side of history all stakeholders in the music ecosystem want to be on: the side of artists, fans and human creative expression, or on the side of deep fakes, fraud and denying artists their due compensation." —Universal Music Group
Listen to this: AISIS - The Lost Tapes / Vol.1
Fun fact: Liam Gallagher is the "greatest frontman of all time"
Gallagher was voted the greatest frontman of all time by XFM listeners in 2010. He beat Queen's Freddie Mercury easily by garnering twice as many votes.
AI music as alternative reality
In Reddit post, the makers of the AISIS song said, "We got bored of waiting for Oasis to reform, so we got an AI modelled Liam Gallagher (inspired by JekSpek's youtube AI videos which are awesome btw) to step in and help out on some tunes we wrote during lockdown 2021 for a short lived, but much loved band called Breezer."
Others have brought back musicians from the dead. Over the Bridge, a mental health awareness initiative geared towards the music community, released an album titled Lost Tapes of the 27 Club. It featured new AI-generated tracks from the "27 Club"—iconic artists like Amy Winehouse, Jim Morrison, and Kurt Cobain—who died at the age of 27.
Despite the seemingly pure intentions, these may be a reductionist view that serves only AI tinkerers and the audience. For the subjects—the celebrities and their families—it's not so black-and-white.
For instance, the family of Michael Schumacher, who hasn't been seen in public since his brain injury following a skiing accident in 2013, is planning to take legal action against a German magazine Die Aktuelle that ran an AI-generated interview with the Formula One legend. Tech marvel aside, it's an intrusive act.
Related stories
🗑️ Spotify and Apple Music removed an AI-generated fake song by Drake and The Weeknd