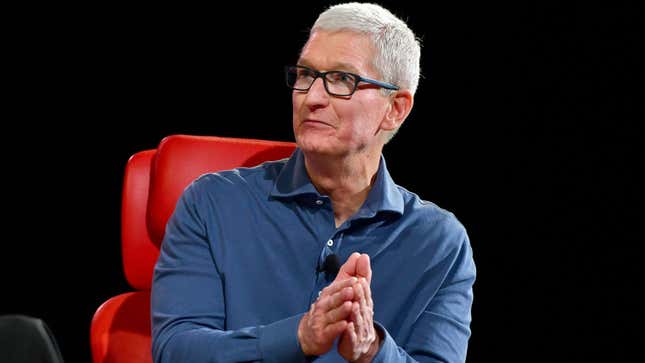 Apple is facing shareholders' pushback on at least one proposal to be discussed at its annual shareholder meeting on Mar. 10.

The iPhone maker is urging shareholders to vote for all management proposals, including the election of directions, picking EY as the accounting firm, approving executive pay, and the annual frequency of the "Say on Pay" vote, a system first set up in 2009 which lets shareholders vote on executive compensation.
However, when it comes to shareholder proposals, the Cupertino giant recommends voting against them all, including one related to how the company reports on racial and gender pay gaps, at its 2023 annual meeting of shareholders, which takes place virtually starting from 9am pacific time.
Charted: Apple's position on shareholder proposals
Why won't Apple share more on racial and gender pay gaps?
In some cases, Apple justifies its objections to shareholder proposals by appealing to a desire to avoid repetition. For instance, a second civil rights audit is considered to be "redundant and unnecessary" when one is already underway, the company said. When it comes to China operations, Apple already shares disclosures with the SEC, makes voluntary disclosures, and its board actively oversees risks in the region.
However, when it comes to managing pay equity, activist investor Arjuna Capital argues the company could do more, and intends to submit a shareholder proposal that would expand the company's current reporting. "Apple reports only statistically adjusted gaps but ignores unadjusted gaps, which address structural bias women and minorities face regarding job opportunity and pay, particularly when men hold most higher paying jobs," it points out.
The activist investor is calling on the trillion-dollar company to reveal median pay gaps instead, arguing these would "show, quite literally, how Apple assigns value to employees through the roles they inhabit and pay they receive." It's also a "digestible and comparable data point to determine progress over time." Asset manager Schroders agrees, and announced its support for the proposal.
Apple said it promotes pay equity by refraining from asking candidates for compensation history, developing offers of employment based on the compensation of current Apple employees in similar roles, making robust annual disclosures, and investing in strong programs and policies to foster an inclusive culture. The company objects to Arjuna Capital's proposal on these grounds:
"Taking into consideration the comprehensive approach we have and continue to take with respect to pay equity, and given the diverse roles in our workforce and global operations, we do not believe a single median pay figure is a meaningful metric for Apple. This statistic seeks to compare the median two employees whose compensation happens to fall at the midpoint of a pay distribution and does not account for valid factors that affect pay such as role, skills, qualifications, location, country, performance, and experience. Our shareholders do not need a substitute measure for our progress toward a more inclusive workforce. We issue annual reports on our representation data on our Inclusion and Diversity website and have programs to increase representation as well as active Board oversight in this area."
By the digits: Diversity at Apple measured…
…by Arjuna Capital
56% vs 43%: Minorities in Apple's workforce vs. in Apple's leadership
35% vs 31%: Women in Apple's workforce vs. in Apple's leadership
…by Apple
74%: Increase in the number of Apple employees from underrepresented communities in the US between 2014 and 2021
80%: Increase in the number of Apple employees from underrepresented communities in leadership in the US between 2014 and 2021
89%: Increase in the number of female Apple employees worldwide between 2014 and 2021
87%: Increase in the number of female Apple employees in leadership worldwide between 2014 and 2021
Person of interest: Al Gore on Apple's board of directors
In a filing with the Securities and Exchange Commission (SEC), non-profit National Legal and Policy Center (NLPC) has urged shareholders to vote against Al Gore's 21st term on the Board of Directors for the Company. The expert on climate change, who joined Apple's board in 2003 "has little technology, financial, or leadership success," according to NLPC.
"Gore's climate predictions have been mostly false; he lives a hypocritical carbon-intensive lifestyle; and his climate activism has been a tool for his personal enrichment, much of which depends on industries whose existence relies on government tax credits and subsidies," the group said. "In addition, he remains vocal and active on progressive political issues, putting Apple's apolitical reputation at risk."
The activist investor, in other filings, asked for Tim Cook to be booted from the board, citing a conflict of interest in putting the CEO on the board, and it's the one leading the charge for more transparency around Apple's China business.
Related stories
🔗 Tim Cook takes a pay cut to link more of his earnings to Apple's stock performance
👨‍⚖️ Is Apple violating workers' rights under the garb of confidentiality?
🤝 Apple store employees in Maryland have formed the company's first US union