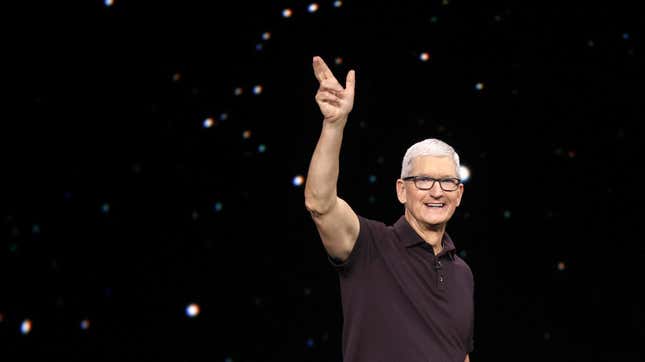 Apple's CEO is linking more of his pay to the company's stock performs.
In a filing with the Securities and Exchanges Commission (SEC), the iPhone maker said Cook's "2023 target total compensation is $49 million, a reduction of over 40% from his 2022 target total compensation." Cook himself recommended the changes to the compensation committee.
3 considerations before your company takes a stance
In 2021 and 2022, Tim Cook took home around $99 million annually. Last year, a shareholder took issue with the payout, which was 1,400 times the paycheck for an average company employee. Advisory firm Institutional Shareholder Services had urged shareholders to vote no on the outsize remuneration, but it was largely a performative exercise, with the board ultimately allowing it.
$3 million: Cook's base pay, which has remained the same since 2016
$6 million: Target annual cash incentive, which remains unchanged at 200% of his base salary
$40 million: Equity award value from an award mix of performance and time-based vesting of 75% and 25% respectively. The equity award value is down from $75 million in 2022, where the performance and time-based vesting breakup was 50-50.
What the board considered when deciding Cook's compensation, according to the SEC filing
"Cook's outstanding leadership"
"The immense scope and complexity of his role as Apple's CEO"
"The Board's confidence in his long-term strategic decisions"
Apple's "exceptional financial results" in 2021
"Shareholder feedback"
The value of Cook's prior equity awards versus the value of his current outstanding equity awards
People of interest: Tech bosses with performance-linked pay
In 2022, 96% of Microsoft chief Satya Nadella's $55 million salary was performance-linked, up from 71% in the year prior.
Google and parent Alphabet's chief Sundar Pichai also saw his compensation package reworked to rely more on performance. Over 60% of his annual salary came from Performance Stock Units (PSUs) in 2022, up from 43% of 2019.
Charted: Apple's stock slipped in 2022
Owing to waning demand for consumer electronics, and multiple Covid lockdowns in China hitting iPhone supply, Apple's stock tumbled 27% in 2022—it slipped more than the underperforming S&P 500, which fell 20% over the same period.
What's next for Apple's stock?
"Apple's financials have typically proved quite resilient even through economic downturns, given the company's ecosystem lock-in, the high desirability of its products, and the ability to upsell to existing customers. Apple has also been continuing with its strategy of premiumization launching high-end versions of most of its products including the Apple Watch and AirPods which could help drive margins. We also think that Apple's service business growth will rebound, as the economy and consumer spending improve and foreign exchange headwinds ease" —Stock analysis service Trefis, which remain bullish on Apple stock with a $166 price estimate—about 30% ahead of the current market price