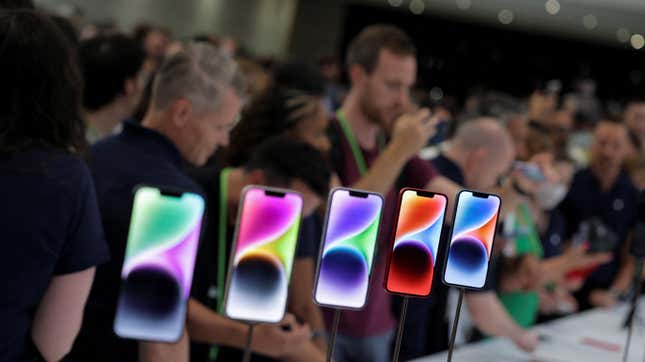 Last week, reports of Apple moving the iPhone's prominent red "end call" button from the isolated center to the more unassuming right sent users into a tizzy. They worried that the new position, which would blend in with options like opening the keypad, turning on speaker, or muting the call, would conflict with their muscle memory. But the change was not set in stone. More recent iOS 17 beta 6 images show the red "end call" icon has moved back to the center of the screen, but it is still not separately hovering at the bottom by itself.
The button's new position is at the center of the bottom row of the six button block, which has moved down, most likely to make room for new Contact Posters, which are designed to feature the faces of the people you're talking to. The lower call controls arguably make them easier to use on larger phone screens, too.
The beta version isn't necessarily the final one. Apple releases these to find bugs and gauge user reactions, making tweaks accordingly. There's a chance the "end call" button moves yet again ahead of the software update's release, due some time next month.
Another inconvenient change: Sending photos in iMessage
Users can easily access the Camera and Photos button next to the text box in an iMessage chat. The 6th beta update for iOS 17 suggests Apple is taking that convenience away.
The iMessage app list is now hidden under a "+" button that expands when you tap it. The Camera and Photos button have also been tucked under that menu, "making it harder to access such features that previously had their own dedicated shortcut," 9to5Mac reports. "As a result, sending a photo to someone in iMessage now requires a few extra taps."
A non-exhaustive list of other changes coming to iOS 17, as per Apple
As per Apple's iOS 17 preview page, the latest version of the operating system will
📍 Add a "Check In" feature which will automatically ping your friend or family member when you arrive at your destination,
📝 Transcribe audio messages so you can read them instead of hear them,
📸 Let you use your own live photos to make custom stickers,
📱 Allow you to record a video or audio message when someone misses your FaceTime call,
🤝 Enable the sharing of contact details with NameDrop à la AirDrop,
...and more.
One more thing: Apple is sending out "batterygate" settlements
Most companies want people to routinely switch their devices up for the latest version so they can keep making money. After all, if everyone stuck to 10-year-old iPhones, how would Apple rake in the big bucks year after year?
While users had long had a hunch that Apple's products are designed for obsolescence in time for new releases, in 2017, the suspicions were confirmed. When customers started accusing Apple of purposely throttling older iPhone speeds to make them buy new phones or batteries, the company basically admitted to it. Apple offered an explanation (slowing down aging batteries protects phones from a total shutdown) and compensation ($29 battery replacements for iPhone 6 and later).
But the gesture of goodwill did nothing to keep lawsuits at bay. In 2020, the Cupertino giant reached a $500 million settlement in a class action lawsuit. Earlier this month, the ninth circuit court dismissed the appeal to overthrow the decision, according to Cotchett, Pitre & McCarthy, one of the firms representing Apple customers in the suit. That clears the path for payments to start.
This settlement is the largest largest all-cash recovery in a computer intrusion case in history, filed on behalf of a class of approximately 100 million iPhone users, according to the law firm. Around 3 million people, who made the claim, are poised to get a $65 payout each.
If you're hoping to cash in now, though, you're out of luck. The deadline to submit a claim passed in October 2020.
Related stories
‍⚖️ Apple and Amazon failed to win a dismissal of an iPhone price-fixing lawsuit against them
🔋 After getting caught red-handed, Apple will offer affordable battery replacements