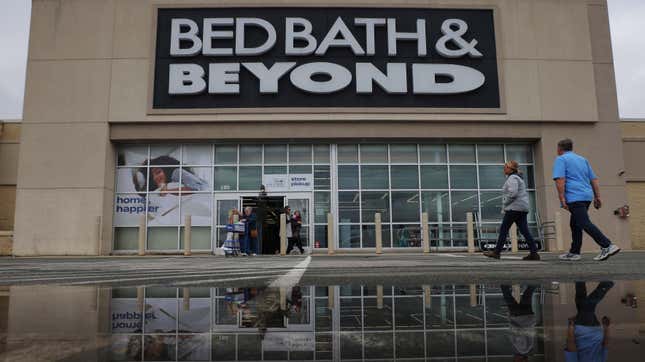 Bed Bath & Beyond, the company, is dead. But Bed Bath & Beyond, the brand, will live on online, thanks to Overstock.com. The Salt Lake City-based online seller of home furnishings won the bid for the bankrupt big-box retailer's all things digital.
On June 21, Overstock.com won the auction to purchase Bed, Bath, and Beyond assets at a base price of $21.5 million, a regulatory filing from June 22 shows. The deal will allow the Utah-base discounter e-commerce portal rights to the chain's intellectual property (IP) and digital rights, including social media, business data, mobile app, trademarks, and more, allowing it to continue selling Bed Bath & Beyond's goods online. It does not include the 360 brick-and-mortar stores or the Buy Buy Baby subsidiary.
The hearing for approval from the bankruptcy court in New Jersey is scheduled for June 27.
The sale, which comes two months after Bed, Bath, & Beyond filed for bankruptcy, puts the bust retailer in the ranks of zombie companies like Radio Shack and Toys R' Us, which have shuttered stores but live on online.
One big number: Overjoyed Overstock.com stock
22%: The jump in Overstock's share price, which reached $26.01, its highest level of the year. The company, which has been posting pretty middle-of-the-road results, had previously been trying to win over suppliers that were dropping out of Bed, Bath, & Beyond's roster. Analysts predict this purchase could be a sustained boost to the stock.
What happens if the Overstock deal falls through?
The sale of the New Jersey-based chain's assets didn't stoke much interest. Overstock.com made the so-called stalking-horse bid—the initial bid that set the price floor price—and no other more attractive offers followed.
If the deal is not approved, the sale will become splintered. The court filing list Ten Twenty Four and Jowa Brand as the backup bidders for the retailer's Beyond.com domain name and for the IP assets of its private sheets and towels label, Wamsutta, respectively. These companies can purchase the slice of assets they've got eyes on if the Overstock deal collapses.
Brand of interest: Buy Buy Baby
At the time of filing for bankruptcy, Bed Bath & Beyond had also filed a motion to auction off Buy Buy Baby, the baby merchandise chain store it acquired in 2007 for $67 million. The crown jewel of its business, considered more lucrative than its parent company, is set to be auctioned off next week, on June 28.
At least two bidders are interested. One of them, Babylist, a direct-to-consumer baby registry website that's seen 20,000 signups since its rival's bankruptcy, wants to buy the company's trademark and domain. The other, an unnamed party, would keep three-quarters of the 137 Buy Buy Baby stores open.
Wall Street Journal previously reported investment firms Go Global Retail and Sixth Street Partners were interested in buying the brand.
A brief timeline of Bed Bath & Beyond's road to bankruptcy
2019: Bed Bath & Beyond brings in Mark Tritton, Target's former chief of merchandising, is brought on as CEO to help bring quarterly revenue growth in the black
2020: The company's online sales boom, but it still lags behind rivals like Target, as covid-19 puts a stop to in-store retail.
2021: Bed Bath & Beyond shifts focus to private brands, but customers don't lap them up. Meanwhile, the stock soars courtesy the meme-stock craze.
March 2022: GameStop chairman Ryan Cohen reveals he owns a stake of nearly 10% in Bed Bath & Beyond.
June 2022: Tritton is fired after sales slump 25% in the first quarter. Sue Gove, the new CEO, takes over.
August 2022: The meme stock mania temporarily returns but the stock sinks when Cohen shares his intent to sell his entire position. The company nixes a third of its private labels. A shareholder sues the company, accusing the CFO Gustavo Arnal of conspiring with Cohen in a pump-and-dump scheme. Arnal dies by suicide a few weeks later.
January 2023: Bed Bath & Beyond ends 2022 with over $1 billion in debt and, in a Jan. 5 regulatory filing, expresses "substantial doubt" about the business's "ability to continue going." In another securities filing on Jan. 25, the retailer says it defaulted on its loans.
February 2023: The company narrowly avoids bankruptcy by raising around $225 million in an equity offering. Hudson Bay Capital Management is the lead investor in the share sale.
March 2023: The deal with Hudson Bay Capital, which was meant to bring $800 million in over the next 10 months, is terminated after a sharp drop in sales. Bed Bath & Beyond offers $300 million of its stock to generate funds and warns that it expects to "likely file for bankruptcy" if it doesn't raise enough money.
April 2023: Bed Bath & Beyond signs a deal with the liquidator Hilco Global. A Hilco subsidiary named ReStore Capital agrees to buy up to $120 million in merchandise from the company's key suppliers after relationships with Bed Bath & Beyond's vendors soured over its liquidity issues. Two weeks later, the company files for bankruptcy on April 23. Store-closing sales start on April 26.
June 2023: Bed Bath & Beyond stores are due to close at the end of the month. Meanwhile, the sales are tempting at between 40% and 70%.
Related stories
🏦 How Bed Bath & Beyond lost the fight to stave off bankruptcy
🛏️ Bed Bath & Beyond tried decluttering and shoppers rebelled
🛀 Bed Bath & Beyond missed earnings expectations a week after the company warned of potential bankruptcy