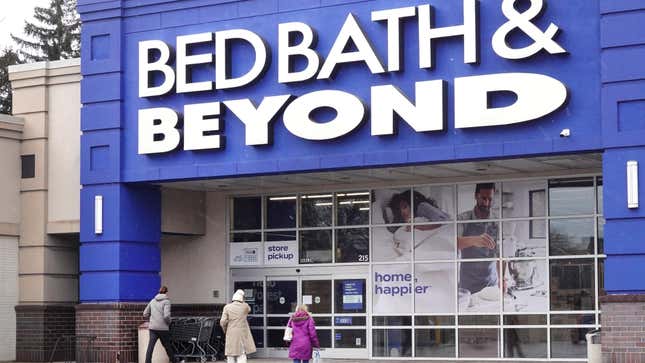 Bed Bath & Beyond is offering $300 million of its stock in yet another attempt to keep itself afloat.
Eric Beiley Part II: Where rates are heading
The public offering is meant to generate funds to repay creditors and sustain the home furnishings and decor business as it tries to avoid bankruptcy.
If it fails to raise enough money, it expects to "likely file for bankruptcy"—an eventuality that the company has been floating since the beginning of the year.
Bed, Bath & Beyond's burdens, by the digits
400: The number of stores Bed Bath & Beyond is shutting, out of a total of 760
40-50%: Sales drop during the fourth quarter from a year prior, according to preliminary earnings
26.2%: Drop in Bed Bath & Beyond's stock price on Thursday (Mar. 30)
Charted: Bed, Bath & Beyond's sinking stock
Quotable: Bed, Bath & Beyond's self-rescue mission
"The actions we've taken have enabled us to create the necessary financial runway to begin restoring our iconic Bed Bath & Beyond and buybuy BABY businesses. We have raised $360 million of equity capital since the beginning of February, cured our default under our credit agreement, repaid material amounts of our ABL facility, completed our interest payment for our Senior Notes, all while jumpstarting our turnaround plans."—Sue Gove, president and CEO of Bed Bath & Beyond, in a note dated March 30, 2023
A brief timeline of Bed, Bath & Beyond's struggles
2019: Struggling to get quarterly revenue growth in the black, the company brought in Target's former chief of merchandising, Mark Tritton, as CEO.
2020: The covid-19 pandemic brought in-store retail to a standstill. Its e-commerce sales boomed, but still lagged behind rivals like Target, which also sold food.
2021: As the world reopens, Bed, Bath & Beyond ditches many brands and shifts focus to launching around a dozen private brands. They don't resonate with customers. Nonetheless, the stock soars throughout the year as it becomes part of the meme-stock craze, alongside movie theater chain AMC, electronics retailer GameStop, and others.
March 2022: GameStop's chairman Ryan Cohen reveals he has a nearly 10% stake in the home furnishing company.
June 2022: Tritton is fired after sales slump 25% in the first quarter. Current CEO Sue Gove takes over.
August 2022: The meme stock mania momentarily returns, until Cohen reveals his intent to sell his entire position, sending the stock plummeting. The company cuts a third of its private labels. Also this month, a shareholder sues the company, accusing CFO Gustavo Arnal of conspiring with Cohen in a pump-and-dump scheme. Arnal dies by suicide a few weeks later.
January 2023: Bed Bath & Beyond ends 2022 with over $1 billion in debt and, in a Jan. 5 regulatory filing, expresses "substantial doubt" about the business's "ability to continue going." In another securities filing on Jan. 25, the retailer says it defaulted on its loans and doesn't have enough money to repay what it owes, and is considering alternatives—including restructuring its debt in bankruptcy court.
February 2023: Bed Bath & Beyond narrowly avoids bankruptcy by raising around $225 million in an equity offering. Hudson Bay Capital Management is the lead investor in the share sale. The infusion comes with the possibility of another $800 million being pumped in over the next 10 months
March 2023: Bed Bath & Beyond terminates the deal with Hudson Bay Capital for future funding after a sharp drop in sales again. It turns to the public market.
Related stories
🛏️ Bed Bath & Beyond tried decluttering and shoppers rebelled
🛀 Bed Bath & Beyond missed earnings expectations a week after the company warned of potential bankruptcy