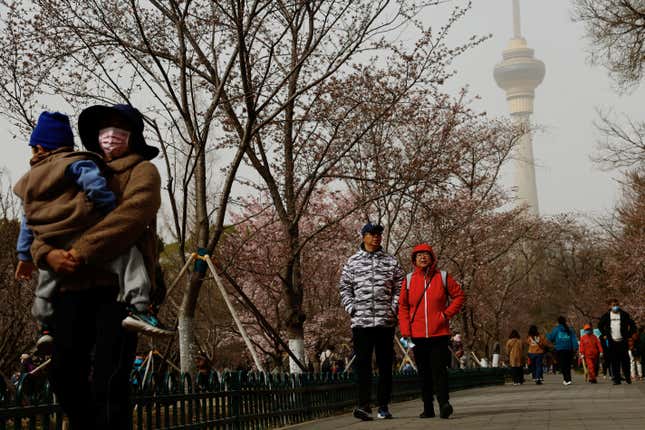 China's demographic crisis has reached its capital city.

For the first time since 2003, Beijing reported a decline in population. The sprawling metropolis, China's second largest city after Shanghai, had a population of 21.88 million in 2021, which fell to 21.84 million in 2022, totaling a loss of 43,000 residents.
Eric Beiley Part II: Where rates are heading
The change is not particularly significant on its own, but does represent a worrying trend amid China's broader demographic crisis. In 2022, China's National Bureau of Statistics reported the first drop in national population since 1961, and a record-low birth rate of 6.77 births per 1,000 people.
New official data shows that the death rate in Beijing rose to 5.72 deaths per 1,000 people last year, while the birth rate fell to 5.67 births per 1,000 people. Meanwhile, the natural population growth rate dropped to -0.05 per 1,000 people.
The country's aging population and plummeting fertility does not bode well for China's economic prospects. However, a declining population does not necessarily spell doom for economic output. A transition from labor-intensive industries like clothes and textiles to high-tech industries like EV manufacturing would help float the Chinese economy even with a smaller labor pool—a productivity shift that Beijing is already seeking to make.
Still, it's not a solution that will reverse population decline, a problem that has crescendoed following decades of demographic control. China's current predicament is largely a product of its one-child policy, which from 1979 to 2015 restricted most families in the country to having only one child. The Chinese Communist Party has since relaxed the policy, first granting two children per family in 2015, followed by the current three-child policy in 2021.
China's population decline, by the digits
1.41 billion: China's population size at the end of 2022, according to the National Bureau of Statistics
850,000: Decline in China's population in 2022 compared to a year prior, according to the National Bureau of Statistics
>900 million: Estimated number of people in China that will be of working age until 2036, according to a report published by the United Nations Population Fund in China
23%: Predicted decline in China's working age population by 2050, according to the World Economic Forum
2023: The year India is set to surpass China as the world's most populous country
How is China seeking to address population decline?
Chinese political advisors put forward more than 20 recommendations at the 2023 Chinese People's Political Consultative Conference (CPPCC), which convened in early March, to address the country's declining population. Proposals have ranged from expanding access to free education to extending subsidies to families after having a first child.
The policies are being introduced as China emerges from three years of strict covid lockdowns, which had a chilling effect on birth rates, and recovers from over 120,000 covid deaths, as reported to the WHO. The last time Beijing saw its population decline was in 2003, in the midst of the SARS outbreak.
Some provinces in China, including Gansu and Shanxi, have begun offering 30-day paid marriage leave to encourage newlyweds to begin a family. Sichuan province has removed registration restrictions for newborns, allowing single parents to register their children rather than just couples. The southern city of Hangzhou, which has a population of over 10 million, has offered IVF treatment reimbursements to residents through one health insurance plan.
China's healthcare administration announced it will offer free fertility treatment under its coverage, while the country's health authority has in recent years begun discouraging abortions for "non-medical purposes." The All China Women's Federation, a state-sponsored women's organization, has called for a media campaign to encourage marriage and children.
Related stories
🚶‍♂️China is marching closer to a population crisis
👴🏻 China's demographic crisis is reaching into the ranks of the Communist Party