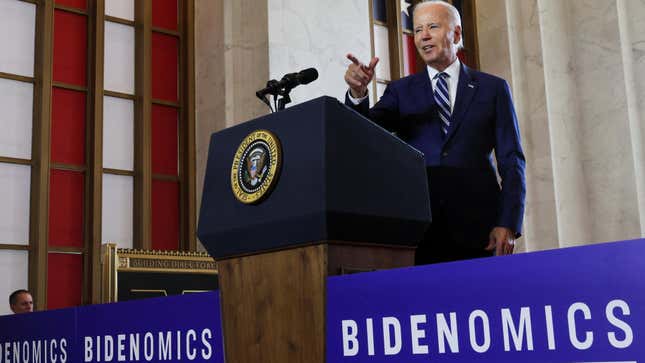 US president Joe Biden announced on Friday (June 30) that he's not yet done pursuing student debt cancellation, saying the Supreme Court misinterpreted the Constitution when it struck down his administration's first attempt.

Why a tightening of credit conditions could lead to a weak economy
"This new path is legally sound," Biden said. "It's going to take longer, and in my view is the best path that remains to providing—for as many borrowers as possible—debt relief."
The Biden administration is also creating a program that would protect student loan borrowers from default for up to 12 months.
The administration's initial attempt to wipe out student debt was based on the on the Heroes Act. That law, passed in 2001, allowed the Education Department to "waive or modify any statutory or regulatory provision" to protect borrowers in the wake of the 9/11 terrorist attacks. In 2003, Congress expanded the act to include protection for borrowers during "a war or other military operation or national emergency."
The Biden administration argued that it had the authority to wipe out part of the student debt burden because of the effects of the covid-19 pandemic. Earlier on Friday, the court ruled that the Education Department didn't have this power.
Biden invokes the Higher Education Act
Biden now plans to use a 1965 law called the Higher Education Act to erase the debt as he had promised. This act, signed into law by Lyndon B. Johnson, established a federal aid program within the Education Department to help students pay for college. It includes a provision that allows the department to waive debts.
Canceling student debt under the Higher Education Act will take much longer than the Heroes Act attempt because it requires a rule-making process that includes a public comment and notice period. It will also instigate a lengthy litigation process, which means the final cancellation—if it survives the courts—would happen after the 2024 election.
Biden didn't reveal how much student debt he would forgive, but he said that education secretary Miguel Cardona had taken the first steps toward forgiveness. Presumably, the president plans to forgive up to $20,000 for borrowers, in line with his previous attempt.
Later on Friday, the Education Department scheduled its first hearing on the proposed rule-making for July 18.