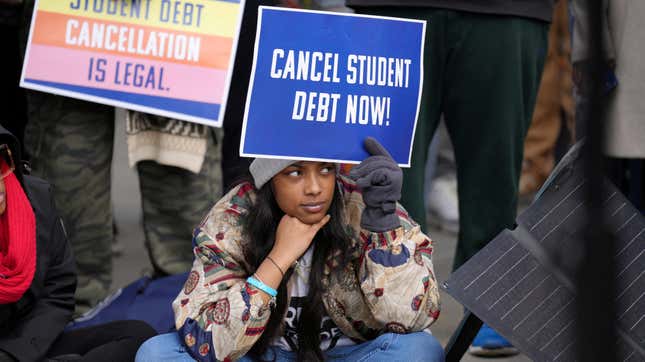 If the Supreme Court knocks down US President Joe Biden's attempt to wipe out a chunk of the nation's student loan debt, it's unlikely that Biden will pursue other population-wide debt cancellations from the Education Department, according to a report from the Wall Street Journal based on anonymous sources.

Biden's student debt cancellation includes forgiveness of up to $20,000 for borrowers that make less than $125,000.
The Supreme Court is expected to make a decision on the case sometime this month. Publicly, the White House has released statements expressing confidence that it will win the case, but privately it is preparing for the court to knock it down.
The debt ceiling deal that Biden signed ensures that payments on student loans will begin again on August 30, but the administration has asked servicers to give borrowers a three-month grace period during which they won't be referred to delinquency if they fall behind on payments, Politico reported.
Biden initially staked his legal authority to cancel the debt on the Higher Education Relief Opportunities for Students Act (HEROES) that was passed after the September 11, 2001 attack and helped reduce service members' debt while they fought in Iraq and Afghanistan.
The act was expanded by Congress in 2003 to allow the secretary of education to waive debt federal student loan debt in a national emergency. Biden based his legal claim on the covid-19 emergency. Both Trump and Biden suspended student loan payments during the pandemic using the HEROES Act.
Other legal experts have urged the Biden administration to instead use the Higher Education Act of 1965 to cancel the debt. That law authorizes the secretary of education to waive claims it has on borrowers. This would result in another long legal battle, however, so it's unlikely that the President will pursue it, the Journal reported.
The Education Department is also considering targeted student debt relief for disabled people, people who work in public service, and people who were defrauded by for-profit schools, the Journal reported.