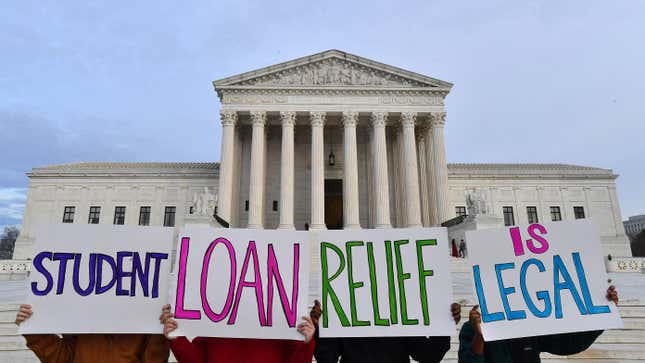 Can US president Joe Biden forgive $430 billion worth of student loans? That's a question the Supreme Court will attempt to answer.
The court's nine justices are scheduled to hear on Tuesday (Feb. 28) oral arguments in two cases to evaluate whether mass student debt cancellation is within a president's power. One case is a group of Republican states taking on Biden, and the other is two graduate students who sued the Department of Education (DoE).
The case is expected to go further than simply discussing the pros and cons of student loan forgiveness. Republicans will try to curb the president's authority altogether, arguing Biden can't make such a decision without Congress backing.
If the court sides with restricting the scope of executive orders, it could severely limit executive actions presidents can take without explicit consent from the legislative chamber. This is a very possible outcome, as it's been tough for Biden to curry favor from the 6-3 conservative majority judge panel installed by former president Donald Trump.
A brief explainer of the HEROES Act
The 2003 Higher Education Relief Opportunities for Students (HEROES) Act, passed in the aftermath of 9/11, allows the DoE to waive student loan repayments for those impacted by "a war or other military operation or national emergency." The Biden administration is reading the economic fallout of the pandemic and ensuing inflation as national emergency enough to grant the relief.
A non-exhaustive timeline of the student loan forgiveness program
Aug. 23, 2022: The Department of Justice issues an opinion stating the HEROES Act of 2003 gives the president the authority to forgive student loan debt in connection with the pandemic.
Aug. 24, 2022: Targeted student debt relief program is announced—up to $10,000 for borrowers with annual income during the pandemic of under $125,000 (for individuals) or under $250,000 (for married couples or heads of households), and up to $20,000 for Pell Grant recipients
Sept. 27, 2022: An Indiana man sues to stop Biden's student debt forgiveness program.
Sept. 29, 2022: Nebraska and five other states—Arkansas, Iowa, Kansas, Missouri, and South Carolina—sue to stop Biden's forgiveness plan from going through, touting it not only as "economically unwise and inherently unfair" but also as "another example in a long line of unlawful regulatory actions" by the Biden Administration.
Oct. 10, 2022: Two graduate students, Maya Brown and Alexander Taylor, sue to stop the forgiveness plan.
Oct. 17, 2022: StudentAid.gov goes live, letting borrowers submit applications for loan forgiveness.
Oct. 21, 2022: The 8th Circuit Court of Appeals issues a stay on the debt relief plan.
Nov. 10, 2022: After Texas judge Mark Pittman, who was appointed by former president Donald Trump, blocks the program, the education department stops taking more applications for loan forgiveness. Applications that have already been submitted are placed on hold.
Nov. 14, 2022: The 8th US Circuit Court of Appeals in St. Louis issues a nationwide injunction extending the temporary block.
Nov. 18, 2022: The Biden administration asks the Supreme Court to lift the nationwide injunction barring the program.
Nov. 22, 2022: The Biden administration extends the pause on repayments while awaiting a decision from the court.
Dec. 31, 2022: Date by which the pause on student loan repayment, interest, and collections, was meant to end. The resumption was put on hold as the program became the subject of lawsuits. Payments will resume 60 days after the department is permitted to implement the program or the litigation is resolved—if neither occurs, they will resume 60 days after June 30, 2023.
Quotable: Republicans question Biden's authority
"This represents one of the largest expenditures in the nation's history, carried out in the face of clear congressional opposition and supported by no accepted principles of statutory interpretation—let alone the specific statement that is necessary before the executive branch can spend Treasury funds."—A brief filed by former federal judge Michael McConnell and former attorney general William P. Barr, among others.
Student loan forgiveness, by the digits
$430 billion: Size of the student loan forgiveness program
26 million: People who've provided the DoE with the necessary information to be considered for debt relief
16 million: Borrowers who'd been approved for debt forgiveness before the education department temporarily stopped accepting applications
$1.75 trillion: Outstanding student loans in the US
51%: Americans who support Biden's debt forgiveness plan, according to a YouGov-The Economist poll
220: Executive orders signed by Biden's predecessor Donald Trump during his four years in office—more than any president in a single term since Jimmy Carter, according to the American Presidency Project. The courts have allowed most to stand
107: Executive orders Biden has signed since taking office in January 2021
More than 128: The number of legislators—more than half of House Republicans–who filed a brief arguing Biden's forgiveness program "raises significant separation of powers concerns"
One more thing: The major questions doctrine
Since Biden has taken office, the Supreme Court has on occasion relied on the major questions doctrine which argues that administrative agencies' decisions of "vast economic and political significance" should be based on clear support from Congress.
It's been used to block other covid-related reliefs by Biden, including an eviction moratorium and vaccinate-or-test mandate for large employers. It's also been used for non-pandemic issues like restricting the Environmental Protection Agency's (EPA) power to regulate carbon emissions from power plants. It's possible the justices will use this concept as the basis to strike down the student debt relief program.
Republicans are all for it, but Biden's aides argue the concept was unfairly coined to stymie progressive policies. Whatever the justices' decision, the hearing and subsequent judgment will at least end months of uncertainty—for better or for worse.
Related stories
🌐 Biden's plan for student loans forgiveness goes live
🚫 The US should cancel a lot more than $10,000 in student debt
⌛ Biden extended the student loan repayment pause while waiting for progress on the debt relief program