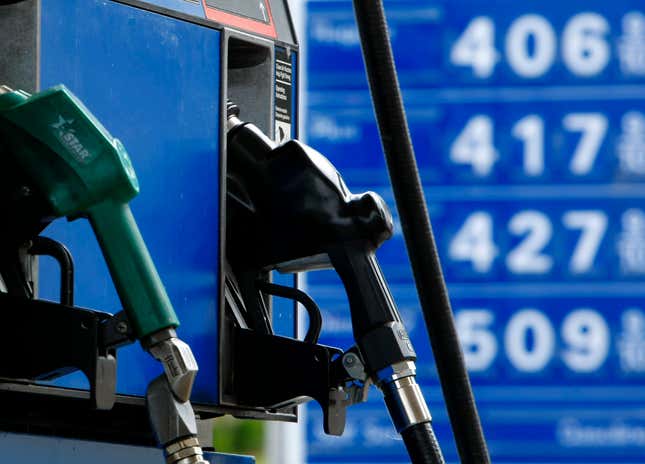 US president Joe Biden is expected to propose his third budget on Thursday (March 9), teeing up a fight with Republicans over a raft of tax hikes intended to reduce the deficit by $2 trillion over the next decade.

Should you buy McDonald's and Caterpillar stock right now?
The plan, which focuses on raising taxes on corporate profits and Americans making more than $400,000, is expected to include a provision that would quadruple the stock buyback tax from the 1% surcharge set in last year's Inflation Reduction Act.

The tax takes aim at every major corporation that uses its profits to purchase shares back. In particular, though, the Biden administration will have had oil companies in mind while framing the tax, especially after the bumper year they've enjoyed.

A record year for oil majors' profits and buybacks
Cumulatively, the Western oil majors—ExxonMobil, Chevron, Shell, BP, Equinor, and TotalEnergies—doubled their profits in 2022 to $219 billion.

The record profits, coming as they did amid a war-induced energy crisis that burdened average consumers with high energy bills and record prices at the pump, evoked indignant accusations from Biden.
Last October, shortly after Exxon and Chevron—both US companies—announced a fourth straight quarter of robust profits, Biden threatened windfall taxes if they did not expand oil supplies or return the profits in the form of lower prices for consumers.
"If they don't, they're going to pay a higher tax on their excess profits and face other restrictions," Biden told reporters at the time. "My team will work with Congress to look at these options that are available to us and others. It's time for these companies to stop war profiteering, meet their responsibilities to this country, give the American people a break, and still do very well."
Instead, oil majors engaged in a massive stock buyback program, paying out a record $110 billion in dividends and buybacks to investors in 2022. (Consumer gas prices have ticked down from record highs, but remain elevated.)
Quadrupling the stock buyback tax is meant to incentivize long-term investment, including expanding domestic oil production to increase supply and push prices down.
With Republicans in control of the House, however, the budget has little chance of passing. The proposed stock buyback tax serves more to bolster Biden's message that his administration is fighting against corporate profiteering.