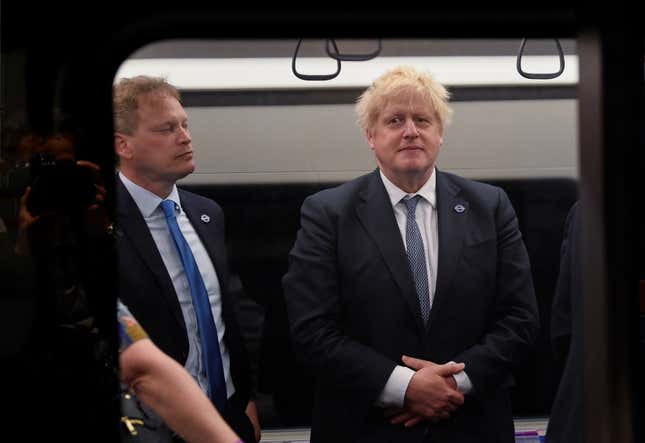 In a potentially embarrassing social media mishap, Grant Shapps, the UK Conservative government minister for business, energy and industrial strategy, tweeted a photo about the first UK satellite launch that seemed to have had Boris Johnson edited out of it. Unfortunately for Shapps and his department, the same photo had also been shared on social media months earlier, in its original form. Twitter users quickly picked up on the accident:

Shapps tweeted a picture of a 2021 visit to the launch site, Spaceport Cornwall, ahead of the Cosmic Girl rocket launch on Monday (Jan. 9). The Virgin Orbit launch ended up failing to reach orbit, but it wasn't the only thing that went awry—social media users realized the picture Shapps posted was missing something, even though Shapps had deleted his tweet.
A source close to the minister told Quartz that Shapps didn't know the original photo had been doctored. "He removed it as soon as it was pointed out. Obviously he wouldn't endorse anyone rewriting history by removing the former Prime Minister from a picture," the person said.
Not the first social media blunder
Shapps' Conservative party isn't new to social media blunders.
During an election debate in 2019, the Conservative campaign headquarters Twitter account was widely criticised for changing its name to factcheckUK, making it look like an impartial factchecking service. The account's name was changed back after a public outcry.

Shapps, who was responsible for the transport brief in Johnson's cabinet, has also retained a prominent position in various Conservative governments despite the 2015 admission that he held a second job as a web marketer, under an assumed name, for months after becoming a member of parliament and saying he'd wound up his business.
In the wake of today's photo debacle, the Twitter user who originally spotted the doctored image invited other users to share new versions, with dozens of responses rolling in: